Praxis Health Education (5551) Practice Test
Health education is an important element in any teaching environment. That's why prospective teachers who want to demonstrate their knowledge in this field take the Praxis Health Education (5551) exam. The test measures the skills and knowledge of educators who want to teach health education at all levels from elementary through high school. The Praxis tests are used by several states to assess skills, so it's important to be prepared. This guide provides two valuable tips — insights into what you can expect on the exam, and study tools that can help you prepare.
Who should take the Praxis Health Education (5551) exam?
Candidates who have attained, or are about to receive, a bachelor's degree in health education, health and wellness or a similar degree generally take this exam.
How many questions are on the test?
There are 120 selected response questions on the exam.
What's the time limit for completing the test?
Candidates have two hours to finish the exam.
Is there a fee to take the test?
Yes. Candidates must pay a $120 fee.
Check Out Mometrix's Praxis Health Education (5551) Study Guide
Get practice questions, video tutorials, and detailed study lessons
Get Your Study Guide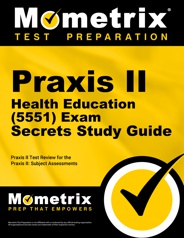 What content categories are on the Praxis Health Education (5551) exam?
There are five categories of content, described below. Two categories, Health Promotion and Prevention of Injury and Disease and Healthy Relationships and Mental and Emotional Health make up 60 percent of the test questions.
Health Education as a Discipline has 20 questions. Knowledge areas include theories of health behavior; communicating effectively with a wide range of stakeholders, including students and parents; and responsible models for decision-making.
Health Promotion and Prevention of Injury and Disease has 36 questions. It includes diseases, both communicable and noncommunicable; how to set goals for a healthy lifestyle; hygiene; nutrition; coping with stress; reducing and preventing health risks; and the physiological, psychological, and other effects of substance abuse.
Healthy Relationships and Mental and Emotional Health also has 36 questions. Candidates will see questions about family dynamics, environment and other factors that impact healthy and unhealthy relationships; decision-making and how those skills impact relationships; and abuse and violence, and their causes, consequences, and prevention.
Community Health and Advocacy contains 14 questions and includes health and safety laws and regulations; available health careers; environmental and consumer health issues; agencies that specialize in community health that are available for assistance and referral; and health policy and the factors that influence decision-making.
Health Education Pedagogy also has 14 questions. It covers a wide range of topics that include learning needs assessment of diverse groups and individuals; how to align curriculum with various standards (local, national, state); strategies for managing the classroom; and instruction implementation techniques.
When will I receive my test score?
That depends. Some candidates will receive their unofficial test result as soon as they finish the exam. Others will have to wait for the official test results, which are typically available within 10 to 16 days of either the test date or the last day of the testing window.
What is the passing score for this exam?
Each state sets its own passing score, so you should check with your local regulatory agency.
Do I need to show identification on the day of the test?
Yes. Make sure to bring these two items — your test admission ticket and a valid, unexpired government-issued ID that has a photo and signature. A driver's license will do.
When should I arrive at the test center on the day I take the Praxis Health Education (5551) exam?
Candidates will want to arrive at least 30 minutes early. That way, you'll make sure you're on time. Candidates who arrive late may not be allowed to take the exam.
Can I bring personal items into the testing room?
No. Candidates aren't allowed to bring in any personal items, including electronic devices (think mobile phones, smartwatches and the like) or most clothing items such as hats, jackets, and scarves.
Check Out Mometrix's Praxis Health Education (5551) Flashcards
Get complex subjects broken down into easily understandable concepts
Get Your Flashcards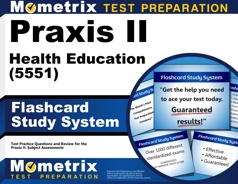 I want to make this my career and need to be prepared for this exam. What study materials do I need?
The Mometrix study materials are the tools you need. They've been prepared by professionals with deep test-taking preparation experience. Our study guide helps candidates understand what to expect on the test and how to handle those difficult questions that test takers often struggle with. Our flashcards help candidates solve hard questions fast and show them how to take advantage of the most effective form of study —repetition. These two excellent study guides will help you prepare for the Praxis Health Education (5551) exam.
Praxis Health Education Study Guide
Mometrix Academy is a completely free resource provided by Mometrix Test Preparation. If you find benefit from our efforts here, check out our premium quality Praxis Health Education (5551) study guide to take your studying to the next level. Just click the Praxis Health Education (5551) study guide link below. Your purchase also helps us make even more great, free content for test-takers.
Praxis Study Guide
Praxis Flashcards