The Praxis Health Education exam is designed to measure your knowledge of the core educational practices that are essential for entry-level K-12 health education teachers.
Click "Start Test" above to take a free Praxis Health Education practice test, and check out our premium-quality Praxis test prep resources by clicking the links below!
Praxis (5551) Exam Outline
The Praxis Health Education exam contains 120 selected-response questions and four constructed-response questions, and you will be given a time limit of 2 hours.
The exam is split into five content categories, which are designed to cover the various competencies and points of knowledge that a professional health educator should possess.
I. Health Education as a Discipline (20 questions)

Major health behavior theories
Extracurricular and curricular programs for student health needs
Physical growth and development
Effective communication with staff, parents, students, and the community
Concepts of character education
Health-related data
Appropriate educational materials from professional organizations, associations, and agencies
Professional, ethical, and legal practices pertaining to sensitive issues
Models for responsible decision-making
Valid and reliable data sources and databases
Resources involved in a coordinated approach to school health
Continuing education and professional development as a health educator
II. Health Promotion and Prevention of Injury and Disease (36 questions)

Nutrition
Effects of substance use and abuse
Communicable and noncommunicable diseases
Stress management and coping skills
Personal hygiene
Disease etiology, prevention practices, treatment, and management
Behaviors that can compromise health and safety
Care for injuries and sudden illnesses
Goal-setting and decision-making for heathy lifestyles
Personal hygiene
Research on practices that prevent chronic and communicable diseases
Anatomy, physiology, and body system interrelationships
Reduce and prevent health risks
Relationship between health outcomes and lifestyle choices
III. Healthy Relationships and Mental and Emotional Health (36 questions)

Interpersonal communication
Factors affecting healthy and unhealthy relationships
Causes, consequences, and prevention of different types of abuse and violence
Skills that promote healthy interactions
Causes and consequences of various mental and emotional health issues
How decision-making skills affect relationships
Concepts and issues related to human sexuality
Psychosocial development throughout the stages of life
IV. Community Health and Advocacy (14 questions)

Consumer health issues
Opportunities available for health education advocacy
Laws and regulations governing health and safety
Role of the health educator as a liaison between school staff, parents, students, and the community
The concepts of individual responsibility to society and the environment
Factors that influence the content of school health education
Community health agencies available for assistance and referral
Factors that influence decision-making in health policies
Methods for delivering appropriate health-promoting messages
Health careers that are available
Environmental health issues
Valid sources of health information, products, and services
V. Health Education Pedagogy (14 questions)

Curriculum aligning with national, state, and district standards
Classroom-management strategies
Sequential instruction planning using performance-based objectives
Assessing learning needs for individuals and diverse groups
Reflective process of teaching
Assessment of student learning
Effective methods, strategies, and techniques to implement instruction
Check Out Mometrix's Praxis Health Education (5551) Study Guide
Get practice questions, video tutorials, and detailed study lessons
Get Your Study Guide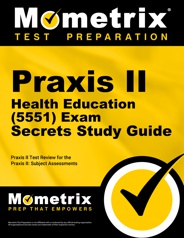 Praxis (5551) Exam Registration
To register for the Praxis Health Education exam, you will need to create an online account with ETS. Through this account, you can submit an application to take the exam.
During registration, you will be asked to select the test-taking format (remote or at a testing center), test location (if you are taking the test at a testing center), and test date. You will also need to pay the $130 exam fee.
Test Day
In-person Testing
On exam day, you should plan to arrive at the testing center 30 minutes before the scheduled testing appointment. When you arrive, you will be asked to provide a printed copy of your admission ticket and two forms of valid identification.
You will also be asked to store all personal items, such as your cell phone, keys, and wallet in a secure locker before entering the testing area.
Once the check-in process is complete and you are fully approved for testing, you will be led to the testing station and given a brief tutorial on the testing system.
Remote Testing
To take the exam remotely, you must use a laptop or desktop computer that has the ETS Secure Test Browser downloaded and installed on it. This is the browser you must use to take the exam. You will also need a functioning webcam, speakers, and a microphone.
When you check in to take the exam, the remote proctor will ask you to show proof of identification and to move your webcam around the room so that your testing area can be observed. Once the proctor has approved your testing area, they will walk you through the testing process and begin your exam.
How the Praxis (5551) Exam is Scored
Your score is based on the number of questions you answer correctly (your raw score). Your raw score is converted to a scaled score. The scaled score you need to obtain differs slightly depending on which state you take the exam in.
You should receive an official score report about five weeks after testing.
Check Out Mometrix's Praxis Health Education (5551) Flashcards
Get complex subjects broken down into easily understandable concepts
Get Your Flashcards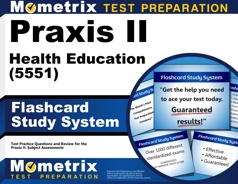 FAQs
Q
How many questions are on the Praxis Health Education exam?
A
There are 120 selected-response questions on the exam.
Q
How long is the Praxis Health Education exam?
A
The time limit for the exam is 2 hours.
Q
What is the passing score for the Praxis Health Education exam?
A
The passing score for this exam is different depending on which state you take it in.
Q
How much does the Praxis Health Education exam cost?
A
The examination fee is $130.