Praxis Fundamental Subjects: Content Knowledge (5511) Practice Test
This is a resource to support you as you get ready to take the Praxis Fundamental Subjects: Content Knowledge (5511) exam. In this article you'll learn details around registration, reminders for the day of your test, content that will be assessed on the exam, and more.
Exam Purpose and Background
The Praxis Fundamental Subjects: Content Knowledge (5511) exam looks at broad areas of knowledge, and assesses your skills and knowledge that may be separate from your educational specialty. As a result, the test will take a relatively broad approach to subject matter covered.
Registration
Register online at https://www.ets.org/praxis/register.
Costs/Payment Options
The cost for the test is $120 payable at registration. Acceptable forms of payment include a check from a U.S. bank, money order, PayPal™, eCheck, VISA®, Discover®, JCB®, American Express® or MasterCard®.
Times/Locations
You'll receive time and location details when you complete your registration.
Test Duration:
You'll have two hours to take the test.

Check Out Mometrix's Praxis Study Guide
Get practice questions, video tutorials, and detailed study lessons
Get Your Study Guide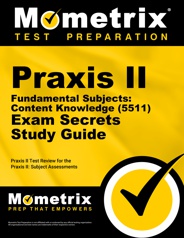 What to Bring:
A form of Identification, showing your name, signature and photo (such as a passport, a driver's license, state/province ID, national ID or military ID).
Your admission ticket
What Not to Bring:
Electronic devices, including cell phones and calculator (a calculator will be provided)
Personal items
Writing instruments
Jewelry, other than engagement or wedding rings
Headwear (other than religious)
Paper or books
Food/drink unless specifically required and approved in advance
What to Expect During Your Praxis Exam
Format/Number of Questions: This is a computer-based test consisting of 120 select-response questions.
Content Categories
Here are categories covered during the test, including the approximate weight each category has as part of the overall exam and the estimated number of text questions.
Category 1: English Language Arts (25% with About 30 Questions) — This section of the exam focuses on literary section meanings, purposes and themes, relationships between written elements and the whole, cross-cultural, cultural and historic contexts and literary text comparisons. It also reviews literary effects and methods, including point of view, characters, mood, tone and setting, as well as figurative language. It also reviews general communication and reading knowledge, such as identifying ideas and text summaries/paraphrases, along with word meaning, text organization, opinion versus fact, conclusions and inferences, writing purposes, language adjustments by audience and writing and revision strategies.
Category 2: Mathematics (25% with About 30 Questions) — Reviews math concepts needed for teaching and real-life scenarios, including budgeting field trips, calculating grades and applying statistical concepts. Also looks at personal situations such as home finances and taxes. The math section also covers other concepts, such as weather data. In general, you can expect this section to touch on number usage, basic algebra, measurement, geometry, probability and data analysis.
Category 3: Citizenship and Social Science (25% with About 30 Questions) —Assesses historic change and continuity, including chronological thinking and use of historic data tools such as maps and graphs, plus historic documents, understanding varying points of view, historic artifact significance, individuals of specific groups and individuals and historic cause-and-effect relationships. Also looks at geographic regions, places and people, government and civics, along with economic choice and scarcity.
Category 4: Science (25% with About 30 Questions) — This section includes a review of science history and nature, including understanding common data gathering tools and methods, using science in problem-solving, reviewing important contributions through time and interpreting data and drawing conclusions. Science fundamentals are also covered, including basic physics, energy principles, ecosystems, population trends, earth and space science concepts, plus the role of science and technology is shaping the world around us.
Check Out Mometrix's Praxis Flashcards
Get complex subjects broken down into easily understandable concepts
Get Your Flashcards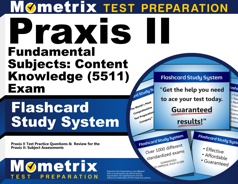 Calculating Your Passing Score:
The score needed to pass varies by association, institution, and state. Each entity sets their own passing score thresholds. Learn more at www.ets.org/praxis/states.
Additional Resources
There are other materials available to you as you prepare for success through Mometrix Academy. For a fee, you can use the valuable Praxis Study Guide, including videos and other exam preparation details. Plus you can practice your knowledge recall with a set of study flashcards.
Praxis Fundamental Subjects: Content Knowledge Study Guide
Mometrix Academy is a completely free resource provided by Mometrix Test Preparation. If you find benefit from our efforts here, check out our premium quality Praxis Fundamental Subjects: Content Knowledge (5511) study guide to take your studying to the next level. Just click the Praxis Fundamental Subjects: Content Knowledge (5511) study guide link below. Your purchase also helps us make even more great, free content for test-takers.
Praxis Study Guide
Praxis Flashcards