Praxis: Education of Young Children (5024) Practice Test
The Praxis exam tests a prospective teacher on content, theory, pedagogy, and how this applies in an educational setting. Education of Young Children (5024) specifically covers teaching children from birth to eight years of age.
What's on the Exam?
There are five sections of this exam, which include:
Childhood Development and Learning
Observation, Documentation and Assessment
Developmentally Appropriate Practices
Professionalism, Family and Community
Content Pedagogy and knowledge
There are 120 selected response (SR) questions and 3 constructed response (CR) questions. The test is administered by computer.
Time
You will have two and a half hours to complete the exam. You are expected to spend approximately one minute on each selected response questions and approximately ten minutes on each constructed response question.

Check Out Mometrix's Praxis: Education of Young Children (5024) Study Guide
Get practice questions, video tutorials, and detailed study lessons
Get Your Study Guide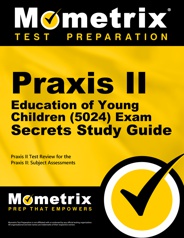 Prepping
Before your exam day make sure to do that will set you up for success.
Get a good night's sleep
Wear comfortable clothing, and bring a light jacket if you need it
Eat well before your exam. Don't go hungry!
Bring an approved calculator
Do not bring any of the following items: purses or bags, food or drink, study materials or notes, any form of electronic or recording device.
You will not be permitted to take any personal items into the testing room, nor will they be available to you during breaks. If there are concerns, you may be asked to empty your pockets. If you bring personal items with you, you will be assigned a place to store them for the duration of the test; however, not all facilities will provide secure storage.
Scores
Passing scores are determined by the state, institution, or association that has requested you to take this test. You will need to check with that organization to determine what requirements they have set. You may transfer your scores between states without needing to retake the test, but it will be subject to the requirements of the new state to determine whether your scores are considered passing.
After completing the test, you will receive a report that provides your scores and indicates whether you have passed the requirements set by the states you indicated, as long as those states use automatic score reporting.
Your score report will include the following information.
Your score and whether you passed
The range of possible scores
The raw points available in each content category
The range of the middle 50 percent of scores on the test
Registration
You may register for the Praxis EYC exam online, by phone, or by mail. Once you have completed registration, you will receive an admission ticket to enter the testing facility. If you register by phone or mail, you will need to allow up to three weeks for delivery of your admission ticket.

Check Out Mometrix's Praxis: Education of Young Children (5024) Flashcards
Get complex subjects broken down into easily understandable concepts
Get Your Flashcards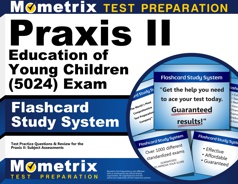 Praxis Study Guide
Mometrix Academy is a completely free Praxis test resource provided by Mometrix Test Preparation. If you find benefit from our efforts here, check out our premium quality Praxis Education of Young Children Study Guide and Praxis Education of Young Children Flashcards to take your studying to the next level. Just click the Praxis Education of Young Children study guide link below. Your purchase also helps us make even more great, free test content for test-takers.
Praxis Study Guide
Praxis Flashcards