Praxis Earth and Space Sciences: Content Knowledge (5571) Practice Test
This Praxis exam tests the skills and knowledge of those seeking to teach Earth and Space related science courses at a high school level. Many states and education programs require this and other Praxis exams for state licensure.
Who is Eligible?
Most Praxis exams, such as this one, are offered as part of an education or state certification program that licenses teacher in that specific state. Each state and program may have a different set of eligibility requirements for those who need to take an exam such as this. Be sure to verify with your institution or state agency as to what those requirements are.
This exam costs $120 to take. This fee must be paid during your registration for the exam.
When and Where is it Offered?
All Praxis exams are administered by a computer at ETS testing sites located throughout the country.
The Earth and Space Science: Content Knowledge exam is offered during several testing windows throughout the year. A complete list of these will be provided during registration, as well as the locations they will be held at. Space may be limited so be sure to schedule as soon as possible.
An admission ticket will be sent to you once you have completed your registration. This will confirm your chosen date, time, and location of your scheduled exam. Print this out to take with you on your testing day. It will be needed during the sign-in process.
Check Out Mometrix's Praxis Earth and Space Sciences: Content Knowledge (5571) Study Guide
Get practice questions, video tutorials, and detailed study lessons
Get Your Study Guide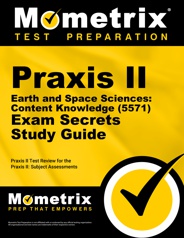 What Should I Bring?
You will need to bring at least one form of personal identification with you to the testing site, along with your printed admission ticket. This ID should be valid and current and contains your correct name that matches your application information, signature, and recent photo. If information is missing or incorrect you will be asked to supply another ID as well.
No personal items should be brought with you to the testing site. Everything you will need to complete this exam will be provided for you including an on-screen table of elements and a few conversion factors. Electronic devices, calculators, any other items are prohibited.
Plan to arrive for your scheduled exam at least 30 minutes early. If you don't, you may not be allowed to test, as you will need to go through the sign-in process before the exam is set to begin.
What is Covered?
The Earth and Space Sciences: Content Knowledge exam is made up of 125 multiple choice questions. There may be some unscored pretest questions distributed throughout the exam. These will not count towards your score. You will be given two and a half hours to complete all questions.
The following is a brief outline of the subject matter found on the exam. Included is the number of questions typically found in each section.
Basic Principles and Processes – 15 questions

Science methodology, techniques, and history
Basic principles of matter and energy
Science, technology, and society

Tectonics and Internal Earth Processes – 21 questions
Earth Materials and Surface Processes – 29 questions
History of the Earth and its Life Forms – 17 questions
Earth's Atmosphere and Hydrosphere – 24 questions
Astronomy – 19 questions
These subject areas will also include an understanding of how science and technology effects the environment and human society. Topics are generally those found in entry-level college earth and space science classes, however, some may be more advanced as secondary school teachers are expected to understand higher-level viewpoints than their students are.
How is it Scored?
Most ETS testing centers have the capability to provide you with an on-screen score after you finish your exam. However, you will not have access to your official score report until two to three weeks after your specific testing window has closed.
This will be available on your My Praxis account for up to a year afterwards. It will include your pass/fail status, your score, and a breakdown of your scores in each section. This will also include passing scores in each state you designated to have your scores sent to.
Check Out Mometrix's Praxis Earth and Space Sciences: Content Knowledge (5571) Flashcards
Get complex subjects broken down into easily understandable concepts
Get Your Flashcards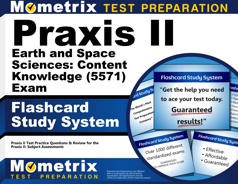 How Should I Prepare?
To make the most of this testing experience, check out the study guide and flash cards Mometrix has designed for this exam. These are created to include all relevant information you will need to know as well as in-depth sample questions that read just like the ones found on the actual exam.
These will without a doubt prepare you to know everything needed, even the way that Praxis words their exams. Don't miss out on these exceptional tools to help you succeed.
Praxis Earth and Space Sciences: Content Knowledge Study Guide
Mometrix Academy is a completely free resource provided by Mometrix Test Preparation. If you find benefit from our efforts here, check out our premium quality Praxis Earth and Space Sciences: Content Knowledge (5571) study guide to take your studying to the next level. Just click the Praxis Earth and Space Sciences: Content Knowledge (5571) study guide link below. Your purchase also helps us make even more great, free content for test-takers.
Praxis Study Guide
Praxis Flashcards