Praxis II Early Childhood: Content Knowledge (5022) Practice Test
If you intend to pursue a career in Early Childhood Education, you've had to take many educational and professional steps to follow this path. Because of this, you likely also understand just how important this career is. Early childhood education is more than simply teaching young children how to ABC's and 1-2-3's.
You will be laying down the bricks that will start off their entire academic careers and, hopefully, lead toward future success. That's why so many state governments, school districts, and individual schools look for teachers who've earned the highest level of qualifications for the job. Before you embark upon your own teaching career, you must first prove you've gained the capabilities and knowledge necessary to meet the learning needs of your students year after year.
For the majority of U.S. states, this means earning a passing score on the Praxis II Early Childhood: Content Knowledge (5022) exam. This test is tailored specifically to incoming teachers to gauge their competence with the subjects and skills they will need to effectively manage their classrooms. If you're on this page, there's a good chance you'll soon be facing this exam to earn your certification. Keep reading to learn everything you need to know.
About the Exam's Format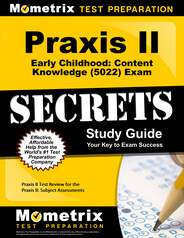 Praxis Early Childhood: Content Knowledge Study Guide
The Praxis II Early Childhood: Content Knowledge exam spans 120 questions. Each question featured on the exam is selected-response (AKA multiple choice). You will be given a total of two hours to complete the exam.
What the Exam Covers
All questions featured on the Praxis II Early Childhood: Content Knowledge exam will fall under one of the below content categories:
Health and Physical Education; Creative and Performing Arts handles several topics at once, each of which is important to your students' growth and well being. Its subcategories are numerous and include Structure and Processes Within the Arts; Health; Purposes and Functions of the Arts; and Physical Education. It covers a total of 20 questions (or 17 percent of the test's content).
Language and Literacy deals primarily with your comprehension of literacy and how to encourage and increase literacy among potential students. Like the other categories, this content section splits into several sub-categories: Language, Emergent Literacy: Foundational Skills, Speaking and Listening, Reading: Foundational Skills, Writing, and Reading: Literature and Informational Text. This category features 36 questions, taking up approximately 30 percent of the exam.
The Science section of the Praxis II Early Childhood: Content Knowledge exam centers on your ability to teach science to young students, as well as how much you know about science yourself. Its subcategories include Engineering, Technology and Applications of Science; Fundamental Concepts and Processes of Scientific Inquiry; Life Science; Earth and Space Science; and Physical Science. The category is one of the smallest featured, possessing only 17 questions (or 14 percent of the test).
Like the other sections detailed here, the Social Studies content category addresses both your ability to educate your students on Social Studies-related topics, as well as your own overall knowledge. It splits into five subcategories: Civics and Government; Identity, Social, and Emotional Development; Time, Continuity, and Change; People, Places, and Environments; and Culture and Cultural Identity. 17 questions fit under this category; it accounts for 14 percent of exam content.
The Mathematics category focuses on your comprehension of math and teaching math—specifically the forms of math young students will be expected to learn throughout the school year. Its subcategories are Geometry, Measurement, and Data; Emergent Mathematics: Foundational Skills; Algebraic Thinking; Numbers and Operations—Fractions; and Numbers and Operations—Whole Numbers. This test section contains 30 questions, making up 25 percent of exam content. You will not be able to use a calculator on this portion of the exam.
How to Register for This Exam
The Praxis II Early Childhood: Content Knowledge (5022) exam is available year-round, and has been since September 1, 2018. There are several registration methods for you to choose from. More specifically, you may register either via phone, via postal mail, or online. The standard registration fee for this exam is $120.
Phone registration is available throughout ETS's regular business hours (between 8:00 AM and 7:45 PM Eastern Time, Monday through Friday). You must get in touch with the ETS in advance—no sooner than four days prior to whenever you would like to test. Payments must be made via debit or credit card; you will be expected to pay an extra $35 fee on top of the regular fee, raising the phone registration fee to $155.
Postal mail registration starts with an official form, which can be accessed via the official ETS website. Print out this form and fill it out before sending it. In return, you will receive further registration instructions and your voucher number; these will arrive within three weeks. You should print out your official admission ticket prior to test day and bring it to your testing site. While you may not need it on-site, there's a chance that testing administrators may use it for identification purposes.
You can complete your online registration through the ETS website. Payment will only be accepted through PayPal, debit card, or credit card. Again, you will need to print out your ticket to bring on exam day.
About the Scoring Process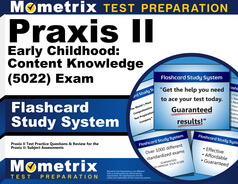 Praxis Early Childhood: Content Knowledge Flashcards
The Praxis II scoring system is unique from most in that what qualifies as a passing score depends largely upon the state you're testing in. Additionally, different states may only require some Praxis II subject tests and not others. Be sure to go to the ETS website to check whether the Praxis II Early Childhood: Content Knowledge (5022) exam is available in your state, as well as find information on what the lowest passing score will be according to your state's official standards.
You will receive a score report between 10 and 11 days after completing the exam. It can be accessed online. On your score report, you'll not only receive a notice of if you successfully passed and your numeric score, but also various score-based statistics, such as mid-percentile data.
Retesting Availability
The ETS only offers retests within a narrow period—specifically, in between your testing date and the day your scores will be released to you. You cannot apply for a retest once you have received your scores unless for some reason the ETS has chosen to cancel reporting your scores of their own volition. Retesting by your own choice requires voluntarily canceling your report and filing a complaint. You only have a period of seven business days after your original testing date to register your complaint.
Tools for Success
The Praxis II Early Childhood: Content Knowledge exam is packed with content and, while each component of it is necessary for your future teaching career, the sheer amount of it can prove overwhelming. Where do you even begin with studying? You'll need a comprehensive resource to help guide you through the study process, which is what our team at Mometrix Test Preparation seeks to provide. Here you can access two study tools we've crafted specifically for this exam:
We hope these tools will make it much easier for you to prepare for the exam. We prioritize success for test takers around the nation and strive to always deliver the best products to help you ace any exam you may be facing. Good luck!