Praxis Biology: Content Knowledge (5235) Practice Test
There's a very common misconception out there that biology is one of the easiest of all scientific subjects, especially when it comes to teaching. This notion likely comes from the lack of math involved in studying biology—at least on a surface level. Yet the reality is biology can be challenging to learn and even more so to teach.
If you're studying to become a biology teacher yourself, you know well the myriad challenges you've faced while pursuing your career goals, as well as what lies ahead of you now and in the future. Biology is an incredibly complex subject, with many dimensions to understand and be able to convey; after all, it is the study of life, and how it came to be.
On top of this, the most common students in non-collegiate biology classes are high schoolers, who can be distractible or disinterested. As such, it will not only be your job to get the important information across to them, but to do so in an appealing and immersive manner.
Every state across the US wants to ensure that you at least have a strong foundational knowledge of biology and classroom management. As such, if you reside in states such as Wisconsin, Alaska, Virginia, Colorado, Tennessee, Delaware, or many others, you'll be expected to earn a passing score on the Praxis Biology: Content Knowledge (5235) exam. You won't be able to earn your official certification without completing this important step.
We understand that facing this exam can feel intimidating, and we want to help you. We've put together this article to tell you everything you need to know about this exam, as well as offer handy resources to help you prepare.
The Layout of the Exam
Like every Praxis subject test, the Biology exam will be administered via computer. The questions will come in selected-response (multiple choice) format and total to 150. The test is also timed; you will be expected to complete the full exam in exactly two and a half hours.

Praxis Biology: Content Knowledge Study Guide
Get practice questions, video tutorials, and detailed study lessons
Get Your Study Guide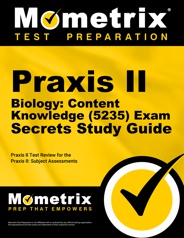 Content and Subjects: What to Expect
The Praxis Biology exam splits up into six different content categories, which we will detail below:
The Science, Technology, and Social Perspectives category is the smallest to feature on the exam, taking up 10 percent of its overall content. This makes for 15 questions in all. In terms of content, this category deals with the various societal and ethical effects surrounding technology, science, and the way we handle natural resources; the relationship between society, natural occurrences (such as epidemics and disasters), and human actions; and the state of the environment as the result of technological and scientific advancement.
History and Nature of Science accounts for 14 percent of the exam, or 21 questions. This category deals primarily with your comprehension of laboratory management and safety; scientific inquiry; scientific models; the interrelation between biology and other scientific disciplines; how to draw conclusions from graphical data; the history of science in and of itself; and how to distinguish laws, facts, theories, and hypotheses from one another.
The Ecology: Organisms and Environments category makes up 16 percent of the test's content, or a total of 24 questions. It centers on various kinds of ecosystems, their attributes, their functions, and the life that grows within them; how humans interact with and change ecosystems; and how environmental conditions can affect a species' ability to grow and thrive.
Molecular and Cellular Biology comprises 20 percent of the exam—precisely 30 questions. This category will focus on a wide array of subjects, including genetic engineering, chemical structures, mutations, the relationship between chemicals and biological processes, gene expression, cell structure, and more.
Another one of the largest categories, Diversity of Life and Organismal Biology spans for 20 percent of the Biology subject test, or 30 questions. It specifically addresses the biological processes, functions, and structure of plants, animals, and single-cell organisms, as well as how to differentiate nonliving from living things.
The Genetics and Evolution category also takes up 20 percent of the test. This adds up to 20 questions. This category is fairly straightforward, dealing with the theories and principles regarding evolution, how genetics operate and vary, and the various laws put forth by early specialists within these fields, such as Wilhelm Weinberg, G.H. Hardy, and Gregor Mendel.
The Registration Process
ETS offers the Praxis Biology exam throughout the majority of the year, with specific testing windows taking place from January to August. There are three ways to register: via phone, via mail, or online. If you choose to register via phone, you must do so a minimum of four days prior to the day you would like to sit for the test. Registering via phone involves downloading and filling out a voucher request; afterward, you'll get your voucher number in the mail, which you must bring to the testing site. Online registration is a similar, but quicker, process. Everything is taken care of digitally, but you still must print out the admission ticket assigned to you to bring on test day.
It costs approximately $120 to take this exam. Registering via phone adds an extra $35 to the base cost.

Praxis Biology: Content Knowledge Flashcards
Get complex subjects broken down into easily understandable concepts
Get Your Flashcards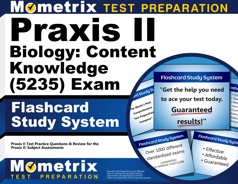 How Scoring Works
What qualifies as a passing score on the Praxis Biology exam depends largely on the state you reside in. Every state possesses its own policies on calculating passing scores. This means if you decide to relocate, you'll have to check with the state board to make sure your scores still qualify as passing. You can expect to receive your score report via email about seven business days following your testing date. Your score report will contain not just an announcement of whether you passed the exam, but also information regarding the 50th percentile of the test, point information for the test's categories, and the overall range of scores you could have received.
A Note About Retesting
Retests are available for the Praxis Biology exam. However, you must wait a minimum of 21 days after the day you first took the test to take your retest. You must also register for the exam again.
How to Best Prepare
The most efficient way to study for such an important exam is to invest in the right study tools. At Mometrix, we've taken extensive care in researching the ins and outs of the Praxis Biology exam, all to develop and deliver to you the very best resources. Below you'll find the study tools we've devised specifically for this exam:
These tools work efficiently whether used together, independently, or in combination with other resources. We hope they will become a helpful component of your study plan. Good luck!