Praxis Art: Content Knowledge (5134) Practice Test
Many states offer Educational Testing Service (ETS) Praxis exams to measure the subject matter knowledge of applicants for teaching licenses. Art Content test takers typically hold a bachelor's degree in art and seek to become certified art teachers.
How do I register to take the Praxis Art Content (5134) exam?
Developed by testing experts and art educators, the Praxis Art Content (5134) exam is a two-hour, computerized test regularly scheduled at businesses and educational testing centers in the USA and internationally. The $120 fee to take the Art Content test is payable on the ETS website. Information about accommodations for test takers with disabilities is available through ETS.
What should I bring to the Praxis (5134) testing site?
Registered test takers receive detailed information about what to expect on the day of the exam. Strict procedures are in place to protect test security. The sites provide all necessary test materials, such as calculators, scratch paper and pencils. The test taker only needs to bring a photo ID to the testing center.
How soon are test scores released?
Your state department of education and the State Requirements section of the ETS website will tell you if your state requires a passing score on a Praxis test as a condition of employment. State departments of education establish passing scores. ETS publishes the results for Praxis exams in 10–16 business days after the testing window closes. State departments of education also receive Praxis scores.
Check Out Mometrix's Praxis Art Study Guide
Get practice questions, video tutorials, and detailed study lessons
Get Your Study Guide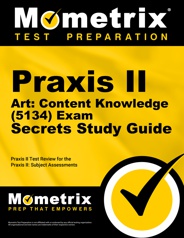 What does the Praxis Art Content (5134) exam cover?
The Praxis Art Content test consists of 120 multiple choice questions organized in two sections:
Art Making comprises 64% of the exam. Questions address the materials for art-making, the principles of design for two- and three-dimensional objects, and the approaches to creating art in historical and contemporary cultures. Questions range over such topics as:
Girclee
Tone
Spatial depth
Modeling
Watercolor painting
Charcoal
Sculptures
Propaganda
Historical and Theoretical Foundations of Art make up 36% of the questions cover the Historical Context for art-making, Western art and architectural traditions, nonwestern art, and responses to art, to include:
Altamira bison
Greek civilization
Byzantine style
New realism in early Netherlandish art
Leonardo da Vinci
The classic revival
Asian art
Art movements
How should I study for the Praxis Art Content (5134) exam?
The Praxis Art Content exam is challenging, but those who prepare properly need not worry. Mometrix experts in testing psychology teamed up with working artists and art historians to develop three convenient and effective ways to study.
The first stop on your way to acing the Art Content Praxis is to take a practice test to see which questions are easy for you and which identify gaps in your knowledge. The Mometrix Academy offers free, online self-exams. Praxis Art Content Practice videos give you a first-hand look at the types of questions you will encounter on test day. Mometrix practice videos build your confidence in your strengths, allowing you to focus your study time on the more difficult material.
The Mometrix Praxis Art: Content Knowledge (5134) Exam Secrets Study Guide is a comprehensive review of testable items on recent versions of the test. Available in book or ebook form, the Mometrix Secrets Study Guide provides clear definitions of key concepts, plenty of practice questions, and detailed explanations of the answers. Any knowledge about art you missed in your college classes is guaranteed to appear in the Mometrix Secrets Study Guide.
As a bonus, the Secrets Study Guide coaches you on test taking skills with insights into how to find the right answers by analyzing the wording of test questions. You also benefit from tips on managing test anxiety and encouragement to prove to yourself that you know enough to take charge of your own classroom.
For those stressed about memorizing definitions or squeezed for study time, the Mometrix Praxis Art: Content Knowledge (5134) Exam Flashcard Study System is the ideal review method. Mometrix Flashcards easily fit into the student's hand and turn breaks in the daily routine into opportunities for a Praxis refresher. Flashcards reduce massive amounts of content into manageable chunks of information. Repetitive drill with flashcards makes correct responses stick in the memory. Whether you review by yourself or with study companions, you will find that regular practice with flashcards puts the right answers into your mind, making your dream of acing the Praxis and landing your first teaching job one of your happiest memories.
Check Out Mometrix's Praxis Art Flashcards
Get complex subjects broken down into easily understandable concepts
Get Your Flashcards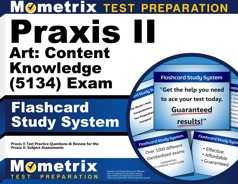 Praxis Art: Content Knowledge Study Guide
Mometrix Academy is a completely free resource provided by Mometrix Test Preparation. If you find benefit from our efforts here, check out our premium quality Praxis Art: Content Knowledge (5134) study guide to take your studying to the next level. Just click the Praxis Art: Content Knowledge (5134) study guide link below. Your purchase also helps us make even more great, free content for test-takers.
Praxis Study Guide
Praxis Flashcards