Power Plant Maintenance Positions Selection System (MASS)
This exam is used to help determine suitable candidates for jobs in nuclear, fossil, and hydroelectric plants.
Test Details
This exam is approximately 1 hour long, and is completed using paper and pencil. Each section of the exam has its own allotted time schedule and number of questions. See below for the specifics of each exam section.
If you require special accommodations, this request must be made directly to the utility company.
Some jobs in these fields for which MASS will test, include:
Welder
Electrician
Painter
Steelworker
Pipe fitter
What are the specifics of the topics covered?
The following topics and subtopics are covered, as well as the number of questions and time allotted for each.
Spatial Ability – You will have 10 minutes to complete 20 multiple-choice questions.
Mechanical Concepts – You will have 20 minutes to complete 44 multiple-choice questions.
Mathematical Usage – You will have 7 minutes to complete 18 multiple-choice questions.
Reading Comprehension – There will be 5 reading passages associated with several multiple-choice questions about each passage. You will have 30 minutes to complete a total of 36 multiple-choice questions.
Check Out Mometrix's MASS Study Guide
Get practice questions, video tutorials, and detailed study lessons
Get Your Study Guide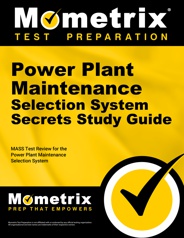 Where can I take the exam and how much does it cost?
The exam can be taken at various job sites. If you are taking the exam at the site where the job will occur, it is free. If you take the exam at a school that partners with the company with which you are trying to get a job, the cost is $30.
What should I do the day of the exam?
Bring a valid photo ID. You are not allowed to bring a calculator to the testing area. Additionally, you are prohibited from bringing personal items such as food and drink.
What happens after I take the exam?
The results of all four sections of the exam are combined into an Aptitude Index Score. The Human Resources Department (HR) of the company for which you are applying, will be given the results. HR will let you know if you passed or failed.
What happens if I don't pass the exam?
Each utility company has its own waiting period for re-taking the test. Consult with the company.
Where can I get more information?
Going into an exam blindly is never a good idea. The hope is that you will pass without having to take it more than once. The best way to do this is to thoroughly prepare yourself. Resources that mimic the real test are going to be the most helpful.
Knowing this, Mometrix has designed a study guide that was created using exam experts who have spent many hours fully researching the content of the exam, just to bring you the best. You can take advantage of all of their hard work by visiting the link below to obtain your very own.
We are certain that you will find our study guide comprehensive and a great addition to your study plan. In fact, we are so certain that with your purchase, you will receive our 100% money- back guarantee.
MASS Study Guide
Mometrix Academy is a completely free MASS test resource provided by Mometrix Test Preparation. If you find benefit from our efforts here, check out our premium quality MASS Study Guide to take your studying to the next level. Just click the MASS study guide link below. Your purchase also helps us make even more great, free test content for test-takers.
Upgrade your studying with our MASS study guide:
MASS Study Guide
MASS Study Guide Customer Success Stories
Our customers love the tutorial videos from Mometrix Academy that we have incorporated into our MASS test study guide. The MASS study guide reviews below are examples of customer experiences.
This book breaks every section down and makes them easy to understand! It teaches the mathematical and scientific methods behind the questions to better prepare you for the test and the job! The practice test in the back is particularly helpful to gage how prepared you are!
MASS Study Guide – Brittney
This is a great product and helped me zone in and focus on how to take the mass test.
MASS Study Guide – Leroy
It's a very good informational guide to help develop the knowledge to perform well on the MASS test.
MASS Study Guide – James
I purchased this Study Guide for my son. He needed to prepare for the Power Plant Maintenance Test for his employer-a nuclear power plant. Because of the way the guide is written and presented he is confident he is going to pass the national nuclear power plant test. It supports what he already knows and makes new material easy to assimilate.
MASS Study Guide – Normando
I think your Product is Awesome and I wish I had found it before I took my test the first time!!
MASS Study Guide – Customer
This book is a great study guide for MASS test. Lots of examples that is similar to the actual test.
MASS Study Guide – George