Plant Operator Selection System Practice Test
The Plant Operator Selection System (POSS) test is an exam designed by the Edison Energy Institute (EEI) to assess your aptitude and skills in relation to power plant operations positions, such as those in fossil, hydroelectric, or nuclear power plants.
Click "Start Test" below to take a free POSS practice test!
Exam Outline Review
The POSS is a multiple-choice, paper-and-pencil aptitude test containing between 118 and 146 questions, depending on which version you take. You will be given 67-77 minutes to complete the test, with times varying slightly across companies.
The POSS consists of four different test batteries:
1. Reading Comprehension (36 questions)
This section consists of short reading passages based primarily on technical concepts, such as what you might read in utility training manuals. You will be given 30 minutes to demonstrate your comprehension of these passages.
2. Mechanical Concepts (44 questions)
This section consists of questions regarding the use of mechanical devices related to power plant operations. You will see line drawings of pulleys, levers, gears, ramps, and fulcrums, and be expected to demonstrate your understanding of motion, momentum, pressure, and related physics concepts within the 20-minute time limit.
3. Mathematical Usage (18-46 questions)
This section consists of questions covering mathematical formulas and mathematical problem-solving skills. Typically, if you are applying for a plant operator position, you will take the short-form version of this test battery, which contains 18 questions and has a 7-minute time limit. If you are applying for a supervisory role, you will likely take the long-form version of this test battery, which contains 46 questions and has a time limit of 17 minutes.
4. Figural Reasoning (20 questions)
This section consists of questions related primarily to assembly. You will see drawings of disassembled devices and be required identify their parts, demonstrate understanding of perspective, and visualize assembled devices within the 10-minute time limit.
Check Out Mometrix's POSS Study Guide
Get practice questions, video tutorials, and detailed study lessons
Get Your Study Guide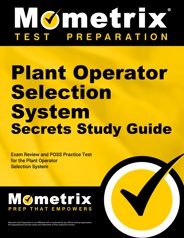 How the Exam is Scored
Your score is determined by the number of questions you answer correctly. This means there is no penalty for answering a question incorrectly, so you should at least pencil in a guess if you aren't sure of the correct answer.
Your scores for each section of the test are combined into an index score on a range of 0-15. The score needed to pass the exam will be different depending on the job you wish to pursue and at which company you wish to work.
How to Study for the POSS Exam
How to Study Effectively
Your success on POSS test day depends not only on how many hours you put into preparing but also on whether you prepared the right way. It's good to check along the way to see whether your studying is paying off. One of the most effective ways to do this is by taking POSS practice tests to evaluate your progress. Practice tests are useful because they show exactly where you need to improve. Every time you take a free POSS exam practice test, pay special attention to these three groups of questions:
The questions you got wrong
The ones you had to guess on, even if you guessed right
The ones you found difficult or slow to work through
This will show you exactly what your weak areas are and where you need to devote more study time. Ask yourself why each of these questions gave you trouble. Was it because you didn't understand the material? Was it because you didn't remember the vocabulary? Do you need more repetitions on this type of question to build speed and confidence? Dig into those questions and figure out how you can strengthen your weak areas as you go back to review the material.
Answer Explanations
Additionally, many POSS practice tests have a section explaining the answer choices. It can be tempting to read the explanation and think that you now have a good understanding of the concept. However, an explanation likely only covers part of the question's broader context. Even if the explanation makes sense, go back and investigate every concept related to the question until you're positive you have a thorough understanding.
Comprehend Each Topic
As you go along, keep in mind that the POSS practice test is just that: practice. Memorizing these questions and answers will not be very helpful on the actual test because it is unlikely to have any of the same exact questions. If you only know the right answers to the sample questions, you won't be prepared for the real thing. Study the concepts until you understand them fully, and then you'll be able to answer any question that shows up on the test.
Strategy for POSS Practice
When you're ready to start taking practice tests, follow this strategy:
Remove Limitations. Take the first test with no time constraints and with your notes and POSS study guide handy. Take your time and focus on applying the strategies you've learned.
Time Yourself. Take the second practice test "open book" as well, but set a timer and practice pacing yourself to finish in time.
Simulate Test Day. Take any other practice tests as if it were test day. Set a timer and put away your study materials. Sit at a table or desk in a quiet room, imagine yourself at the testing center, and answer questions as quickly and accurately as possible.
Keep Practicing. Keep taking practice tests on a regular basis until you run out of practice tests or it's time for the actual test. Your mind will be ready for the schedule and stress of test day, and you'll be able to focus on recalling the material you've learned.
FAQs
How many questions are on the POSS test?
There are between 118 and 146 multiple-choice questions on the test, depending on which version you take.
How long is the POSS test?
The time limit for this test varies, but is generally between 67 and 77 minutes.
What is the passing score for the POSS test?
There is no set passing score for this test.