Pediatric CCRN Exam
The CCRN exam is a specialty certification exam offered to nurses whose goal is to provide direct care to pediatric patients, as well as adult and neonatal patients with acute, and/or chronic illnesses.
Who is eligible?
The exam is open to licensed RN's and APRN's in the U.S.
As an RN, or APRN, you will have also:
Spent 1,750 hours in direct care of critically ill adult patients during the previous two years, OR;
Spent 2,000 hours in direct care of critically ill adult patients within the last five years
How long is the exam?
The exam is 3 hours long, and consists of 150 multiple choice questions. 125 of these questions are scored, while the other 25 questions are used to gather data for future exams.
Is there a registration fee?
Yes. If you are taking the CCRN exam for the first time, the cost is as follows:
AACN members: $235
Nonmembers: $340
For those who are retaking the test:
AACN members: $170
Nonmembers: $275
Check Out Mometrix's Pediatric CCRN Study Guide
Get practice questions, video tutorials, and detailed study lessons
Get Your Study Guide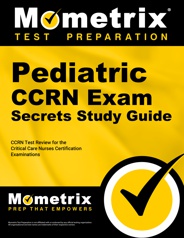 How is it scored?
Each candidate's score is measured against a predetermined number, meaning that candidates are expected to meet a certain cut score.
For the Pediatric CCRN exam, the cut score is 86. In order to be certified, you must get at least 86 questions correct out of the 125 questions that are scored.
What makes up the Pediatric CCRN Exam?
Clinical Judgment is 80% of the Pediatric CCRN exam, and it can be broken down into subsections:
Cardiovascular – 15%
Endocrine/Hematology/Gastrointestinal/Renal/Integumentary – 19%
Pulmonary – 16%
Musculoskeletal/Neurology/psychosocial – 16%
Multisystem – 14%
Professional caring and ethical practice make up the other 20% of the exam:
Advocacy/Moral Agency
Caring Practices
Response to Diversity
Facilitation of Learning
Collaboration
Systems Thinking
Clinical Inquiry
Wondering how you can apply?
You can apply for the exam online, or by filling out a paper application. No matter how you choose to register for the exam, make sure you use your legal name.
Your legal name is the name that will be on your photo identification when you show up for the exam. It is the same name that will be printed on your certificate.
Applying Online?:
The online application has same day processing. You may apply online at Get Certified
Paper Application:
Paper applications are required for persons applying for paper and pencil exams, those who are applying in groups, and for testing outside the U.S.
Complete the application, making sure to fill in all requested information, including information about your RN and APRN licensing.
Keep in mind that processing a paper application can take around 2 to 3 weeks.
What happens after I register?
After you register, you should:
Receive notice of processed application.

You will receive an email from AACN confirming that you have successfully applied to take the CCRN exam.

Receive approval-to-test e-mail.

A few days after receiving your confirmation email, you will receive an email from AACN's testing service (PSI/AMP). You may also receive a postcard in the mail that will include relevant information, including your exam identification number.

Schedule your exam:

Testing is offered twice daily, Monday through Friday, between 9 a.m. and 1:30 p.m., with Saturday appointments being available at most locations.
You can locate a PSI/AMP testing location by visiting www.goAMP.com.

Take your exam:

If you complete your exam on a computer, your results will be presented the same day, on-site.
For paper and pencil exams, results will be mailed out 3 to 4 weeks after completing your paper exam.
If results show a passing score, then congrats, you will receive your certificate within 3 to 4 weeks after completion of your exam.
If you did not pass, don't worry. You're able to reapply and take the exam up to 4 times in a 12-month period.
Anything else I need to know?
Your CCRN certification is good for three years. After three years you are responsible for renewing it.
This involves retaking the CCRN exam, or by renewing your certification through the CERPS program, (The Continuing Education Recognition Points Program).
Either way, it's important to refresh your knowledge as often as possible.
Refresh my knowledge?
Yes. Mometrix has great study resources, including flashcards, for those who are preparing to take the exam for the first time, or for those who are about to renew their certification.
The study guides from Mometrix focuses on specific content, and details everything you need to know to get a high score on your exam.
It's been proven that repetition is the most effective way of studying, and the flashcards from Mometrix are written in a straightforward style that is easy to understand and remember.
They're also conveniently designed to be able to squeeze in study time no matter where you are.
Check Out Mometrix's Pediatric CCRN Flashcards
Get complex subjects broken down into easily understandable concepts
Get Your Flashcards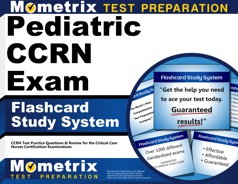 Pediatric CCRN Study Guide
Mometrix Academy is a completely free Pediatric CCRN test resource provided by Mometrix Test Preparation. If you find benefit from our efforts here, check out our premium quality Pediatric CCRN Study Guide and Pediatric CCRN Flash Cards to take your studying to the next level. Just click the Pediatric CCRN study guide link below. Your purchase also helps us make even more great, free test content for test-takers.
Upgrade your studying with our Pediatric CCRN study guide and flashcards:
Pediatric CCRN Study Guide
Pediatric CCRN Flashcards
Pediatric CCRN Customer Success Stories
Our customers love the tutorial videos from Mometrix Academy that we have incorporated into our Pediatric CCRN study guide. The Pediatric CCRN study guide reviews below are examples of customer experiences.
I really like how concise the information is without losing any of the material that would be needed to known for testing. I also like that it adds in common meds/normal values when in many books that is not stated because they want you to buy a separate book for that. I very much appreciated the affordability of the product as many other comparable products are incredibly expensive. Really enjoying the product!
Pediatric CCRN – Customer
Thank you for creating such an effective way to study for this test! I have worked in the PICU for two years now and on my days off the last thing I want to do it read a 1200 page book on every pediatric topic on earth. This is so straight and to the point with the tips I need to PASS.
Pediatric CCRN – Customer
This book covers everything you need to know without covering too much. I felt totally prepared for the text and my anxiety was not as bad either. Overall great purchase!
Pediatric CCRN – Mary
Test-taking is an art in and of itself, and I found this guide to be particularly beneficial both in its content and in the test-taking techniques I was able to master through practice. As it says in the intro, the book is designed to help you to exploit the weaknesses in these kinds of tests - and you'll inevitably learn to avoid common little errors. I also appreciate that the book is "fluff free"... no one studying for exams has any time to waste and the authors certainly took that into account.
Pediatric CCRN – Customer
I love the "fluff" being erased and broken down into what needs to be known to take the exam. I feel comfortable taking the practice questions per section after reading the information provided in your books.
Pediatric CCRN – Customer
Good study material. A lot of important information to help prep for the test and a free DVD
Pediatric CCRN – Mai