PCCN Practice Test
The Progressive Care Certified Nurse (PCCN) exam is administered by the American Association of Critical-Care Nurses (AACN), which is the largest specialty nursing organization in the world. The PCCN examination tests applicants' knowledge of caring for acutely ill adult patients.
Click "Start Test" below to take a free PCCN practice test!
PCCN Exam Eligibility
To be eligible for the PCCN exam, you must meet the necessary licensure and practice requirements.
Licensure
You must hold a current and unencumbered RN or APRN license in the United States.
Practice
You must meet ONE of the following requirements:
Within the last 2 years, you must have obtained 1,750 hours of practice as an APRN or RN, providing direct care to acutely ill patients. At least 875 of those hours must be earned in the most recent year preceding the application.
You must have at least 5 years of experience as an RN or APRN, with at least 2,000 hours of experience providing direct care to acutely ill adult patients. At least 144 of those hours must be earned within the most recent year preceding the application.
Please note that orientation hours, in which you shadowed another nurse who was assigned an acutely ill patient, cannot be counted towards PCCN eligibility. If you were the assigned nurse and had another nurse shadow you while working with an acutely ill patient, you may count those hours toward your PCCN eligibility.
Nurses with managerial or education positions may apply hours spent supervising nursing students or nurses at the bedside. These hours are only eligible if you participated in the direct care of the acutely ill patient.
PCCN Exam Outline
The PCCN exam contains 125 multiple-choice questions, 25 of which are unscored, and you will be given a time limit of 2.5 hours. The unscored questions are unmarked and spread randomly throughout the exam, so you will not know which questions are scored or unscored. These questions are used to evaluate the quality of questions for future exams.
The exam is based on the American Association of Critical Care Nurses (AACN) Synergy Model for Patient Care, so you need to be familiar with this framework and set of procedures.
This exam is split into two sections:
Clinical Judgment (80%)
These questions test your knowledge of various aspects of the systems of the human body.
Cardiovascular (27%)
Pulmonary (17%)
Endocrine/Hematology/Neurology/Gastrointestinal/Renal (20%)
Musculoskeletal/Multisystem/Psychosocial (16%)
Professional Caring and Ethical Practice (20%)
These questions test your knowledge of various professional caring processes and ethical practices.
Advocacy/Moral Agency
Caring Practices
Response to Diversity
Facilitation of Learning
Collaboration
Systems Thinking
Clinical Inquiry
Check Out Mometrix's PCCN Study Guide
Get practice questions, video tutorials, and detailed study lessons
Get Your Study Guide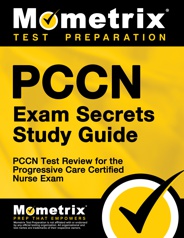 How to Register for the PCCN Exam
There are two application options for the Progressive Care Certified Nurse (PCCN) examination.
Online Application
Applicants can complete the application online, on the AACN website. The application will ask you for your RN or APRN license number and expiration date, as well as contact information for a co-worker or clinical supervisor, who can verify your eligibility. At this time, you must also pay the $305 examination fee ($200 for AACN members).
Paper Application
For applicants applying with a group, taking a paper-and-pencil exam, and/or testing outside the US, a paper application is required. The application will ask for your RN or APRN license information and an honor statement. At this time, you must also pay the $305 examination fee ($200 for AACN members). Your application will then be processed within 2 to 3 weeks.
After applying, you will receive a confirmation email stating that you successfully applied. Approximately 5-10 days after the confirmation email is sent, qualifying candidates will receive an approval-to-test email and postcard from AACN's testing service, PSI/AMP. The email and postcard will include an exam identification number, instructions for scheduling the exam, and a 90-day window for scheduling and taking the exam.
Test Day
In-person Testing
On the day of your exam, you should arrive at the testing center 15-30 minutes earlier than the scheduled exam time. Arriving later than 15 minutes after the scheduled appointment time will result in your exam being canceled.
Once you arrive, you will need to show a valid, government-issued photo ID. If your ID is invalid or you forget to bring it, you will not be able to take the exam.
Before the exam begins, you will be asked to leave all personal items (cell phone, books, papers, notes, food, jacket, hat, etc.) in your car. You will then be asked for your AACN customer number, and a digital photograph of you will be taken.
You will then be given a practice exam to help you familiarize yourself with the computer system. Once the practice exam is complete, the real exam will begin.
You are permitted to take breaks during the exam, but the timer will not be stopped while you are away.
Live Remote Proctoring
You should log into your AACN account 15-30 minutes before your exam is scheduled to begin. Once you are logged in, the proctor will guide you through the check-in process. You will not be allowed to wear headphones, and you must ensure that your testing area is free from food, your cell phone and other electronic devices, notes, and reference materials.
How the Exam is Scored
The PCCN exam is scored using a modified version of the Angoff method. This means that AACN panelists are given information such as test results and other panelists' rating results to determine the cut score. The cut score is a raw number that is based on how the AACN panelists established the difficulty ratings for each question.
To pass the exam, you will need to achieve a cut score of 68.
If you take the computer-based exam, you will receive your score report as soon as you finish the exam. If you take the paper-and-pencil version of the exam, you will receive your score report by mail 6 to 8 weeks after exam day.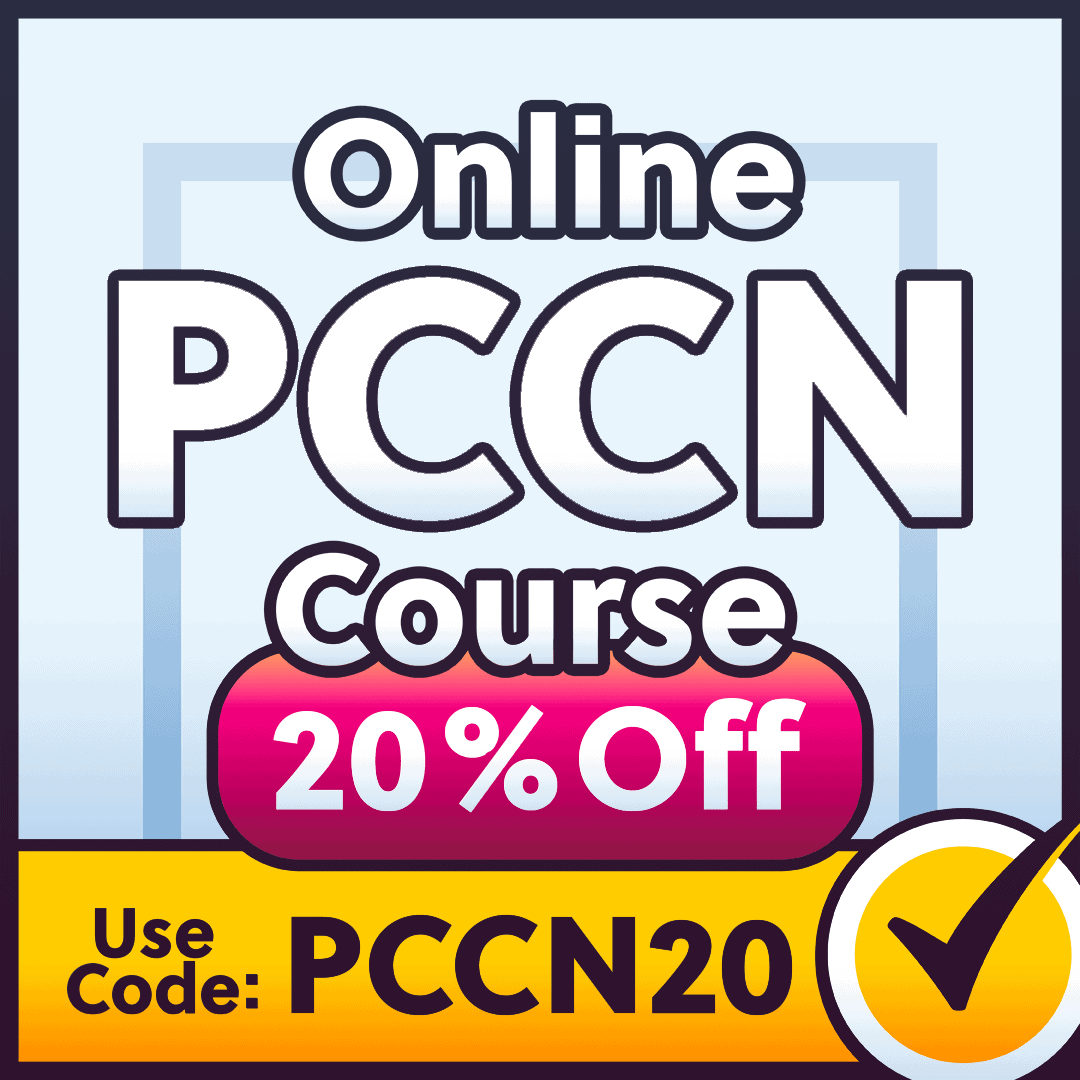 PCCN Online Prep Course
If you want to be fully prepared, Mometrix offers an online PCCN Prep Course. The course is designed to provide you with any and every resource you might want while studying. The PCCN Course includes:
104 Lessons Covering Every Topic
500+ PCCN Practice Questions
Over 90 Video Tutorials
More than 900 Electronic Flashcards
Money-back Guarantee
Free Mobile Access
and More!
The PCCN Prep Course is designed to help any learner get everything they need to prepare for their PCCN exam. Click below to check it out!
Check Out Mometrix's PCCN Flashcards
Get complex subjects broken down into easily understandable concepts
Get Your Flashcards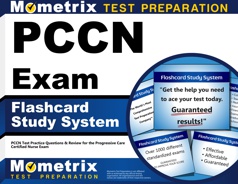 FAQs
How hard is the PCCN exam?
The pass rate for this exam is 67%, so this is considered to be a moderately difficult exam.
How many questions are on the PCCN exam?
There are 125 multiple-choice questions on the exam, 25 of which are unscored.
How long is the PCCN exam?
The time limit for the exam is 2.5 hours.
What is the passing score for the PCCN exam?
To pass the exam, you must achieve a cut score of 68.
How much does the PCCN exam cost?
The examination fee is $200 for AACN members and $305 for non-members.
PCCN Study Guide Customer Success Stories
Our customers love the tutorial videos from Mometrix Academy that we have incorporated into our PCCN test study guide. The PCCN study guide reviews below are examples of customer experiences.
I like the way the information is actually explained in understandable terms. I answer the questions then check the answers. When I get one wrong, I write myself a note about what to study then I go back in the manual and read all about that subject. (I also have a book that only has the material in outline form which wasn't helping me learn what i needed to know.) I like this book much better than the other one I was using.
PCCN Study Guide – Sara
Several of my coworkers have looked at this book and love its readability. One has already purchased her own copy!. I love how it breaks down information into simple, easy to read paragraphs that are not too detailed or overwhelming. I can see the clinical indications for understanding the material I read. I am looking forward to the practice test once I finish reading the book. Thank you for this study guide! Amazon reviews led me to this book, and I can safely say they were right!
PCCN Study Guide – Customer
Very good study guide. I had another study book that had so much information on each section that it would be impossible to remember it all. This book covers the section with just the info you need to know. They claim to cut through the fluff and they do. The reader is also given tips for studying and test taking.
PCCN Study Guide – Jackie
This book is great. It has both content and quizzes. Having both the quiz and rationale in one place is extremely helpful. This is my first time taking the PCCN and I believe this book will greatly improve my chances of passing the test the first time.
PCCN Study Guide – Carol
The explanations are straightforward and easy to read. All the points are addressed. I liked the questions that includes rationales. I was looking for the book that does not include unnecessary information, and this book met my needs.
PCCN Study Guide – Bo
I have gotten half way through this product, and it is not only helping me prepare for my PCCN exam but helping me become an even better nurse. The things I have learned or refreshed myself on are helping me in real life situations that I face as a floor nurse everyday. My scores on other practice exams are dramatically improving, and I'm beginning to feel more confident!
PCCN Study Guide – Sharlene
This study guide worked well for me! It was a great refresher of diseases I have learned and gave detailed information on illnesses I was not familiar with. Very straightforward and easy to reference.
PCCN Study Guide – Customer
I was looking for study materials that would meet my needs as I studied for the exam. Mometrix study aids exceeded my expectations in many ways. I thought the studying would be laborious and boring, but the Mometrix tools were quite the opposite. They held my attention and made me want to learn the information. Most of it was review from nursing school, but I certainly could not have mastered all this material without the Mometrix tools. I may even go on to study for another exam now because of the confidence Mometrix has given me. Also, the flashcards are a fun way to test yourself as you study from the test manual.
PCCN Study Guide – Martin
I rate this product 5/5 because this product thus far the best study guide I have bought. The review contents are concise and very easy to understand. It is what I need to know not only for taking the certification exam, but also provides the knowledge I can use to apply in my daily practice. Compare to others preparation books I have bought, Mometrix helps me understands the gaps of knowledge in a very short amount of time and make me feel ready to go to take this test in a short time frame. I recommend it to anyone especially if you have limited of time to study.
PCCN Study Guide – Nate
I have never found any book which is as brief and simple as this one. It makes my life easier. The body system seems to be as simple as ABC. Well, as simple as you can get with explaining the body system...
This study guide seems to have everything you need. You can't ask for more. From its body system explanations, to its practice tests, answers and explanations and more importantly its 5 secret key to success and a lot more. Its 5 secret key to success is really cool. You should not miss learning about them. There's a bunch of general test-taking strategies presented in this study guide that will help you. You will know how to make predictions, answer the question, avoid "fact traps", benchmark, milk the question, eliminate answers, brainstorm and it's already too many to mention.
PCCN Study Guide – Customer