PAX Exam
PAX stands for Pre-Admission Exam. Nursing schools use the exam to determine if an applicant has the skills and aptitudes necessary to do well in a program of nursing education. While a high score isn't enough by itself to guarantee admission, a low score can ruin a person's chances of being admitted, no matter how qualified they are in other ways. The PAX test is a timed, standardized test consisting of multiple choice questions in three areas – verbal ability, math, and science. The same pax test is now given to both RN and PN students, and median correct scores of RN and PN groups will be provided to universities.
Section 1 of the PAX exam is the verbal ability section. This portion of the test is made up of 60 questions divided into two subsections: reading comprehension and word knowledge.
Section 2 of the PAX exam is math, which is composed of 40 "computation and word problems." Typically, you will find that there are fewer computation questions on exams.
Section 3 of the PAX exam, science, has 60 questions, like the verbal section. It covers topics ranging from, biology and human anatomy to physics and chemistry. Many of the questions in this 3rd section of the PAX are adapted from Bloom's Taxonomy.
NLN exam questions are wide-ranging, covering such topics as reading comprehension, vocabulary, biology, basic math, algebra, chemistry, physics, geometry, and earth sciences. You are provided only 2 hours and 5 minutes for the entire exam, and the allotment for that time goes as follows:
Prepare with our PAX Study Guide and Practice Questions.
Get practice questions, video tutorials, and detailed study lessons
Get Your Study Guide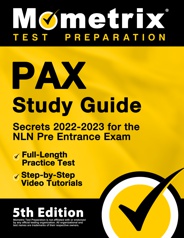 45 minutes for verbal
35 minutes for math
45 minutes for science.
There are no passing or failing scores; each nursing program has its own standard for acceptable scores. It's critical to do as well as you can on the exam, because a person who performs poorly may only retake the test two times. Here at Mometrix Academy you'll find numerous free PAX test prep videos that can help you do your very best on the exam.
PAX Practice Test
Use the free PAX practice test questions below to get a better understanding of the PAX exam. Take advantage of this valuable resource to pinpoint your strengths and weaknesses.
PAX Study Guide
Mometrix Academy is a completely free NLN PAX review provided by Mometrix Test Preparation. If you find benefit from our efforts here, check out our premium quality PAX study guide to take your studying to the next level. Just click the PAX study guide link below. Your purchase also helps us make even more great, free content for test-takers.
Online PAX Prep Course
If you want to be fully prepared, Mometrix offers an online PAX Prep Course. The course is designed to provide you with any and every resource you might want while studying. The PAX Course includes:
Review Lessons Covering All the Topics
650+ PAX Practice Questions
More than 800 Digital Flashcards
Over 240 Instructional Videos
Money-back Guarantee
Free Mobile Access
and More!
The PAX Prep Course is designed to help any learner get everything they need to prepare for their PAX exam; click below to check it out.
Check Out Mometrix's PAX Flashcards
Get complex subjects broken down into easily understandable concepts
Get Your Flashcards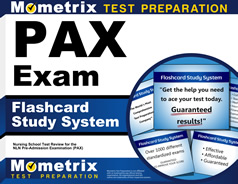 What Is the Registration Process for the PAX RN Exam Like?
While the exam itself is the same no matter where you take it, it is going to be administered by the school that you are applying to. So you will register for your appointment through the school. The exam fee also depends on where you are taking it but will usually range from $60 to $100.
When you register, you will have a range of dates to choose from. It is offered several times each month. Many locations will also offer a range of start times on each date so that you can find something that fits best with your schedule.
Which Skills Will Be Tested on the Verbal Section of the PAX RN Exam?
Similar to other college admissions exams, the verbal section is focused on fundamental reading, writing, and critical thinking skills. This section will contain 60 questions divided into three main categories:
Reading comprehension: understanding and interpreting information from a text.
Critical thinking: reasoning within the text and beyond the text.
Word knowledge: vocabulary, sentence structure, grammar, and word choice.
The ability to comprehend what you read, construct your thoughts in clear, grammatically correct sentences, and critically analyze ideas are all essential for success in your classes.
How Should I Prepare for Test Day?
The entire exam will last about two hours. You get 40 minutes per section, regardless of the number of questions. That means you have less than a minute per question to complete the 60 questions on the verbal section.
Aside from the time limits of the exam, you also need to be prepared in general to make sure you are able to perform your best on the day of the test. With that in mind, here are a few tips to make sure you come to the testing center rested and ready:
Get to bed early the night before so that you can wake up early enough to eat a full breakfast the morning of the test.
Arrive at the testing center at least 30 minutes before your appointment to check in.
Bring your valid government-issued photo ID.
Don't bring a calculator or any personal items into the testing center.
All questions will be multiple choice and you are able to skip questions and come back to them later. So, if you get to one that stumps you, just move on and get through the ones you can answer quickly. Then, use the rest of your test time to answer the difficult ones.
What Is the Minimum Score Needed to Pass the PAX RN Exam?
The exam is given a cumulative score ranging from 1 to 199. However, in order to receive a score at all, you need to complete all three sections. So your top priority should be making sure you answer all the questions, even if you have to guess. Beyond that, there is no set minimum required.
However, the program you are applying to will usually have either their own minimum requirements or be able to tell you what the average scores are for the students they accept. As guideline while you study, you should aim to score above the 50th percentile which means you should try to get a 103 or better.
PAX Study Guide Customer Success Stories
Our customers love the tutorial videos from Mometrix Academy that we have incorporated into our PAX study guide. The PAX study guide reviews below are examples of customer experiences.
I find that I retain material better when I listen to it verbally and visually. I found that along with the written material that the study book already has, the videos that accompany this study material help to reinforce the learning process. This material is well worth the purchase and will help you significantly prepare yourself for this exam.
PAX Study Guide – Customer
I am so impressed. This study guide breaks the information down to the minimum without including nonsense. I rate this product a solid 5.
PAX Study Guide – Lindsey
What a wonderful product! Has everything that you need to help you study for the Pax test! Love this product. It explains everything you need to know, plus the practice questions and answers! Great purchase.
PAX Study Guide – Customer
This was very helpful so far. It has allowed me to feel more comfortable in my progress preparing for the exam. It has been a great tool in my advancement in the nursing program.
PAX Study Guide – Ryan
This study guide included so many valuable resources to help prepare for the Pax exam. If you need extra help on a certain topic there are access codes that you enter on Mometrix.com/academy and the video pops right up along with step by step instructions. I liked the online practice tests that are included to quiz with before using the ones in the book. I'll definitely use this to refresh my A&P knowledge before the nursing program begins.
PAX Study Guide – Customer
So far I have been extremely happy with the reading and study material with this book. It is enough but not too much information on the topics needed to know about the exam to come. I appreciated the encouraging information and methods necessary to succeed on the entrance exam. Short and to the point paragraphs of important information needed to know for each section.
PAX Study Guide – Customer
Material is organized and is in order which makes studying less complex. I love that I actually know what vocabulary to study so I have an idea of what to study.It is an easy read and very detailed on how to break apart words and also allow me to have better test taking skills and allows me to eliminate the wrong choice easier.
PAX Study Guide – Linda
Your materials are great! They are clear and to the point which someone like me looks for I struggle with test and I have ADHD.
PAX Study Guide – Jennifer