PANRE Practice Test
The Physician Assistant National Recertifying Exam (PANRE) is designed to measure general medical and surgical knowledge as applies to a career as a physician's assistant. Certified physician's assistants need to take this test once every 10 years in order to renew their certification.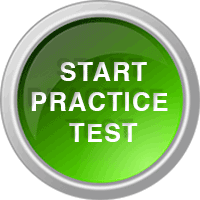 Am I Eligible to Take the PANRE?
Before you can register for the exam, you need to log at least 100 Category 1 Continuing Medical Education (CME) credits within the last two years. Once you have met this requirement, you can apply for the PANRE. After your application has been reviewed, you will receive an approval email with instructions for scheduling your exam.
If you have lost your certification as a result of disciplinary action, you will first need to reestablish your eligibility to become certified (as you did for the PANCE) and then log the 100 credits of Category 1 Continuing Medical Education before applying for the PANRE.
Once approved, you have a 180 day window to take the test. You can schedule an appointment anytime within this window at the testing center most conveniently located for you. Be prepared to pay an exam fee of $350 at the time of registration.
How Long Does the Exam Take?
Altogether, there will be 240 multiple choice questions split into four 60 question blocks. You will get one hour per block so four hours total for the entire exam. In addition to the testing time, you will have a 15 minute break after each section.
The check in process will take approximately 15 to 30 minutes and you will have another 15 minutes to complete a tutorial about taking the PANRE exam. So, altogether, be prepared to spend about five and a half hours at the testing center.
You will be able to skip questions and return to them within the one hour provided for the block. However, once the time is up for a 60 question block, you won't be able to return to it later. So treat each block as an individual, self-contained test.
PANRE Review Questions
What Do I Need to Know for the Test?
The material included on the PANRE exam covers two dimensions of a physician's assistant job:
Organ systems and diseases, disorders and medical assessments physician assistants encounter within those systems
The knowledge and skills physician assistants should exhibit when confronted with those diseases, disorders and assessments.
Below is an outline of how the questions will be divided within these two dimensions. Bear in mind that the questions will overlap the dimensions so that each question fulfills one subject in the first category and one type of knowledge or skill from the second category.
Diseases, Disorders, and Medical Assessments Thereof:
Cardiovascular System (16%)
Dermatologic System (5%)
Eyes, Ears, Nose & Throat (9%)
Endocrine System (6%)
Gastrointestinal System/Nutrition (10%)
Genitourinary System (6%)
Hematologic System (3%)
Infectious Diseases (3%)
Musculoskeletal System (10%)
Neurologic System (6%)
Psychiatry/Behavioral (6%)
Pulmonary (12%)
Reproductive System (8%)
History Taking and Performing Physical Examinations (16%)
Using Laboratory & Diagnostic Studies (14%)
Formulating Most Likely Diagnosis (18%)
Health Maintenance (10%)
Clinical Intervention (14%)
Pharmaceutical Therapeutics (18%)
Applying Basic Science Concepts (10%)
When you register for the exam, you will be able to choose one of three focus areas. Those focus areas are adult medicine, surgery, or primary care. The content breakdown described above will be the same no matter which focus area you choose. However, about 40% of the test will include questions relating to the content above in a way that is more specifically related to the focus area you chose.
What Score Do I Need to Pass?
After taking the test, you will receive a scaled score ranging from 200 to 800. The minimum passing score is not made public because there are many variables that go into its calculation so it is often changing. However, alongside your score, you will see a notice of whether you have passed or failed.
What Is the Best Way to Study for the PANRE?
The most important thing you could do to prepare for this exam is review all the general knowledge and concepts that you are going to be working with on the test. For that, you should get the Mometrix Study Guide which includes a comprehensive overview, including concepts and ideas that you might have forgotten if they aren't relevant to your daily tasks at work.
To help you further refresh your memory and improve your command of all the general medical and surgical knowledge, pick up a set of Mometrix Flashcards. They are highly portable so you can even bring them with you to work to give yourself a quick pop quiz on your break!
PANRE Study Guide
Mometrix Academy is a completely free PANRE review resource provided by Mometrix Test Preparation. If you find benefit from our efforts here, check out our premium quality PANRE study guide to take your studying to the next level. Just click the PANRE study guide link below. Your purchase also helps us make even more great, free content for test-takers.
PANRE Study Guide
PANRE Flashcards
Learn more about the Mometrix PANRE Secrets Study Guide.