Orthopaedic Technologist Certified Practice Test
The Orthopaedic Technologist Certified (OTC) exam is provided by the National Board for Certification of Orthopaedic Technologists (NBCOT) to evaluate the knowledge and skills of anyone wishing to earn a certification to work as an orthopaedic technologist.
This page will cover the OTC examination, what information the examination covers, the number and type of questions you can expect, the score you need to pass, and everything you need to register for the assessment.
Eligibility
When applying to take the examination, you have to prove that you are eligible to take the test. Eligibility can be determined by two different routes.
Route 1: Supervised Work Experience
For this route of eligibility, you must have both of the following:
A minimum of 24 months of full-time work experience in the field of orthopaedic technology, completed within the 36 months prior to the date of your application
Evidence of being under direct supervision of a licensed physician specializing the musculoskeletal system during the entirety of your work experience
If you do not provide documentation that confirms your work experience, you will not be eligible to take the OTC exam under this route.
Route 2: OT Training Program Applicants
For this route of eligibility, you must have have completed an Orthopaedic Technologist training program that meets the following requirements:
The training program must be consistent with the current NCBOT examination domains.
The training program must consist of no less than 450 hours of qualified curriculum training, including practical laboratory instruction and classroom lectures.
The training program must include clinical rotations or an externship that is made up of no less than 200 practice training hours. The clinical rotations or externship must prepare you in experiences regarding the following:

A hospital environment on an orthopaedic floor or in an orthopaedic department
An operating room
An orthopaedic physician's office

Each training program instructor must be licensed to practice in the health care field that is the subject of their program course. In addition, the training program must include at least one instructor who is NBCOT-certified as an OTC.
The training program must issue a Certificate of Program Completion to all students within 90 days after the successful completion of all program requirements.
The training program must maintain a fair and appropriate student appeals policy and must operate in accordance with the law.
If you do not provide documentation that confirms your completion of the training program, you will not be eligible to take the OTC exam under this route.
Consideration for Military Training Programs
For a military training program to be considered as part of a route to eligibility, the military OT training program must have a curriculum that covers a clinical rotation or an externship that lasted no less than three months and included no less than 200 practice hours.
You will need to submit a certificate of course completion that is issued by the relevant branch of the US military or a certified copy of the US Department of Defense Form 214 "Certificate of Release from Active Duty."
Check Out Mometrix's Orthopaedic Technologist Certified Study Guide
Get practice questions, video tutorials, and detailed study lessons
Get Your Study Guide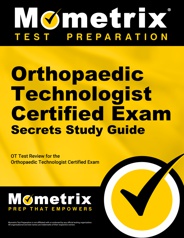 Exam Outline Review
The Orthopaedic Technologist Certified exam contains 165 multiple-choice questions, 15 of which are unscored "pretest" questions used for research purposes. The exam is entirely computer-based, and you will have 3 hours to complete it.
There are no scheduled breaks during the test. You are allowed to take a break when you need to, but the time clock on the test will not be stopped
The exam is split into four sections:
1. Assessment (41%)
The 62 questions in this section assess the following:
Your knowledge of how to conduct a patient/family interview using effective techniques
Your knowledge concerning the conducting of a patient's physical examination to determine an injury
Your knowledge of radiographic interpretation
2. Casting, Splinting, and Orthopaedic Appliances (42%)
The 63 questions in this section assess the following:
Your knowledge of the application of casts on the upper and lower extremities
Your knowledge of the process of applying a cast on a torso
Your knowledge of the removal process for casts
Your knowledge of other appliances and how to apply them or remove them according to the doctor's instructions
Your knowledge of how to fit a patient for a pre-fabricated orthotic device
Your knowledge about patient instructions and education concerning cast care, splints, and other orthotic appliances
3. Traction (6%)
The 9 questions in this section assess the following:
Your knowledge of the equipment used in traction and your ability to obtain the correct equipment according to the doctor's orders
Your knowledge about the application of traction apparatuses
Your knowledge in assisting the surgeon in the application of skeletal traction apparatuses
Your ability and knowledge of how to remove or discontinue the use of traction devices
Your knowledge and ability to explain to the patient about traction and the care instructions for the type of traction they have
4. Surgery (11%)
The 16 questions in this section assess the following:
Your knowledge and ability to prep the patient according to the accepted techniques and practices, including positioning the patient properly and draping the patient correctly
Your knowledge in postoperative care concerning the application of dressings and wound care
Your knowledge of surgical assistance procedures, and your ability to assist the surgeon by supplying them with the proper materials they need while using the accepted techniques
Your knowledge of providing patient education and patient care instructions
Registration
You can register online at NBCOT's website or over the phone by calling 866-466–2268.
When you fill out the application to take the test, you will be required to name the state where you wish to take the test. The testing centers are in almost every state, so you need to decide which center will be most convenient for you.
Once you have been approved, you will be sent a confirmation that has pertinent information you will need to complete the final details of your registration.
Fees
There are a handful of fees to be aware of:
Registration: $85.00
Examination: $400.00
Late registration: $100.00
Reschedule 6+ days before the exam: $75.00
Reschedule less than 6 days before the exam: $150.00
Military personnel will have the testing fee waived, but late fees will NOT be waived for any reason.
Test Day
You must bring two forms of identification with you to the testing center. At least one form of ID must be a photo ID, and both must include your name and signature.
There are several things that you are not allowed to bring with you to the testing center:
Electronic devices (laptops, tablets, smartwatches, etc.)
Pencils or paper
Food or drink
Purses or backpacks
Heavy coats, hooded jackets, or sweatshirts
Hats, scarves, or face coverings (if you wear these items for religious reasons, you can request special permission)
Reference materials
Religious items that are not pre-approved
OTC Exam Scores
The scoring range for the OTC exam is 100-1,000, and a passing score of 700 is required. This means that you will need to answer at least 101 of the 150 scored questions correctly in order to pass.
Receiving Your Scores
The results of the examination will be printed out and given to you by your proctor as soon as the exam is complete. Do not leave the center without obtaining your score report. These reports will NOT be mailed to you or sent to you electronically via text or email.
Retaking the Exam
If you do not pass the exam on you first try, you can retake it up to 3 times as long (as you pay all applicable fees and meet the eligibility requirements each time). Each of the attempts must occur in separate months. If you do not pass the exam within those 3 attempts, you will be required to wait six months from the date of your last testing attempt to try again.
Check Out Mometrix's Orthopaedic Technologist Certified Flashcards
Get complex subjects broken down into easily understandable concepts
Get Your Flashcards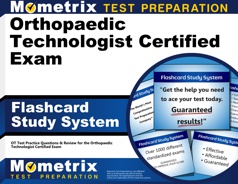 How to Study for the OTC Exam
How to Study Effectively
Your success on OTC test day depends not only on how many hours you put into preparing but also on whether you prepared the right way. It's good to check along the way to see whether your studying is paying off. One of the most effective ways to do this is by taking OTC practice tests to evaluate your progress. Practice tests are useful because they show exactly where you need to improve. Every time you take a free Orthopaedic Technologist Certified exam practice test, pay special attention to these three groups of questions:
The questions you got wrong
The ones you had to guess on, even if you guessed right
The ones you found difficult or slow to work through
This will show you exactly what your weak areas are and where you need to devote more study time. Ask yourself why each of these questions gave you trouble. Was it because you didn't understand the material? Was it because you didn't remember the vocabulary? Do you need more repetitions on this type of question to build speed and confidence? Dig into those questions and figure out how you can strengthen your weak areas as you go back to review the material.
Answer Explanations
Additionally, many OTC practice tests have a section explaining the answer choices. It can be tempting to read the explanation and think that you now have a good understanding of the concept. However, an explanation likely only covers part of the question's broader context. Even if the explanation makes sense, go back and investigate every concept related to the question until you're positive you have a thorough understanding.
Comprehend Each Topic
As you go along, keep in mind that the Orthopaedic Technologist practice test is just that: practice. Memorizing these questions and answers will not be very helpful on the actual test because it is unlikely to have any of the same exact questions. If you only know the right answers to the sample questions, you won't be prepared for the real thing. Study the concepts until you understand them fully, and then you'll be able to answer any question that shows up on the test.
Strategy for OTC Practice
When you're ready to start taking practice tests, follow this strategy:
Remove Limitations. Take the first test with no time constraints and with your notes and OTC study guide handy. Take your time and focus on applying the strategies you've learned.
Time Yourself. Take the second practice test "open book" as well, but set a timer and practice pacing yourself to finish in time.
Simulate Test Day. Take any other practice tests as if it were test day. Set a timer and put away your study materials. Sit at a table or desk in a quiet room, imagine yourself at the testing center, and answer questions as quickly and accurately as possible.
Keep Practicing. Keep taking practice tests on a regular basis until you run out of practice tests or it's time for the actual test. Your mind will be ready for the schedule and stress of test day, and you'll be able to focus on recalling the material you've learned.
FAQs
How many questions are on the exam?
There are 165 questions on the OTC exam, 150 of which are scored.
How long is the exam?
The OTC exam has a time limit of 3 hours.
What types of questions are on the exam?
All of the questions on the OTC exam are multiple-choice.
What is a passing score for the exam?
The passing score for the OTC exam is 700.
When will I receive my scores for the exam?
The proctor will print out and hand you your OTC exam score results before you leave the testing center.
How much does the exam cost?
The exam fee for the OTC exam is $400.00.