Orthopaedic Nurses Certification Practice Test
The Orthopaedic Nurses Certification (ONC) exam was designed by the Orthopaedic Nurses Certification Board (ONCB) to provide orthopaedic nurses with the only credential in the field to recognize expertise in orthopaedic nursing. The ONCB's orthopaedic nursing credential can help you demonstrate your dedication to orthopaedic nursing, or even secure a coveted position in a hospital, clinic, or practice.
Click "Start Test" below to take a free ONC practice test!
Orthopaedic Nurses Exam Eligibility
To sit for the ONC exam, you must demonstrate two full years of practicing Registered Nurse (RN) experience, and you must hold a full, unrestricted RN license in the United States. If you are an RN in another country, you will need to meet equivalency criteria as determined by a number of international credentialing services available via the ONCB website.
You must also demonstrate at least 1,000 hours of work within the past three years as an RN in orthopaedic nursing. The ONCB recognizes a number of means of attaining this experience, including adult care, education, emergency room experience, critical care, home health care, pediatrics, administration, and other related areas.
Orthopaedic Nurses Exam Outline
The ONC exam contains 150 multiple-choice questions, 15 of which are unscored, and you will be given a time limit of 3 hours. These unscored questions function as pilot questions that help determine the efficacy of such questions for future use. Because you will not know the difference between scored and unscored questions, it is important that you answer each consecutive question to the best of your ability.
The ONC exam covers several content areas within two overarching specifications: conditions and tasks. Each question is connected to one condition and may also be connected to one task. The content areas and number of scored questions per content area are as follows:
Conditions
Degenerative disorders (51 questions)
Orthopedic trauma (26 questions)
Sports injuries (15 questions)
Inflammatory disorders (11 questions)
Metabolic bone disorders (12 questions)
Congenital/Pediatric disorders (7 questions)
Musculoskeletal tumors (7 questions)
Neuromuscular disorders (6 questions)
Tasks
Self-care (22-32 questions)
Pain (35-45 questions)
Complications (31-41 questions)
Activity (15-25 questions)
Nutrition (3-9 questions)
Psychosocial (3-9 questions)
Check Out Mometrix's Orthopaedic Nurse Study Guide
Get practice questions, video tutorials, and detailed study lessons
Get Your Study Guide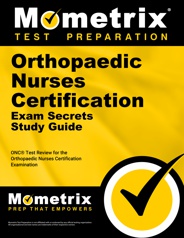 Orthopaedic Nurses Exam Registration
To register for the ONC exam, you must first submit an application through the Meazure Learning Registration System. When you submit your application, you must also submit the $410 examination fee ($295 for NAON/NOVA/AANP/CONA members).
Once your application and exam fee are processed, you will receive notice of your exam eligibility period via email and postcard. You must schedule and complete your exam before the eligibility window closes.
Test Day
On test day, you should arrive 15-30 minutes earlier than the scheduled testing appointment, which will allow extra time for the check-in process. When you arrive, you will be asked to show a valid photo ID, and you may be asked for your confirmation email from Meazure Learning.
Before you take the exam, you will be asked to leave your cell phone, wallet, keys, smoking items, and other personal items outside of the testing room. You will then be given a dry-erase board or scratch paper and a pencil to take notes.
You will be permitted to take as many breaks as you need during the exam, but the timer will not be paused at any time.
How the Orthopaedic Nurses Exam is Scored
The ONC exam is scored using the Angoff method, which means the passing score is established by a panel of subject matter experts based on the difficulty of the exam questions. The minimum passing score is 72%, which means you need to answer at least 98 questions correctly to pass.
You will receive a preliminary score report before you leave the testing center. This report will tell you whether you passed or failed the exam.
Retaking the Orthopaedic Nurses Exam
If you do not pass the exam, you may retake it as many times as you wish. However, you must wait a minimum of 90 days between retakes.
Check Out Mometrix's Orthopaedic Nurse Flashcards
Get complex subjects broken down into easily understandable concepts
Get Your Flashcards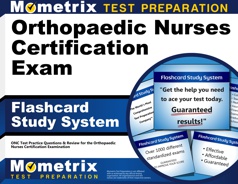 FAQs
How many questions are on the ONC exam?
There are 150 multiple-choice questions on the exam.
How long is the ONC exam?
The time limit for the exam is 3 hours.
What is the passing score for the ONC exam?
To pass the exam, you must answer at least 72% of the questions correctly.
How many people pass the ONC exam on the first attempt?
The current pass rate for this exam is approximately 80%.
How much does the ONC exam cost?
The examination fee is $295 for NAON/NOVA/AANP/CONA members and $410 for non-members.