OHST Practice Test
The Occupational Hygiene and Safety Technicians (OHST) certification is awarded to professionals who work to prevent harm in the workplace. The certification is awarded by the Board of Certified Safety Professionals. It's a certification that shows these technicians have the skills to succeed in their field of work. Here's a look at what's on the test, followed by recommendations on some outstanding study materials.

Are there any minimum training requirements for candidates who want to take the Occupational Hygiene and Safety Technicians exam?
Yes. Candidates must have at least three years of experience in the occupational hygiene or safety field. At least 35 percent of a candidate's part or full-time work duties must be in occupational hygiene or safety. They must also have responsibilities that show occupational health or safety technical skills and knowledge.
How much time do I have to complete the test?
Candidates have four hours to finish the exam.
How many questions are on the Occupational Hygiene and Safety Technicians test?
There are 200 multiple choice questions on the exam.
Check out Mometrix's OHST Study Guide
Get practice questions, video tutorials, and detailed study lessons
Get Your Study Guide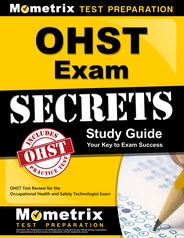 What are the exam fees?
The exam costs $440. The fee includes a $300 exam fee and a non-refundable $140 application fee.
What's on the test?
The test contains seven domains, or content areas, that test knowledge and skills. They are:
Math and Science and Business Calculations/Analysis. This section includes fundamentals in several mathematics areas, including statistics, algebra and trigonometry; concepts in biology, physics and chemistry; financial terms; performance tracking; and benchmarking.
Safety, Health, and Environmental Programs & Risk Management includes knowledge of appropriate uses of leading and lagging indicators; continuous improvement processes; process safety and hazardous waste management basis concepts; and risk analysis techniques.
Hazard Identification and Control is the largest exam area, accounting for more than 30 percent of the test questions. Content areas include hazards and controls associated with power tools, working with moving parts, and hot work like welding and grinding; and various safety practices.
Health Hazards and Basic Industrial Hygiene includes ergonomics basic concepts; occupational illnesses; occupational injuries; and stress.
Emergency Preparedness, Fire Prevention, and Security focuses on using emergency equipment; planning for a disaster, emergency or crisis; emergency response procedures such as CPR; understanding biological, chemical and other agents that could be used in a terrorist attack.
Organizational Communication and Training/Education includes management principles, how to communicate certain types of information and how to resolve conflict.
Ethics and Professional Conduct reviews the Board of Certified Safety Professionals Code of Ethics, the candidate's knowledge of protecting confidential information, and understanding safety information.
What is the minimum passing score?
This is a pass/fail exam. The exam uses the Modified Angoff Method, in which a panel of subject matter experts predict a question's difficulty and from that information set a cut score.
When will I receive my test score?
You'll receive your score at the end of the exam. Candidates who fail the test can take it again, so long as they pay a re-test fee and wait six weeks before their next attempt.
Where can I take the Occupational Hygiene and Safety Technicians test?
The Board of Certified Safety Professionals uses independent test centers with hundreds of locations across the country.
Can I bring my own calculator?
Yes. Candidates can bring up to two calculators to the testing room, but they must be specific models and brands. You should consult the Board of Certified Safety Professionals testing guide for more detail. Candidates can also use the online calculator that is part of the test.
Can I bring personal items into the testing room?
No. Candidates must place any personal items, including but not limited to mobile phones, electronic devices, wallets, purses, hats and head coverings, in a locker at the test center.
Check out Mometrix's OHST Flashcards
Get complex subjects broken down into easily understandable concepts
Get Your Flashcards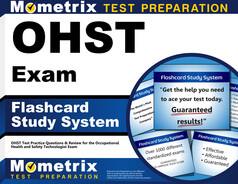 Should I bring identification to the test center?
Yes. Candidates should bring two forms of identification. As the primary form, candidates should bring a government-issued ID (passport, driver's license, etc.) that contains a signature and photograph. As a secondary ID, candidates must produce a form of identification that contains a signature.
What test preparation materials should I buy?
Mometrix has the materials you need. Our OHST study guide and OHST flashcards have been developed by test-taking professionals who have spent their career helping candidates prepare for tests like the Occupational Hygiene and Safety Technicians certification. Our study guide will walk you through the areas of the test that often stump students. Our flashcards will teach you the critical concepts you need to properly prepare. These are two excellent resources.
OHST Study Guide
Mometrix Academy is a completely free OHST certification resource provided by Mometrix Test Preparation. If you find benefit from our efforts here, check out our premium quality OHST study guide to take your studying to the next level. Just click the OHST study guide link below. Your purchase also helps us make even more great, free content for test-takers.
Upgrade your studying with our OHST study guide and flashcards:
OHST Study Guide
OHST Flashcards
OHST Study Guide Customer Success Stories
Our customers love the tutorial videos from Mometrix Academy that we have incorporated into our OHST study guide. The OHST study guide reviews below are examples of customer experiences.
It is short, sweet and to the point and hopefully it will give me the boost I need to pass the exam on the first try. I love the fact that you have included a practice exam along with an answer guide and explanation.
OHST Study Guide – Sandy
I like this study aid and the way it explains everything in detail. It is easy to read and understand. I like it a lot and I'm sure I will pass my test no problem since I have this material.
OHST Study Guide – Sonya
I have been very impressed with the study guide, it was very difficult for me to find a study guide that didn't just have practice questions. This study guide gave me an opportunity to read terms, definitions and math problems prior to taking the practice exams.
OHST Study Guide – Brian
I personally think that both of these materials will be instrumental in ensuring that I succeed in pursuit of OHST certification. They make it easier for a family man who needs to prioritize his time in order to study. I have seen my knowledge grow over the past month.
OHST Study Guide – David
I recently purchased the OHST exam secrets study guide. Having worked (part-time) as our facility safety person for over 8 years, I felt confident I had the skills & knowledge to pass the OHST exam with little preparation. I was wrong! The study guide & online academy was very in-depth and identified areas of study I was deficient in. The OHST Exam secrets provided the detailed knowledge of all areas of testing without any of the "fluff". The math section was especially helpful. It's been a while since doing Algebra, Trig, Geometry & Statistics.
OHST Study Guide – Jim
If you buy this study guide, you will see right away that the content in the guide was mean to cover what will be on the test. That much is helpful enough, but the guide also has some other things like test-taking tips that help you overcome mistakes that a lot of people make. Dumb mistakes that can really trip you up. You know you're going to have to take standardized tests in order to get where you want to go. That doesn't mean you like it, but you have to do it anyway. The key to your success is studying right and this guide has study secrets that can help keep you on track in that way too. Get this study guide and succeed. It has all the elements you need. The only way you won't do well is if you get the guide and don't take advantage of what it has to offer.
OHST Study Guide – Iam
I absolutely LOVE that this material is put into very readable/understandable format. I consider my knowledge to be 'ok'…and the book, along with the flashcards has put this material into an easy, learn-able format. I now look forward to taking the exam, versus a nervous nelly. …I now know, I got THIS!
OHST Study Guide – Customer
I really like the simplicity of the program and the easy to understand topics and explanations. I benefited from the 50 question prep test.
OHST Study Guide – John