OCN® Practice Test
The Oncology Nursing Certification Corporation (ONCC®) Oncology Certified Nurse (OCN) exam was designed for registered nurses seeking to demonstrate their understanding of current knowledge and practice in oncology nursing and feel the personal accomplishment of earning OCN certification. The OCN exam tests your advanced knowledge and skills related to oncology nursing beyond the minimum knowledge and skills necessary to become an RN.
What is OCN certification?
While RN licensure demonstrates the requisite entry-level knowledge to begin working in the field, it does not necessarily demonstrate to your employers or patients your dedication to continuing your education and broadening your knowledge and skills. The OCN certification process is voluntary and provides your employers and patients with the assurance that you are dedicated to obtaining and maintaining specialty knowledge in oncology nursing.
OCN certification also provides comfort to your patients and rewards to you as an RN. Certification, while voluntary, may be necessary for advancement into higher-level roles in your organization and can help open additional professional opportunities, including potential income increases.
Eligibility
In order to take the OCN exam, you must hold an active, current, unencumbered RN license in a state or territory of the United States or Canada. Potential test-takers must also demonstrate at least one year (12 months) of practice and experience as a licensed RN, occurring within 3 years of completing the application for the exam.
Additionally, you need to have completed at least 1,000 hours of adult oncology practice in nursing within 2.5 years prior to application. This practice needs to have been completed as a licensed RN and can be clinical, educational, administrative, or in a research capacity.
Lastly, you need to have completed at least 10 hours of continuing nursing education in an oncology-related area within the previous 3 years.
Check Out Mometrix's OCN Study Guide
Get practice questions, video tutorials, and detailed study lessons
Get Your Study Guide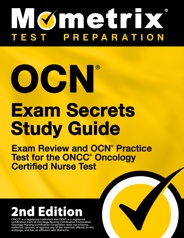 Exam Outline Review
There are 165 multiple-choice questions on the OCN exam, divided into six content areas, each weighted differently. Of the 165 questions, only 145 items count toward your score, because 20 are pretest questions designed to aid the test creators in determining what should be included in the exam.
The content and structure of the exam will appear as follows:
I. Care Continuum (19%)
The 31 questions in this section will cover the following topics:
Health promotion
Disease prevention
Screening and early detection
Coordination of care
Navigation of care
Advance care planning
Epidemiology
Survivorship
Considerations related to treatment
End-of-life care
II. Oncology Nursing Practice (17%)
The 28 questions in this section will cover the following topics:
Scientific bases
Considerations of site-specific cancer
Standards and scope of practice
III. Treatment Modalities (19%)
The 31 questions in this section will cover the following topics:
Surgical interventions
Procedural interventions
Blood and marrow transplants
Radiation therapy
Chemotherapy and biotherapy
Immunotherapy
Vascular access devices for treatment administration
Targeted therapies
IV. Symptom Management and Palliative Care (21%)
The 35 questions in this section will cover the following topics:
Etiology of symptoms
Anatomical alterations
Surgical alterations
Pharmacologic interventions
Complementary and integrative modalities
Palliative care considerations
Function alterations
Pain management
V. Oncologic Emergencies (12%)
The 20 questions in this section will cover the following topics:
Disseminated intravascular coagulation (DIC)
Syndrome of inappropriate antidiuretic hormone secretion (SIADH)
Sepsis
Tumor lysis syndrome
Hypersensitivity
Anaphylaxis
Hypercalcemia
Cardiac tamponade
Spinal cord compression
Superior vena cava syndrome
Increased intracranial pressure
Obstructions
Pneumonitis
Extravasations
Adverse events related to the immune system
Venous thromboembolism
VI. Psychosocial Dimensions of Care (12%)
The 20 questions in this section will cover the following topics:
Cultural, spiritual, and religious diversity
Financial concerns
Altered body image
Learning preferences
Learning barriers
Social relationships
Family dynamics
Coping mechanisms and skills
Support
Psychosocial distress
Sexuality
Registration
To sign up for the OCN exam, you will need to submit your application online. Within four weeks of submitting your application to test, you will receive an Authorization to Test, assuming you are determined eligible. You will then receive a test eligibility period for you to schedule and take the test.
Fees
The full cost of the OCN exam is $420. However, if you are a member of ONS/APHON, you will receive a discount, reducing the cost of the exam to $300.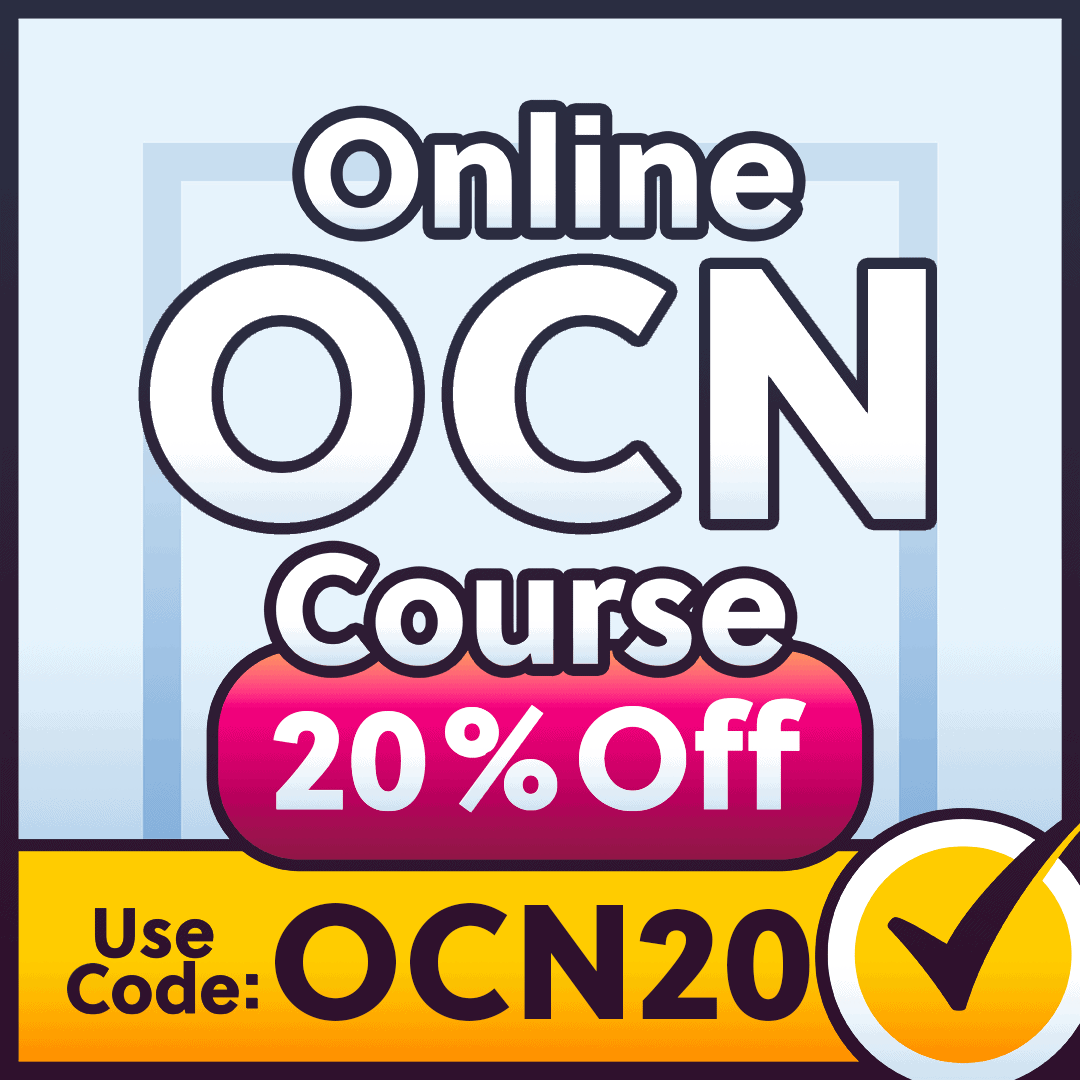 OCN Test Online Prep Course
In addition to our study guide and flashcards, Mometrix offers an online OCN Prep Course. The course is designed to provide you with any and every resource you might want while studying. The OCN Course includes:
80 Lessons Covering Every Topic
650+ OCN Practice Questions
Over 20 Video Tutorials
More than 500 Electronic Flashcards
Money-back Guarantee
Free Mobile Access
and More!
The OCN Prep Course is designed to help any learner get everything they need to prepare for their OCN exam. Click below to check it out!
OCN Study Guide
Having a thorough understanding of the content and structure of the OCN exam is the first step toward earning your OCN certification. Getting enough sleep before the exam and taking care of yourself physically will aid in your success on exam day. However, the most effective means of ensuring you perform well on the OCN exam is to prepare using the best test preparation materials you can find. This is where Mometrix steps in.
Mometrix Test Preparation offers a comprehensive OCN exam study guide: OCN Secrets. In this guide, you get actual OCN exam questions that help you recall the material you already know and achieve the score necessary to earn your certification. The OCN Secrets study guide was written by Mometrix Test Preparation's standardized test researchers, who have discovered the secrets of the OCN exam and are able to impart to you the most effective methods to reduce your stress, pass the exam, and become an OCN.
In addition to the OCN Secrets study guide, Mometrix also provides you with the OCN Exam Flashcard Study System, which includes additional comprehensive OCN Exam Practice Test questions. Earn the best score you can earn on the OCN exam by thoroughly preparing, studying, and testing yourself with real OCN exam content. Read the OCN Secrets study guide, test your knowledge with the OCN Exam Flashcard Study System and Practice Test, and get the score you need to pass the OCN exam and become an OCN. You have the knowledge and skills; now you need the certification.
Check Out Mometrix's OCN Flashcards
Get complex subjects broken down into easily understandable concepts
Get Your Flashcards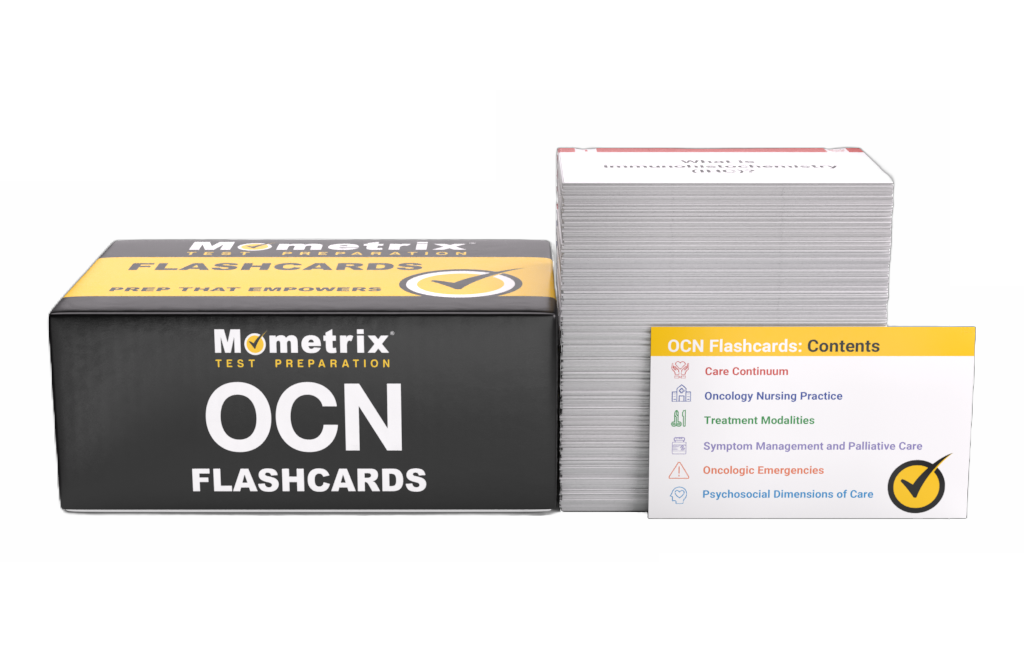 FAQs
How many questions are on the exam?
There are 165 questions on the OCN exam.
How long do you have to take the exam?
You will be given three hours to complete the OCN exam.
How much does it cost to take the Oncology Certified Nurse exam?
The cost to take the OCN exam is $300 for ONS/APHON members and $420 for non-members.
What is the pass rate for the OCN?
The pass rate for the OCN ranges between 70% and 80%.
What is a passing score on the OCN exam?
The OCN exam is scored on a scale, which means it is not a percentage score. A scaled score of 55 is passing for the OCN exam.
PONCC® is a registered trademark, and OCN® is a registered certification mark, of Oncology Nursing Certification Corporation. Oncology Nursing Certification Corporation does not endorse, authorize, sponsor, or approve any of the materials offered on this webpage, and has no affiliation with Mometrix.