NPTE-PTA Practice Test
The National Physical Therapy Exam for physical therapist assistants (NPTE-PTA) is used by the Federation of State Boards of Physical Therapy (FSBPT) to evaluate the capability of licensure candidates who have graduated from either an accredited physical therapy program or a comparable non-accredited program.
Click "Start Test" below to take a free NPTE-PTA practice test!
NPTE-PTA Exam Eligibility
To be eligible to take the NPTE-PTA exam, you must meet ALL of the following requirements:
You must be at least 18 years old.
You must have a degree from an accredited institution that is appropriate for the level of the NPTE exam, or you must have a substantially equivalent education from a recognized credentialing agency.
You must not have sanctions or an open security investigation that has not been completed.
The licensing authority or authorized designee must have approved you.
There may be additional or alternative requirements depending on your jurisdiction.
NPTE-PTA Exam Outline
Exam Format
The NPTE-PTA exam contains 200 multiple-choice questions and has a time limit of 4 hours.
When you take the exam, the questions will be split evenly into four sections, each containing 40 scored questions and 10 unscored questions. The unscored questions are used by the test administrators to evaluate questions that may appear on future versions of the exam, and they are spread randomly amongst the scored questions.
The questions are all presented in the form of patient scenarios, and you will be asked to select the correct answer out of four given answer choices. There will only be one correct answer per question.
Exam Contents
The questions are split into two domains: Body Systems and Non-systems.
BODY SYSTEMS
The questions in this domain cover various human body systems and their interactions. Below are the specific topics that are covered, as well as the range of how many scored questions will appear per system:
Cardiovascular and pulmonary systems (21-26 questions)
Musculoskeletal system (36-41 questions)
Neuromuscular and nervous systems (28-34 questions)
Integumentary system (5-10 questions)
Metabolic and endocrine systems (5-7 questions)
Gastrointestinal system (0-4 questions)
Genitourinary system (0-4 questions)
Lymphatic system (3-6 questions)
System interactions (5-7 questions)
All of these questions fall under one of three categories:
Physical Therapy Data Collection
The 29-37 questions in this category refer to knowledge of the types and applications of tests of each system, including outcome measures.
Diseases/Conditions that Impact Effective Treatment
The 33-48 questions in this category refer to the interpretation of knowledge about diseases/conditions of each system.
Interventions
The 41-54 questions in this category refer to the various interventions of each system, as well as the impact these interventions have on other systems.
NON-SYSTEMS
The questions in this domain are related to the different types of equipment and technology, contextual determinants, and use requirements. These questions are split into five categories:
Equipment, Devices, and Technology (7-9 questions)
Therapeutic Modalities (9-11 questions)
Safety and Protection (4-6 questions)
Professional Responsibilities (3-4 questions)
Research and Evidence-Based Practice (2-3 questions)
Check out Mometrix's NPTE-PTA Study Guide
Get practice questions, video tutorials, and detailed study lessons
Get Your Study Guide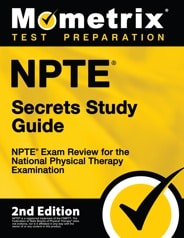 NPTE-PTA Exam Registration
The NPTE-PTA is administered four times per year (January, April, July, and October).
To sign up for the NPTE-PTA exam, you will need to create an FSBPT account and select the "NPTE" button in the green "Services" section of the page.
You must register and make the $485 payment for the exam before the registration deadline. You will not receive an Authorization to Test (ATT) until your registration and payment are received by FSBPT, and the jurisdiction cannot approve your registration for the NPTE-PTA until that happens. Your ATT letter—which includes information on how to book your testing session, the exam fee you must pay to Prometric, and your name as it appears in Prometric's registration system—will follow once you have been declared eligible for the NPTE-PTA.
Scheduling Your Exam
You should schedule your exam as soon as you receive your ATT letter, as appointments are known to fill up rapidly. You might need to arrange your exam at a different location if your preferred testing center is unavailable on the day of the exam.
Test Day
You should arrive at the testing center at least 30 minutes before the scheduled start time to leave enough time for the check-in process. You will be greeted by a Test Center Administrator (TCA), who will ask you to present two forms of valid identification, one of which must contain your photo.
Once your ID is checked, your picture will be taken, a digital image of your fingerprint will be taken, and you will be asked to undergo a met. You will then be asked to put any personal items in a locker. The only things you are permitted to bring to the check-in station are your ID papers, your locker key, and a pair of foam earplugs in an unopened container.
You will be asked to stop testing and leave the room immediately if you violate any security regulations, and no scores will be given for your test.
How the NPTE-PTA Exam is Scored
The NPTE-PTA is scored using a scaled system. This system takes your raw score, which is the number of questions you answered correctly, and converts it to a score that fits on a numerical scale of 200-800.
To pass, you will need to achieve a scaled score of at least 600. For every version of the NPTE, the number of questions that must be answered correctly to get a score of 600 can vary.
Receiving Your Scores
Your results will be available online five business days after your eligibility period is up. The results will then also be sent to your jurisdiction.
Ten business days after the exam date, your free score report—which contains your numerical scaled score—will be posted to your online account. For 30 days, you can get this report without charge. After that, you can purchase an Individual Score Report from your online dashboard to access your report.
Retaking the NPTE-PTA Exam
You are allowed to schedule a retest if you did not pass on your first attempt. You can only take the exam six times in your lifetime, and if you have already taken the exam twice and obtained a score below 400 each time, you are not eligible to take the test again.
Check out Mometrix's NPTE-PTA Flashcards
Get complex subjects broken down into easily understandable concepts
Get Your Flashcards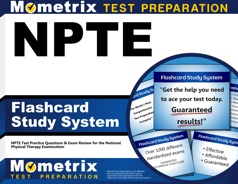 FAQs
How many questions are on the NPTE-PTA exam?
There are 200 multiple-choice questions on the exam, 50 of which are unscored.
How long is the NPTE-PTA exam?
The time limit for the exam is 4 hours.
How many times can you take the NPTE-PTA exam?
You may take the exam a maximum of six times in your lifetime. However, if your first two attempts produce scores under 400, you will no longer be eligible to take the exam at any point.
What is the passing score for the NPTE-PTA exam?
To pass the exam, you must achieve a scaled score of at least 600.
How much does the NPTE-PTA exam cost?
The examination fee is $485.