Neonatal Intensive Care Nurse Exam
Neonatal intensive care nurses have a difficult job. They're the ones who watch after newborn babies suffering from illnesses. These professionals take the Certification for Neonatal Intensive Care Nursing exam to ensure they have the skills necessary to succeed in the field. The test, created for the National Certification Corporation, is a difficult one. That's why we've created this guide to the test, as well as outstanding study materials to help you prepare.
What are the eligibility requirements to take the Certification for Neonatal Intensive Care Nursing exam?
Candidates must be a licensed registered nurse with at least 24 months and 2,000 hours of specialty experience. There are also practice time and hours requirements.
How much is the exam fee?
There is a $275 exam fee and an additional $50, non-refundable application fee, for a total fee of $325.
How many questions are on the test?
Can be 175 questions, with 150 questions counted for scoring and the rest pretest questions.
How long do I have to complete the test?
Candidates have three hours to complete the exam.
Check Out Mometrix's Neonatal Intensive Care Nurse Study Guide
Get practice questions, video tutorials, and detailed study lessons
Get Your Study Guide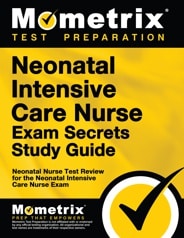 What's on the test?
The test has five content areas, though two of them make up 83 percent of the exam questions.
General Assessment contains 9 percent of the exam questions. There are two sub-content areas that include gestational age at birth, as well as maternal history and associated risk factors.
General Management is the largest content area, with 44 percent of the exam's questions. There are eight sub-content areas that include resuscitation and stabilization; fluids and electrolytes and glucose homeostasis; nutrition and feeding; oxygenation, ventilation and acid base homeostasis; thermoregulation and integumentary; pharmacology, pharmacokinetics and pharmacodynamics; neuroprotective and neurodevelopment care; infection and immunology.
Assess & Manage Pathophysiologic States contains 39 percent of the exam questions, and has seven sub-content areas. They include cardiac, respiratory, gastrointestinal and gastrourinate, hematopoietic; neurological/neuromuscular; genetic, metabolic and endocrine; head, eye, ear, nose throat.
Psychosocial Support has just five sub-content areas and accounts for 5 percent of the test questions. Discharge management, family centered care, the grieving process, palliative care, and mental health are the topics included in this test section.
Professional Issues is the smallest content area, with 3 percent of questions. Patient safety, legal/ethical communication issues, evidence-based practice, and research are all tested here.
When can I take the exam?
Candidates can submit test applications at any time. It takes about one month to process an application. Testing windows are twice a month, starting on the 5th and 20th. Once candidates receive approval, they have 90 days to take the exam.
Where can I take the exam?
The National Certification Corporation uses third-party testing centers from across the country. Candidates can generally take the test Monday through Saturday at 9 a.m. and 1:30 p.m.
What if I need to reschedule my exam?
Candidates may reschedule their test one time without a fee. After that, it costs $125 to reschedule.
How is the test scored?
The exam is scored on a pass/fail basis.

When will I receive my test grade?
Candidates will receive a preliminary score at the end of the exam. Official results will be mailed within about 21 days of the exam date.
When should I arrive at the test center?
Please make sure to arrive early — at least 15 minutes early. Candidates who are more than 15 minutes late to their scheduled appointment time won't be able to take the test and won't receive a refund.
What identification documents do I need when I enter the test center?
Candidates should have two forms of identification. One form of ID should have a photograph and signature; a driver's license and passport are among the acceptable forms of ID. The second piece of ID needs to show the candidate's name and a signature.
What are the policies regarding personal items?
Candidates are allowed to bring a sweater or jacket into the testing center. They'll also receive a soft locker to store their wallet and keys. They can also bring their own battery operated, non-programmable calculator. Otherwise, no personal items are allowed in the testing center. That includes all electronic devices, books, papers, dictionaries and the like.
What study materials can help me best prepare for the Certification for Neonatal Intensive Care Nursing exam?
Mometrix, the test preparation company, offers a pair of excellent study materials. Our study guide walks candidates through the areas they're likely to face on the test and provides tips on how best to approach questions. Our flashcards make studying easy because you can take them anywhere and study when you have time. They're both what you need to make sure you're prepared.
Check Out Mometrix's Neonatal Intensive Care Nurse Flashcards
Get complex subjects broken down into easily understandable concepts
Get Your Flashcards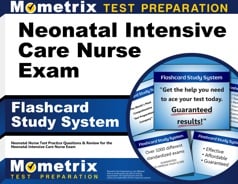 Online RNC-NIC Prep Course
If you want to be fully prepared, Mometrix offers an online Neonatal Intensive Care Nurse Prep Course. The course is designed to provide you with any and every resource you might want while studying. The RNC-NIC Course includes:
Review Lessons Covering All the Topics
500+ RNC-NIC Practice Questions
More than 500 Electronic Flashcards
Money-back Guarantee
Free Mobile Access
and More!
The RNC-NIC Prep Course is designed to help any learner get everything they need to prepare for their RNC-NIC exam; click below to check it out.
Neonatal Intensive Care Nurse Study Guide
Mometrix Academy is a completely free Neonatal Intensive Care Nurse test resource provided by Mometrix Test Preparation. If you find benefit from our efforts here, check out our premium quality Neonatal Intensive Care Nurse Study Guide and Neonatal Intensive Care Nurse Flash Cards to take your studying to the next level. Just click the Neonatal Intensive Care Nurse study guide link below. Your purchase also helps us make even more great, free test content for test-takers.
Neonatal Intensive Care Nurse Study Guide
Neonatal Intensive Care Nurse Flashcards
Neonatal Intensive Care Nurse Online Course