The Nelson-Denny Reading Test, named for professors who developed the test, is used to measure reading comprehension and ability in adolescents and young adults. While it cannot be used to diagnose disorders, it can help identify students in need of additional reading instruction. Many schools and universities use it to place students in a language arts class appropriate to the student's reading level.
Click "Start Test" above to take a free Nelson-Denny Reading practice test, and check out our premium-quality Nelson-Denny Reading test prep resources by clicking the links below!
Nelson-Denny Reading Test Outline
The Nelson-Denny Reading test is actually made up of two tests: a vocabulary test and a reading comprehension test.
The vocabulary test includes 80 multiple-choice questions and is timed at 15 minutes. The reading comprehension test, which is timed at 20 minutes, includes five short reading passages each followed by a set of questions asking you to identify correct, factual content from the passage.
Check out Mometrix's Nelson-Denny Reading Study Guide
Get practice questions, video tutorials, and detailed study lessons
Get Your Study Guide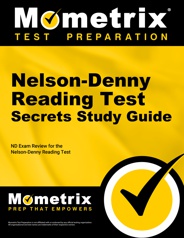 Nelson-Denny Reading Test Registration
The test is administered independently by the schools that require it. In order to schedule an appointment, you should talk to your academic advisor or school counselor.
Try to schedule your appointment as soon as you can but make sure you get an appointment that leaves you with at least a week or two to prepare for the test.
How the Nelson-Denny Reading Test is Scored
The raw score (the actual number of questions you answered correctly) is converted into a number corresponding to the grade level representing your reading skills. For example, a score of 9.8 would indicate a reading skill level of the eighth month of the ninth grade, whereas a score of 13.2 would indicate the reading level of a college freshman in their second month.
This score will help in determining how challenging a given text or course will be for a student, and it can also be used to help create a plan for bringing that skill level up to where it needs to be.
Because it is used as a diagnostic test, there is no minimum score needed to pass. However, your results will be used to determine whether you're capable of completing the coursework you are trying to complete.
Check out Mometrix's Nelson-Denny Reading Flashcards
Get complex subjects broken down into easily understandable concepts
Get Your Flashcards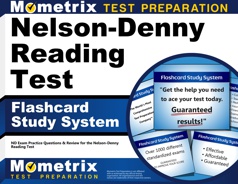 FAQs
How many questions are on the Nelson-Denny Reading Test?
There are 118 questions in total on the test.
How long is the Nelson-Denny Reading Test?
The time limit for the test is 35 minutes.
What is the passing score for the Nelson-Denny Reading Test?
There is no set passing score for this test.