Nelson-Denny Reading Test Review
The Nelson Denny Reading Test, named for professors who developed the test, is used to measure reading comprehension and ability in adolescents and young adults. While it cannot be used to diagnose disorders, it can help identify students in need of additional reading instruction. Many schools and universities use it to place students in a language arts class appropriate to the student's reading level.
How Do I Register for the Test?
The test is administered independently by the schools that require it. In order to schedule an appointment, you should talk to your academic advisor or school counselor. Try to schedule your appointment as soon as you can but make sure you get an appointment that leaves you with at least a week or two to prepare for the test.
What Should I Expect on Test Day?
The reading test is relatively short, lasting about 35 minutes altogether. Test takers will have 15 minutes for the vocabulary portion and 20 minutes for the reading comprehension part. While the test is relatively short, keep in mind that you only have one chance to take the test.
Whatever score you get on your first attempt is the score you have to stick with. So it is especially important that you show up to the test well-rested, relaxed, and confident that you can perform your best. Here are a few tips to do that:
Don't cram for the test the night before. You can study during the day but make sure you get to bed at a reasonable hour so that you can get a full night of sleep.
Wake up early enough to make time for a nourishing breakfast. Don't eat anything heavier than you're used to but try to get a balance of vitamins and nutrients.
Leave home earlier than you need to. Plan to show up at least 30 minutes early to your appointment and don't forget to account for any traffic or other delays.
Bring a light jacket or sweater that you can easily take on or off as needed during the exam.
Make sure you're as physically comfortable as possible. Go to the bathroom, have a glass of water, take a short walk outside the testing center. Do whatever you need to do to make sure you're going to be comfortable during the test.
Check out Mometrix's Nelson-Denny Reading Study Guide
Get practice questions, video tutorials, and detailed study lessons
Get Your Study Guide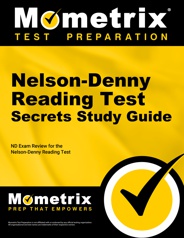 What Will Be on the Nelson Denny Reading Test?
The Nelson-Denny test is actually made up of two tests: a vocabulary test and a reading comprehension the test. The vocabulary test includes 80 multiple choice questions. The reading comprehension test includes five short reading passages each followed by a set of questions asking test-takers to identify correct, factual content from the passage as well as draw inferences. The total number of questions on the reading comprehension test is 38.
How Is the Nelson Denny Reading Test Scored?
The raw score (the actual number of questions the test taker answered correctly) is converted into a number corresponding to the grade level representing the test taker's reading skills. For example, a score of 9.8 would indicate a reading skill level of the eighth month of the ninth grade whereas a score of 13.2 would indicate the reading level of a college freshman in their second month.
This score will help in determining how challenging a given text or course will be for a student, and it can also be used to help create a plan for bringing that skill level up to where it needs to be.
Because it is used as a diagnostic test, there is no minimum score needed to pass. However, your results will be used to determine whether you're capable of completing the coursework you are trying to complete.
How Should I Prepare for the Nelson Denny Reading Test?
While the test is simply used as a diagnostic, there are no retakes allowed. So it is important that you are ready to do your best. That means you should spend at least a week or two refreshing your knowledge and practicing your skills. To do that, you should make use of study aids that are designed to reinforce your vocabulary and reading comprehension skills.
Two great tools you can use are the Mometrix Study Guide and Mometrix Flashcards. These have been created by a team of experts according to the exact specifications of the Nelson Denny Reading Test. The guide includes tips, strategies, and practice questions all designed to strengthen your reading comprehension skills and develop your vocabulary.
The flashcards include essential vocabulary words to help you reinforce your memory as well as develop your comprehension skills. When completing the practice questions, make sure to use a timer so that you can replicate the test day conditions as closely as possible.
Nelson-Denny Reading Study Guide
Check out Mometrix's Nelson-Denny Reading Flashcards
Get complex subjects broken down into easily understandable concepts
Get Your Flashcards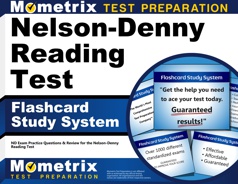 Mometrix Academy is a completely free resource provided by Mometrix Test Preparation. If you find benefit from our efforts here, check out our premium quality Nelson-Denny Reading study guide to take your studying to the next level. Just click the Nelson Denny study guide link below. Your purchase also helps us make even more great, free Nelson Denny test content for students.
Nelson-Denny Reading Study Guide Customer Success Stories
Our customers love the tutorial videos from Mometrix Academy that we have incorporated into our Nelson-Denny Reading test study guide. The Nelson-Denny Reading study guide reviews below are examples of customer experiences.
I just started studying for my police academy test and I love it!! The examples and explanation helps a lot for someone who doesn't learn as easy as others!!
Nelson-Denny Reading Study Guide – Raegan
Nelson-Denny Reading Test Secrets goes above and beyond the basics of a typical study guide. There is zero room for interpretation when it comes to successfully taking the exam. The guide is motivational, yet an easy read. Whether you use it for an extensive "play by play" walk through the test, or just a quick refresher, you will gain the insight and knowledge you were seeking on exam day.
Nelson-Denny Reading Study Guide – Rachel
The study material is very helpful, clear to understand and follow. This study material met my study preparation needs for the Nelson-Denny Reading Test. I feel fully prepared to take the exam.
Nelson-Denny Reading Study Guide – Penny
I recently bought the Nelson-Denny Reading test and I have got to say it definitely helped me brush up on things I hadn't look at in a while. It was a great refresher book and for my upcoming test. Give this product a strong 5/ 5!
Nelson-Denny Reading Study Guide – Customer
I am a nursing student and will be required to sit for the Neslon Denny exam. This book is helpful in directing me in what to review. It's simple to follow and the added extras are so helpful. I would recommend this book to anyone needing extra help in studing for the Nelson Denny
Nelson-Denny Reading Study Guide – Customer
The material in the book is great. It is laid out simple so it's easy to understand. It's been and overall great experience
Nelson-Denny Reading Study Guide – Customer