The National Council for Therapeutic Recreation Certification (NCTRC) exam is designed to assess the entry-level knowledge and skills of those wishing to provide recreational therapy services. If you pass the exam, you will be awarded the CTRS certification.
Click "Start Test" above to take a free NCTRC practice exam!
NCTR Certification Exam Eligibility
To be eligible for the exam, you must meet all of the requirements that fall under one of the following equivalency paths:
Academic Path
You must have a bachelor's degree or higher from an accredited university or college, a major in recreation or leisure with an option in therapeutic recreation or a major in therapeutic recreation. An official transcript is required.
You must meet the requirements for professional and supportive coursework.
You must complete an internship supervised by a CTRS, with a minimum of 14 weeks/560 hours.
You may apply for the exam prior to degree completion with the following requirements:
Enrolled in a degree program for Recreational Therapy (meeting NCTRC standards)
Completed a minimum of 90 credit hours
Completed requirements for professional and supportive coursework
You must complete internship requirements prior to receiving the CTRS certification.
Equivalency Path
You must have a Bachelor's degree or higher
You must meet the professional and supportive coursework requirements
You must complete at least 1 year of full-time paid work experience in recreational therapy, supervised by a CTRS
NCTR Certification Exam Outline
The NCTRC exam contains 120 multiple-choice questions, 20 of which are unscored, and you will be given a 3-hour time limit.
The exam is split into six content areas, and each area is split into two objectives:
1. Professionalism (12%)
The questions in this area assess your ability to develop professional relationships and maintain professional competency.
Develop professional relationships

Communicate with interdisciplinary teams
Advocate for clients' rights
Educate internal and external stakeholders about the scope of practice
Maintain professional competency

Maintain professional qualifications
Comply with professional standards of practice and code of ethics
Understand trends in RT/TR practice
Participate in committees
Apply concepts of cultural competence
2. Assessment (19%)
The questions in this area assess your ability to conduct assessments and apply assessment data to plan care.
Conduct the assessment process

Establish a therapeutic relationship with clients
Gather primary and secondary data
Apply knowledge of developmental and diagnostic characteristics
Determine strengths and limitations using findings from gathered data
Determine assessment tools to establish outcomes
Apply assessment data to plan care

Create goals and objectives
Prioritize client strengths and needs
Communicate data to client and service providers
3. Planning (18%)
The questions in this area assess your ability to develop individualized care plans and program services.
Develop individualized plan of care

Utilize practice theories
Utilize RT/TR service delivery models
Align goals and objectives that support delivery of service
Design program services

Engage in logistical program planning
Use activity/task analysis to provide quality services
Design programs based on the interests, needs, and abilities of the client
Select intervention approaches, techniques, and modalities
Identify formative evaluation techniques to determine program effectiveness
Determine activity modifications
4. Implementation (25%)
The questions in this area assess your ability to deliver program services while adhering to risk management protocols.
Deliver program services

Determine the steps needed to implement services
Explain the purpose of the program
Establish a facilitation structure and leadership approach
Implement the program
Monitor the effectiveness of the program
Adhere to risk management protocols

Utilize safety protocol components
Provide a safe environment by identifying relevant precautions
5. Evaluation and Documentation (16%)
The questions in this area assess your ability to document client progress and any program and client incidents.
Document client progress

Complete progress notes
Communicate with service providers on client progress
Develop transition plans
Conduct an evaluation of program effectiveness
Document program and client incident

Identify policies and procedures for reporting specific incidents
Document specific incident details
6. Administration (10%)
The questions in this area assess your ability to document client progress and any program and client incidents.
Maintain department documentation

Adhere to agency policies regarding documentation
Follow the service plan of operation
Identify RT/TR service regulations
Adhere to agency fiscal management
Assign and monitor personnel

Assist with supervision and education of volunteers, students, and staff
Contribute to staff performance appraisals
Maintain an internship program
Check Out Mometrix's NCTRC Study Guide
Get practice questions, video tutorials, and detailed study lessons
Get Your Study Guide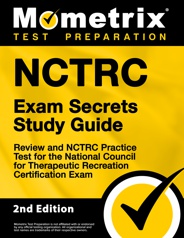 NCTR Certification Registration
After completing the requirements for the academic path, you can apply for the exam on the NCTRC website. If the application is approved, you can schedule their test appointment at a PSI test site. The exam is offered 6 times a year, with a two-week window to schedule and take the test.
The exam registration fee is $325.
NCTRC Exam Fees

| Fee | Amount |
| --- | --- |
| New Application for Professional Eligibility Review | $125 |
| Returned Application Processing | $25 |
| Pre-Application Coursework Review | $35 |
| Exam Registration | $325 |
| Exam Rescheduling | $25 |
| Bank Checks from Foreign Countries | $25 |
| Returned Check | $50 |
| Rejected Credit Card | $20 |
Test Day
In-person Testing
To ensure a quick check-in process, you should arrive at your testing location about 30 minutes before the scheduled appointment time. Once you arrive, a Test Center Administrator (TCA) will ask you to present two forms of valid identification, one of which must be a government-issued photo ID. A member of the Prometric staff will take your picture, do a metal detector scan on you, and capture a digital image of your fingerprint before you enter the testing room.
You will then be asked to put any personal items in a secure locker outside the testing area. The only things you are permitted to bring to the check-in station are your ID papers, your locker key, and a pair of foam earplugs in an unopened container.
When it is time for the exam to begin, you will be led to your testing area and given a brief tutorial on the testing system before you start the exam.
Live Remote Proctoring
Before you sign on to check in for your exam, clear your workspace of everything but your ID, two pieces of blank paper, a writing utensil, a keyboard, and a mouse. There should be nothing on or around your workspace, including cell phones, recording devices, water bottles, drinks, or food.
When you sign on for your exam, you will be asked to present your government-issued ID to the proctor, and then the front and back of your scratch paper and writing utensil. The proctor will ask for you to move the camera around your workspace, and you may be asked to remove items from your desk, adjust lighting, or adjust your microphone and webcam. Once the proctor is satisfied with your testing space, your exam begins.
During your exam, you must keep the microphone and webcam on and remain in view of the webcam at all times.
How the NCTR Certification Exam is Scored
The NCTRC exam is scored using a scaled scoring system. This system takes the number of questions you answered correctly and converts it to a numerical score on a scale of 20-95. The passing scaled score for this exam is 55.
You will receive an immediate pass/fail notification when you finish the exam.
Check Out Mometrix's NCTRC Flashcards
Get complex subjects broken down into easily understandable concepts
Get Your Flashcards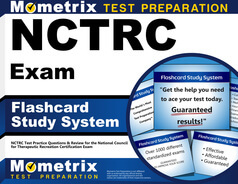 FAQs
Q
How many questions are on the NCTRC exam?
A
There are 120 multiple-choice questions on the exam, 20 of which are not scored.
Q
How long is the NCTRC exam?
A
The time limit for the exam is 3 hours.
Q
What is the passing score for the NCTRC exam?
A
To pass the exam, you must achieve a scaled score of at least 55.
Q
How much does the NCTRC exam cost?
A
The exam registration fee is $325.