The National Council on Strength and Fitness (NCSF) administers a Certified Personal Trainer (CPT) examination for those pursuing a career as a personal trainer.
Click "Start Test" above to take a free NCSF-CPT practice test, and check out our premium-quality NCSF test prep resources by clicking the links below!
Exam Outline Review
The NCSF-CPT exam contains 150 multiple-choice questions, and you will be given a 3-hour time limit.
The exam is split into 10 sections:
Functional Anatomy (12%)
Exercise Physiology (9%)
Health and Physical Fitness (11%)
Screening and Evaluation (11%)
Nutrition (7%)
Weight Management (8%)
Exercise Programming (19%)
Training Instruction (16%)
Considerations for Special Populations (4%)
Professionalism and Risk Management (3%)
Check out Mometrix's NCSF-CPT Study Guide
Get practice questions, video tutorials, and detailed study lessons
Get Your Study Guide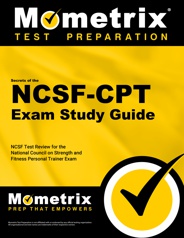 Registration
To register for the exam, you must submit an application online via the NCSF website. Your application must include the $349 examination fee and any necessary eligibility documentation.
Once your application has been received by NCSF, you will be sent a confirmation notice and eligibility number within 48 hours. You should also receive instructions on how to schedule an examination appointment with Prometric.
Test Day
You should arrive at the testing center about 30 minutes before the scheduled start time. Upon arrival, you will be greeted by a Test Center Administrator (TCA), who will ask you to present two forms of valid identification, one of which must contain your photo.
Once your ID is checked, your picture will be taken, a digital image of your fingerprint will be taken, and you will be asked to undergo a met. You will then be asked to put any personal items in a locker. The only things you are permitted to bring to the check-in station are your ID papers, your locker key, and a pair of foam earplugs in an unopened container.
You will be asked to stop testing and leave the room immediately if you violate any security regulations, and no scores will be given for your test.
How the Exam is Scored
Your final score is calculated by using a scaled scoring system. This system takes your raw score, which is the number of questions you answered correctly, and converts it to a numerical scaled score. The minimum scaled score you need to pass the exam is 70.
You will receive an unofficial score report before you leave the testing center, with official confirmation being sent to you within five days.
Retaking the Exam
If you do not pass the exam, you may reapply to take it again. You must pay the $99 retesting fee for each retake, and there is a 30-day waiting period between each attempt.
Check out Mometrix's NCSF-CPT Flashcards
Get complex subjects broken down into easily understandable concepts
Get Your Flashcards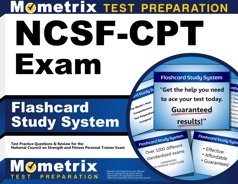 FAQs
Q
How many questions are on the NCSF-CPT exam?
A
There are 150 multiple-choice questions on the exam.
Q
How long is the NCSF-CPT exam?
A
The time limit for the exam is 3 hours.
Q
What is the passing score for the NCSF-CPT exam?
A
To pass the exam, you must achieve a minimum scaled score of 70.
Q
How much does the NCSF-CPT exam cost?
A
The examination fee is $349.