NCIDQ Exam
The National Council for Interior Design Qualification exam is used to as part of the certification process of interior designers by making sure they are qualified and competent in protecting public health, safety, and welfare. There are three sections on the NCIDQ exam: Interior Design Fundamental exam (IDFX), Interior Design Professional exam (IDPX), and the Practicum Exam (PRAC 2.0).
Who is Eligible?
There are a number of ways one can be eligible to sit for the NCIDQ. They include a combination of education and qualified interior design work experience.
CIDA Degree

Bachelor's or Master's degree from a CIDA accredited interior design program
At least 3,520 hours of experience
Interior Design Degree – Non-CIDA

Minimum of a bachelor's degree in an interior design program
At least 3,520 hours of experience
Other Degree plus Interior Design Degree

Minimum of a bachelor's degree in any major and at least 60 hours of interior design coursework earning a certificate, degree, or diploma
At least 3,520 hours of experience
Associates Degree (60 hours) in Interior Design

At least 60 semester credits of interior design courses that earns a certificate, degree, or diploma
At least 5,280 hours of experience (education must be completed before experience)
NAAB or CACB Degree

Bachelor's or master's degree from an NAAB or CACB accredited architecture program

At least 5,280 hours of experience (education must be completed before experience)
Architecture Degree – Non-NAAB or CACB

Bachelor of Science or Bachelor of Arts in Architecture
At least 7,040 hours of experience (education must be completed before experience)
During the application process you will have to pay an application fee for the sections of the exam you are taking. To apply for all three at once, the fee is $225. To apply for them separately, it is $95 for the IDFX. After you have successfully passed this, you may apply and pay for the next two, at $145.
There are registration fees due during the scheduling process. They are: IDFX – $295, IDPX – $350, PRAC – $455
Check out Mometrix's NCIDQ Study Guide
Get practice questions, video tutorials, and detailed study lessons
Get Your Study Guide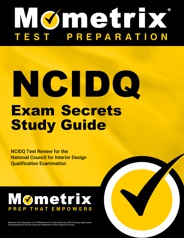 When and Where is it Taken?
The NCIDQ exam is taken twice a year, in April and in October, with application deadlines in January and July. Once your application has been approved, you will receive an eligibility notification up to 6 weeks later letting you know how to schedule your exam(s).
The NCIDQ can be delivered all at one sitting or in separate sections at all Prometric test centers around the world. Choose one that is convenient for you.
What Can I Bring?
You will need to bring a valid government issued photo ID with you to the testing site. It is important to note that the name on this ID must exactly match the name provided in your application information otherwise you will not be allowed into the testing center.
The exams are taken via computer. As such, you will not need to bring any personal items such as pencils, calculators, or study material with you. Electronic devices, food, and drinks are also strictly prohibited.
What is Covered?
Below are brief outlines for each of the three sections of the NCIDQ exam.
IDFX
This section has 125 multiple choice questions. You are given three hours to finish.
Design Communication
Human Behavior and the Design Environment
Building Systems and Construction
Furniture, Finishes, Equipment, and Lighting
Programming and Site Analysis
Technical Drawing Conventions
Construction Drawings and Specification
IDPX
This section has 175 multiple choice questions. You are given four hours to finish.
Professional and Business Practice
Project Coordination
Product and Material Coordination
Building Systems and Integration
Contract Documents
Codes and Standards
Contract Administration
PRAC 2.0
This section includes 120 interactive questions. You are given four hours to finish.
Programming and Site Analysis
Building Systems and Integration
Codes and Standards
Contract Documents
What is a Passing Score?
Scores for each exam is done by computer. They are scaled ranging from 200 to 800 points. You will need to receive at least a 500 to pass any exam.
These are calculated within 6 – 8 weeks of the closing of your testing window. You will be notified when they are available for viewing through your MYNCIDQ account.
Your score report includes a pass/fail status, scaled score, and a breakdown of each section.
How Should I Prepare?
Mometrix wants to ensure you have a successful exam experience. Therefore, we have designed a study guide and flash cards giving you everything you need. All relevant information and sample questions will be included. These mimic what you will see on the actual exam, making sure you know what to expect. Let Mometrix make the difference for this exam.
Check out Mometrix's NCIDQ Flashcards
Get complex subjects broken down into easily understandable concepts
Get Your Flashcards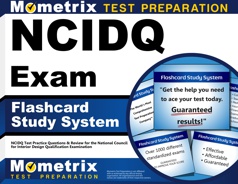 NCIDQ Study Guide
Mometrix Academy is a completely free NCIDQ test resource provided by Mometrix Test Preparation. If you find benefit from our efforts here, check out our premium quality NCIDQ Study Guide and NCIDQ Flash Cards to take your studying to the next level.
NCIDQ Study Guide Customer Success Stories
Our customers love the tutorial videos from Mometrix Academy that we have incorporated into our NCIDQ study guide. The NCIDQ study guide reviews below are examples of customer experiences.
Very well written and compact study guide. I feel like it prepared me for the exam with all the bullet points and practice tests.
NCIDQ Study Guide – Customer
received the Mometrix NCDIQ Secrets study guild and I am so glad I did. I have books on all the subjects in Interior design and I can spend years reviewing them all. Finding a book that gives me a way to narrow down the information is great. I don't feel as overwhelmed and having the exam notes on the way to handle the test in the book important to me. Glad I bought it. I purchased the flash cards for the Ncidq exam and I can not believe how intense they are and how much information there is. They would be great to use with a study partner.
NCIDQ Study Guide – Laura
I love this book it is very helpful and it is great material to study for my test. I am devoting a lot of time to prepare myself for this test. I can say that I am absolutely satisfied with the book. This book is helping me to understand and retaining all the concepts for my examination. I don't need to look for ways to enhance for retention because it is enough material for my test.The information is easy to understand and very clear.
NCIDQ Study Guide – Maria
So far I am very impressed with how the information is presented and feel much more confident about taking the NCIDQ exam in a few months.
NCIDQ Study Guide – Customer
The Book was super helpful and to the point! It really focuses on applicable solutions to test taking!

NCIDQ Study Guide – Customer
I haven't had to study in a very long time for a test and started getting very anxious. After finding your book online and having it with me now has helped me focus more on what needs to be done. Cramming is all I know, but it has never work for me, so I hope with your study guide and flash cards, this stuff will stick!!!
NCIDQ Study Guide – Polly
This book is super helpful. Reading the actual reference manual is daunting and can make you feel like your lost. This study guide helps keep you on track and focused on the main subject material.
NCIDQ Study Guide – Jennie