National Certified Medical Assistant Practice Test
All persons desiring to be credentialed as a Certified Medical Assistant will need to pass the CMA (AAMA) exam which is awarded by the Certifying Board (CB) of the American Association of Medical Assistants (AAMA).
Who is eligible to take the exam?
Candidates eligible to take the exam fall into one of three categories.
Category 1 includes recent graduates or completing students of an accredited medical assisting program.  The program must be accredited by the CAAHEP or the ABHES.  A completing student is eligible if they are within 30 days of completing the program.  A recent graduate must apply for the exam within 12 months of graduation.
Category 2 is for nonrecent graduates.  This candidate is a graduate of an accredited medical assisting program applying for the exam more than 12 months after graduation.
Category 3 is for candidates seeking recertification.  These candidates have previously passed the exam and are applying to recertify the CMA (AAMA) credential.
How long is the credential valid?
The CMA (AAMA) credential is valid for 60 months.  The credential must be recertified by continuing education or by re-examination.  If recertification is not received before the current credential has expired, then that person is considered to have an expired credential.  If the credential has expired, the credential can be reactivated by either continuing education or by examination.  Effective January 1, 2020, anyone who allows their credential to be expired for more than 90 days can only recertify by examination.   Prior to this date, recertification can be done by continuing education or examination up to 60 months from date of the credential expiration.


Check Out Mometrix's National Certified Medical Assistant Study Guide
Get practice questions, video tutorials, and detailed study lessons
Get Your Study Guide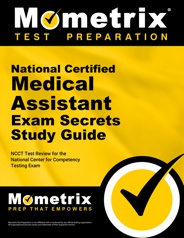 How do I apply to take the exam?
Applications to take the exam can be submitted online at the AAMA website.  A paper application is also available in the Candidate Application and Handbook for the CMA (AAMA) Certification/Recertification Exam which can be downloaded from the AAMA website.  Exam fees are required at the time of application.  Once the application is accepted, the candidate will receive a Scheduling Permit via email.  The Scheduling Permit includes scheduling instructions and will need to be presented for admission on the day of the exam.
What is the cost of the exam?
The exam fee is $125 for AAMA members and for recent graduates and completing students of CAAHEP or ABHES accredited programs.  The fee for all others is $250.  An additional $50 reactivation fee is required if your credential has expired.
When and where do I take the exam?
Each candidate is assigned a 90-day testing period based on the testing period start date indicated on their application.  Once the Scheduling Permit is received, the exam can be scheduled at the Prometric testing site chosen by the candidate.  Test sites are located throughout the United States.
What should I bring with me the day of the exam? 
You should bring your personal identification and Scheduling Permit with you to the testing site.  A locker will be provided for all personal belongings.  No personal belongings or reference materials are allowed in the testing center.  A laminated writing surface, dry-erase markers, and an eraser will be provided for use during the exam.
What is the format of the exam?
The CMA (AAMA) exam is a computer-based test consisting of 200 questions.  Twenty of the test questions are pre-test items and will not be scored.  There is no distinction between pre-test questions and scored questions, so all questions should be answered to the best of your ability.  Prior to testing, candidates can choose to take an optional 15-minute tutorial to become familiar with navigating the exam.
What is the time allowance to complete the CMA (AAMA) exam?
A total of 160 minutes is allowed to complete the 200-question exam.  The exam is administered in four 40-minute segments.  Optional breaks can be taken between segments, but the maximum test appointment time is 195 minutes.

Check Out Mometrix's National Certified Medical Assistant Flashcards
Get complex subjects broken down into easily understandable concepts
Get Your Flashcards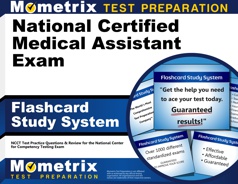 What is the content of the exam?
Content on the CMA (AAMA) exam fall into the categories of General (28%), Administrative (25%), and Clinical (47%).  General questions include the following topics:  Psychology, Communication, Professionalism, Medical Law/Regulatory Guidelines, Medical Ethics, and Risk Management, Quality Assurance, and Safety.  Administrative questions include the following topics:   Medical Reception, Patient Navigator/Advocate, Medical Business Practices, Establish Patient Medical Record, Scheduling Appointments, and Practice Finances.  Clinical questions include the following topics:  Anatomy and Physiology, Infection Control, Patient Intake and Documentation of Care, Patient Preparation and Assisting the Provider, Nutrition, Collecting and Processing Specimens, Diagnostic Testing, Pharmacology, and Emergency Management/Basic First Aid.
When will I receive my test results?
Immediately upon completing the exam, each candidate will receive an official pass/fail notification.  An official score report will be received within three weeks of the exam date.
What if a passing score is not achieved?
If a passing score is not achieved, candidates may retake the exam without a waiting period.  Initial candidates are allowed three attempts.
What is the best way to prepare for the exam?
Mometrix, the world's #1 test preparation company, offers quality study materials in the form of a study guide or flashcards.  The Certified Medical Assistant Exam Secrets Study Guide and the Certified Medical Assistant Flashcards both contain the information you need to know to achieve success on the exam.  Our team of test experts have done the tedious work of compiling all the critical concepts on the exam into a form that is clear and easy to learn.  The study guide and the flashcards even come with several bonuses including practice test questions, a study skills manual, tips for dealing with test anxiety, a CPR review guide, a collection of the most frequently used medical terms on the exam, and much more!  Mometrix even offers a money-back guarantee.  Order your study materials today and take the next step in receiving your CMA (AAMA) credential.
NCCT FAQ
What is the NCCT test?
The National Center for Competency Testing (NCCT) tests healthcare professionals and instructors in their knowledge and skills.
How many questions are on the NCCT?
The NCCT Certification Exam contains 165 questions, 150 of which will count toward your final score. The other 15 are unscored pretest questions.
Can you work as a medical assistant without being certified?
Certification is not required by the state or federal government, but most employers will require a certification.
How long does it take to become a certified medical assistant?
Depending on the course that you take, you may receive a certificate within 9-12 months or a degree in 18-24 months.
Do medical assistants have to give shots?
It is generally expected of medical assistants to be comfortable giving injections and vaccines to patients.
How long do you have to wait before you can retake a NCCT exam?
After the first two times you fail the NCCT exam, there is a waiting period of 30 days before retesting is available. After the third failed attempt, there is a waiting period of one year.
National Certified Medical Assistant Study Guide
Mometrix Academy is a completely free NCCT certification resource provided by Mometrix Test Preparation. If you find benefit from our efforts here, check out our premium quality National Certified Medical Assistant study guide to take your studying to the next level. Just click the National Certified Medical Assistant study guide link below. Your purchase also helps us make even more great, free content for test-takers.
Upgrade your studying with our NCCT study guide and flashcards:
NCCT Study Guide
NCCT Flashcards
NCCT Study Guide Customer Success Stories
Our customers love the tutorial videos from Mometrix Academy that we have incorporated into our NCCT test study guide. The NCCT study guide reviews below are examples of customer experiences.
This review book helped me to pass the NCCT Certification exam for Medical Assisting. Without it, I would've never become a certified medical assistant!
NCCT Study Guide – Dianna
I like that it is very easy to follow and laid out in a way that allows for smooth transitioning from subject to subject. Every question on my NCCT test was in this book!
NCCT Study Guide – Customer
Very detailed, explains things well and very easy to understand not so you know what answer to correctly choose on the test, but that you actually understand it.

NCCT Study Guide – Customer
The exam book had a lot of information to study and learn from. I would definitely recommend this book to help you get that extra studying and help.
NCCT Study Guide – Customer
I am so glad I bought this book. It was such a great help in studying for my test. Your service is always the greatest!!
NCCT Study Guide – Shelley
Thank you for making this book. It makes it so much easier to understand and study. When I first took my CMA exam I had a study guide that I got online and it went on to tell me what I needed for the test and it was so overwhelming, And nothing that I studied and studied for was really on the test. This book isn't and it's so much easier to understand and to hold in the knowledge that you read. I feel more confident about taking the test again in either a month or two. I want to read it and read it. Just to make sure I got everything down pat in my mind. I can't seriously thank you enough for making this wonderful book!!!
NCCT Study Guide – Customer
I was amazed how this guide helped me through my studies. I found this guide 9 days before my exam and received it so quickly I had 4 full days to read, re-read and then test myself. I am proud to announce that I took my Exam and passed with flying colors! I am now a Nationally Certified Medical Assistant. The tips, tricks and items the NCCT use to try and trip you in questions were very detailed and I noticed SO MANY on the actual test. Thank you so much Mometrix....... you gave me a light at the end of a very stressful tunnel.
NCCT Study Guide – Customer
This has been a very helpful study tool for me as I study for my C.M.A exams! I wasn't sure at first if I should get it, but I am so very glad I did, because it helped me to better think and organize my own work! I would very much highly recommend this book for anyone who is a serious student!
NCCT Study Guide – Customer