National Certified Medical Assistant Practice Test
The National Center for Competency Testing (NCCT) administers the National Certified Medical Assistant (NCMA) exam to assess the knowledge and skills of prospective certified medical assistants.
Click "Start Test" below to take a free National Certified Medical Assistant practice test!
Eligibility
To be eligible for the NCMA exam, you must meet ONE of the following routes of eligibility.
You must be a current student in an approved medical assistant program.
You must have graduated from an approved medical assistant program within the last five years.
You must have obtained at least two years of full-time experience as a medical assistant within the last five years.
You must have completed medical assistant training via the military within the last five years.
Exam Outline Review
The National Certified Medical Assistant exam contains 165 questions, 15 of which are unscored, and you will be given a 3-hour time limit. The 15 unscored questions are used by NCCT to validate questions for future versions of the exam.
Most of the questions (90%-95%) are multiple-choice, while 5%-10% of the questions are comprised of alternative question types:
Multi-select: Choose two or more correct answers.
Hot spot: Click on the area of a given image that correctly answers the question.
Drag-and-drop: Drag pieces of information to the correct position/order.
The exam is split into seven content categories.
Pharmacology (21 scored questions)
Clinical Medical Procedures (28 scored questions)
Infection, Exposure Control, and Safety
Patient Care
Phlebotomy (21 scored questions)
ECG and Other Diagnostic Tests (18 scored questions)
Other Diagnostic Tests
ECG Placement Techniques
ECG Recording
ECG Troubleshooting and Maintenance
General Office Procedures (21 scored questions)
Communication
Medical Office Computer Applications
Scheduling
Medical Records
Medical Office Management (25 scored questions)
Medical Office General Management
Office Financial Management, Billing, and Insurance
Law and Ethics (16 scored questions)
Check Out Mometrix's National Certified Medical Assistant Study Guide
Get practice questions, video tutorials, and detailed study lessons
Get Your Study Guide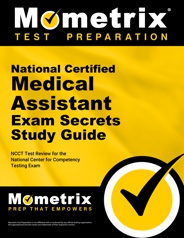 Registration
To register for the exam, you must create an online NCCT account and submit an application, along with the necessary documentation to prove your eligibility. You will also need to pay the $119 exam fee, which is not refundable.
Once your application is approved, you will be sent instructions detailing how to schedule an exam appointment with Prometric.
Test Day
On the day of the exam, you should arrive at the testing center at least 15 minutes prior to the scheduled time. Once you arrive, you will go through the check-in process, which includes providing a valid form of identification.
Once your ID is checked, your picture will be taken, a digital image of your fingerprint will be taken, and you will be asked to undergo a met. You will then be asked to put any personal items in a locker. The only things you are permitted to bring to the check-in station are your ID papers, your locker key, and a pair of foam earplugs in an unopened container.
Once you are fully checked in, you will be given the chance to take a practice exam, after which the real exam will begin.
How the Exam is Scored
Your NCMA exam score is based on a scaled scoring method, which places your raw score (the number of questions you answered correctly) on a numerical scale of 0-100.
To pass the exam, you must achieve a scaled score of at least 70. You will receive a pass/fail notification before you leave the testing center, and you will receive a formal score report 24 hours after testing.
Check Out Mometrix's National Certified Medical Assistant Flashcards
Get complex subjects broken down into easily understandable concepts
Get Your Flashcards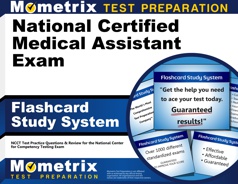 FAQs
How many questions are on the NCCT NCMA exam?
There are 165 questions on the exam.
How long is the NCCT NCMA exam?
The time limit for the exam is 3 hours.
What is the passing score for the NCCT NCMA exam?
To pass the exam, you must achieve a scaled score of at least 70.
How much does the NCCT NCMA exam cost?
The examination fee is $119.