Occupational Therapy Assistant Practice Test
The National Board for Certification in Occupational Therapy (NBCOT®) Certified Occupational Therapy Assistant (COTA®) exam is meant to provide qualifications for those interested in maintaining a career in supporting registered occupational therapists as they help individuals and groups recover, develop and maintain activities that may have been disrupted by mental health issues, disabilities, injuries or other impairments.
Because the nature of their job is so critical and sensitive, those who work in occupational therapy must be properly licensed and certified. The NBCOT® COTA® exam is one such critical certification in the field.
Check out Mometrix's Study Guide
Get practice questions, video tutorials, and detailed study lessons
Get Your Study Guide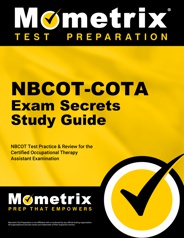 Am I Eligible for the NBCOT-COTA® Exam?
For U.S. students to be eligible for the exam, they must have graduated with at least an associate degree in occupational therapy.
International students who have not earned an entry-level master's or doctoral degree in occupational therapy from a U.S.-accredited university must apply for the Occupational Therapist Eligibility Determination (OTED) process, which will help the National Board for Certification in Occupational Therapy decide if they meet the eligibility requirements for a certification exam. OTED applications are completed online and require an $850 fee.
How Do I Apply for and Schedule an NBCOT-COTA® Exam?
The National Board provides an OTR/COTA® certification exam handbook for those who are ready to apply for its exam. Prospective participants should create a "MyNBCOT" account on the NBCOT® website and complete the online exam application. This application has a $515 fee.
Prospective participants should have their school registrars submit official, final transcripts or "Academic Credential Verification Forms" so that the National Board can verify that they meet the eligibility requirements to take the exam. There is also a paper application option with a $555 fee.
Once a prospective exam participant has completed their application and it is approved, they will receive an "Authorized to Test" letter via email. This letter authorizes them to schedule and take the exam.
How Is the NBCOT-COTA® Exam Administered?
The exam is administered at testing centers worldwide. Participants are given five hours and 15 minutes total to complete the test and fulfill all administrative requirements. Participants are given four hours to take the exam itself. Participants are allowed to take breaks during the exam, but the exam clock will continue to run.
Participants must arrive 30 minutes prior to their scheduled appointment and must bring two forms of acceptable identification, such as a driver's license, passport or other state-issued identification.
Any electronic devices (including cell phones and cameras), watches, jewelry aside from wedding/engagement rings, weapons, or hard copy documents are not allowed while taking the exam. No talking is not allowed during the exam, nor is eating or drinking in the testing room.
How Is the NBCOT-COTA® Exam Scored?
An NBCOT COTA® exam score can range from 300 to 600. The score is based on the number of questions answered correctly as well as the relative difficulty of the version of the exam being taken. Participants must score at least 450 to pass. Incorrect answers and questions that aren't answered at all are scored the same.
The National Board will score all the COTA® exam questions after they are administered. Participants can review their results through their online accounts. Participants who have achieved a passing score will be notified via email when the exam results are posted online, and they will also receive a letter of congratulations and an official NBCOT® certificate and wallet card within four to six weeks after the exam is scored.
Participants who have not passed the exam will be notified via email when the exam results are posted online. They will also receive a digital feedback report that includes the overall score with domain-level performance information and explanation.
How Is the Content on the NBCOT-COTA® Exam Divided?
The exam contains 200 total items. There are three- and four-option single response multiple choice items and six-option multi-select items.
The COTA® exam covers three general areas, each of which make up a different percentage of the total exam:
Obtaining information and developing a client-centered intervention plan (28 percent of the total exam)
Choosing and implementing evidence-based interventions (47 percent of the total exam)
Maintaining high professional standards (20 percent of the total exam)
How Can I Get a Passing Score on the NBCOT-COTA® Exam?
The NBCOT COTA® exam is meant to determine a participant's aptitude for conducting the rigorous responsibilities of occupational therapists. Getting a passing score requires knowledge about how clients can be introduced or reintroduced to critical activities in their everyday lives, as well as the high professional standards to which occupational therapists are held. Note that incorrect answers and unanswered questions are scored in the same way.
It is highly recommended that prospective participants of the exam spend their studying time with the combination of an Occupational Therapy Assistant study guide and a set of Occupational Therapy Assistant flashcards. Mometrix Test Preparation offers both an appropriate study guide and a set of flashcards that can put participants in the best possible position to pass the test.
Occupational Therapy Assistant Study Guide
Mometrix Academy is a completely free certification resource provided by Mometrix Test Preparation. If you find benefit from our efforts here, check out our premium quality study guide to take your studying to the next level. Just click the Occupational Therapy Assistant study guide link below. Your purchase also helps us make even more great, free exam prep content for test-takers.
Check out Mometrix's Flashcards
Get complex subjects broken down into easily understandable concepts
Get Your Flashcards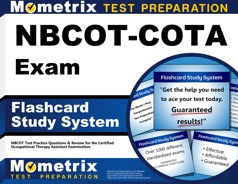 Occupational Therapy Assistant Study Guide
Occupational Therapy Assistant Flashcards
Learn more about the Mometrix Occupational Therapy Assistant Secrets Study Guide
NBCOT® is a registered trademark of the National Board for Certification in Occupational Therapy, Inc., which administers the NBCOT® exam. NBCOT does not endorse and is not affiliated in any way with Mometrix or its products and services.