NBCE Part I Practice Test
The National Board of Chiropractic Examiners (NBCE) delivers the licensing examinations for those wishing to pursue a career in the chiropractic field. The exam is developed with input from state regulatory agencies, field practitioners, and subject specialists. Chiropractic candidates must pass all four tests (Part I, Part II, Part III, and Part IV) plus individual state licensing requirements before applying for licensure.
This page will cover Part I, which assesses your knowledge as well as your cognitive and problem-solving abilities in the area of the basic sciences.
Eligibility
To be eligible to take Part I of the exam, you must be in your second year at an eligible chiropractic college. Your college representative must approve your application, affirming that the courses that cover the test subject matter will be completed by the application deadline. Your chiropractic college may have additional testing requirements, so it is best to check with them for those details.
If you have graduated from an eligible college, your college must provide online approval for you to take Part I.
Check Out Mometrix's NBCE Part I Study Guide
Get practice questions, video tutorials, and detailed study lessons
Get Your Study Guide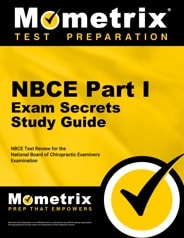 Exam Outline Review
Part I of the NBCE exam tests your understanding, knowledge, and ability to synthesize information in six primary science areas (domains). The exam is divided into three sessions, with two domains per session.
Each domain contains 50 multiple-choice questions, and you have 42 minutes to complete each domain, for a total test time of 252 minutes (4 hours, 20 minutes), not including optional breaks. There is an optional break of 15-minutes between each session.
Let's take a look at the sessions and domains in more detail.
Session I
Domain I: General Anatomy
The questions in this domain cover various aspects of topographical anatomy, as well as various systems of the body.
Topographical Anatomy (11%)
Osteology of the Appendicular Skeleton (13%)
Arthrology and Syndesmology of the Appendicular Skeleton (13%)
Myology of the Appendicular Skeleton (12%)
Cardiovascular and Lymphatic Systems (11%)
Digestive System (10%)
Respiratory System (11%)
Urogenital System (10%)
Endocrine System (9%)
Domain II: Spinal Anatomy
The questions in this domain cover various aspects of the axial skeleton and the central, peripheral, and autonomic nervous systems.
Osteology of the Axial Skeleton (18%)
Myology of the Axial Skeleton (17%)
Arthrology and Syndesmology of the Axial Skeleton (16%)
Anatomy of the Central Nervous System and Related Structures (17%)
Anatomy of the Peripheral and Autonomic Nervous Systems (18%)
Organs of Special Senses (14%)
After Session I, you can take a 15-minute break or continue the exam.
Session II
Domain III: Physiology
The questions in this domain cover various aspects of human physiology and body functions.
Neurophysiology (12%)
Muscle Physiology (12%)
Cardiovascular Physiology (12%)
Respiratory Physiology (11%)
Body Fluids and Renal Physiology (11%)
Gastrointestinal Physiology (10%)
Reproductive Physiology (10%)
Endocrine Physiology (12%)
Exercise and Sports Physiology (10%)
Domain IV: Chemistry
The questions in this domain cover various aspects of general chemistry, as well as basic concepts of biochemical energetics.
Carbohydrates (13%)
Lipids (12%)
Proteins, Amino Acids and Peptides (13%)
Enzymes (12%)
Hormones (13%)
Nucleotides and Nucleic Acids (12%)
Vitamins and Minerals (13%)
Biochemical Energetics (12%)
After completing Session II, you can take a 15-minute break or continue on to Session III.
Session III
Domain V: Pathology
The questions in this domain cover various aspects of pathology.
Fundamentals of Pathology (15%)
Genetic and Congenital Disorders (10%)
Disorders of the Immune System (14%)
Environmental and Nutritional Diseases (13%)
Disorders of the Musculoskeletal System (16%)
Disorders of the Nervous System (16%)
Diseases of the Organ Systems (16%)
Domain VI: Microbiology
The questions in this domain cover various aspects of immunology and disease control.
Immunology (18%)
Bacteria (18%)
Viruses and Prions (18%)
Fungi (15%)
Parasites (15%)
Epidemiology and Disease Control (16%)
Registration
Applications for the NBCE examinations are only accepted online at the NBCE website. Your application must be received before 5:00 pm Mountain time on the application due date. Once your application is approved, you are directed back to your account to pay the $710.00 testing fee and schedule your exam date and location. The exam is offered at college campuses and Prometric testing facilities located nationwide.
Withdrawal or Date Change
You can withdraw or reschedule your appointment through your Prometric account, but note that any changes must be made BEFORE the application deadline for your exam date. Partial refunds are given for withdrawal.
Once the deadline passes, you cannot make changes to your appointment and will not be issued a refund.
Scholarships
NBCE offers four competitive scholarships, with winners receiving up to a $2,500 award. The National Chiropractic Mutual Insurance Company (NCMIC) Board provides a quarterly scholarship to 25 students, who are randomly drawn from exam applicants. The winners of this scholarship are awarded $1,000 to assist with board exam costs. Students can enter once quarterly but can only win once.
How the Exam is Scored
NBCE evaluates the number of questions you answered correctly, the questions' difficulty, and the exam's relative difficulty. Through statistical calculations, your exam is equated and then translated into a scaled score from 125 to 800.
In a nutshell, the scaled score results from converting your raw score onto a standard scale which accounts for the variable difficulty level of different test forms. To pass Part I, you must achieve a scaled score of 375. There is not a direct relationship between the number of correctly answered items and the final scaled score.
Your exam results are posted to your NBCE account approximately four weeks after taking the exam. An official transcript, which is a record of your most recent passing scores, bears the NBCE seal and is sent to licensing authorities at your request. Official transcripts will only be sent if you meet the passing score of 375, unless you expressly authorize the release of a non-passing transcript.
To have an official transcript sent, you must submit a transcript request through your NBCE account. Your first transcript request is free. Additional official transcripts are $25.00 per state, and other processing fees may apply. Most states do not require a transcript until you have completed all four parts of the NBCE exam.
Retaking the Exam
Each domain is scored individually, and a separate analysis is provided for each failed exam so you can prepare to retake the exam for that domain. You are eligible to retake each domain as many times as needed to pass. However, if you passed four or more domains, you are eligible to retake only the domains you failed.
There is a $335-per-domain retake fee. If you need to take the entire Part I exam, the fee is $710.
Check Out Mometrix's NBCE Part I Flashcards
Get complex subjects broken down into easily understandable concepts
Get Your Flashcards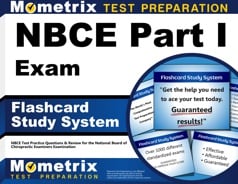 How to Study for Part I of the NBCE Exam
How to Study Effectively
Your success on NBCE test day depends not only on how many hours you put into preparing but also on whether you prepared the right way. It's good to check along the way to see whether your studying is paying off. One of the most effective ways to do this is by taking NBCE practice tests to evaluate your progress. Practice tests are useful because they show exactly where you need to improve. Every time you take a free NBCE exam practice test, pay special attention to these three groups of questions:
The questions you got wrong
The ones you had to guess on, even if you guessed right
The ones you found difficult or slow to work through
This will show you exactly what your weak areas are and where you need to devote more study time. Ask yourself why each of these questions gave you trouble. Was it because you didn't understand the material? Was it because you didn't remember the vocabulary? Do you need more repetitions on this type of question to build speed and confidence? Dig into those questions and figure out how you can strengthen your weak areas as you go back to review the material.
Answer Explanations
Additionally, many NBCE practice tests have a section explaining the answer choices. It can be tempting to read the explanation and think that you now have a good understanding of the concept. However, an explanation likely only covers part of the question's broader context. Even if the explanation makes sense, go back and investigate every concept related to the question until you're positive you have a thorough understanding.
Comprehend Each Topic
As you go along, keep in mind that the NBCE Part I practice test is just that: practice. Memorizing these questions and answers will not be very helpful on the actual test because it is unlikely to have any of the same exact questions. If you only know the right answers to the sample questions, you won't be prepared for the real thing. Study the concepts until you understand them fully, and then you'll be able to answer any question that shows up on the test.
Strategy for NBCE Practice
When you're ready to start taking practice tests, follow this strategy:
Remove Limitations. Take the first test with no time constraints and with your notes and NBCE study guide handy. Take your time and focus on applying the strategies you've learned.
Time Yourself. Take the second practice test "open book" as well, but set a timer and practice pacing yourself to finish in time.
Simulate Test Day. Take any other practice tests as if it were test day. Set a timer and put away your study materials. Sit at a table or desk in a quiet room, imagine yourself at the testing center, and answer questions as quickly and accurately as possible.
Keep Practicing. Keep taking practice tests on a regular basis until you run out of practice tests or it's time for the actual test. Your mind will be ready for the schedule and stress of test day, and you'll be able to focus on recalling the material you've learned.
FAQs
How many questions are on the exam?
There are 300 questions total on Part I of the NBCE (each domain contains 50 questions).
How long is the exam?
Part I of the NBCE is timed at 4 hours and 20 minutes, which does not include the optional 15-minute breaks between sessions.
What is a passing score?
A passing score for Part I of the NBCE is a scaled score of 375.
How much does the exam cost?
Part I of the NBCE costs $710 (each domain costs $335).