National Opticianry Competency Exam (NOCE)
The National Opticianry Competency Exam is used by individuals seeking the professional distinction of being certified in this field.
It is important to note that you must be at least 18 years of age and hold a high school diploma or GED to be eligible to take this exam.
The exam is computer-based, and offered in Spanish and English. It is 2 hours long and consists of 125 multiple choice questions.
Accommodations are available for individuals with conditions covered under the Americans with Disabilities Act. Prior approval is required.
What are the categories covered on the exam? What percentage of questions are there for each category?
There are six categories that will be covered. They are Ophthalmic Optics (34%), Ocular Anatomy, Physiology, and Pathology (7%), Ophthalmic Products (23%), Instrumentation (16%), Dispensing Procedures (15%), and Laws, Regulations, and Standards (5%).
What is the most convenient way to register for the exam?
Register online. Within 48 hours of registering and receiving confirmation, you will be able to schedule the exam at the site of your choice.
What is the cost of the exam?
The cost for the National Opticianry Competency Exam is $225. If you use the late registration feature, an additional fee of $75 is required.
What are the testing dates and locations?
There are four testing cycles per year.

In order to take the exam during the February 1-15 cycle, you must register between November 16th of the previous year and January 8th of that year. Just in case you aren't able to register during this period, late registration is offered, of which the deadline is January 15th. Please be aware, if you register after January 8th but by the 15th to take the exam in this cycle, an additional $75 fee will apply.

If taking the exam during the May 1-15 cycle, regular registration is February 16 – April 1. Late registration ends April 15, and incurs the additional $75 fee.

If taking the exam during the August 1-15 cycle, regular registration is May 16 – July 1. Late registration ends July 15, and incurs the additional $75 fee.

If taking the exam during the November 1-15 cycle, regular registration is August 16 – October 1. Late registration ends October 15, and incurs the additional $75 fee.

There are 300+ sites at which you can take the exam.
What should I do the day of the exam?
Bring one form of identification. It must contain your name, signature, and photo. Examples of acceptable forms of identification are US driver's license, passport, or US military identification card.

You will not be allowed to bring items such as cell phone, bags, or paper to the testing area. If you are not in compliance, you may be dismissed from the center. Additionally, your exam can be invalidated.
What happens after I take the exam?
Two weeks after the testing window closes, you will receive your official score report.
What is a passing score?
The scoring of this exam is criterion-referenced, which means there is not set score. It can change, depending on what questions are asked.
What happens if I don't pass the exam?
You are allowed to re-take the exam, but cannot take it at the next scheduled testing cycle. You must wait until the one after. In other words, if you take the exam in May, you cannot re-take it in August. You must wait until November.

This is done to make sure you are given sufficient time to study, to help ensure your success the next time around.

When studying for the NOCE, it is important that you do your research to find the best resources out there to help you do well. To help cut out some of the leg work for you, Mometrix has developed a study guide that covers everything you'll need to know.

We're not done! We've also created a set of flash cards with critical exam concepts, that can be used when engaging in one of your all-night study sessions or during the five minutes you have to spare. Either way, you will be learning material that is pertinent to the exam.
NOCE Study Guide
Mometrix Academy is a completely free NOCE test resource provided by Mometrix Test Preparation. If you find benefit from our efforts here, check out our premium quality NOCE Study Guide and NOCE Flash Cards to take your studying to the next level. Just click the NOCE study guide link below. Your purchase also helps us make even more great, free test content for test-takers.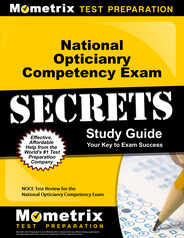 National Opticianry Competency Study Guide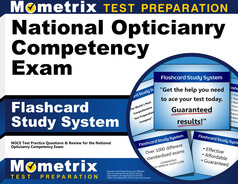 National Opticianry Competency Flashcards