NATA-BOC Practice Test
In order to receive certification, an individual must complete a CAATE accredited athletic training education program. The program director of the CAATE accredited education program must confirm that the individual is eligible to sit for the exam. The exam can be taken during the final semester prior to graduation.
How do I register to take the exam?
The registration process begins by creating a profile with BOC Central™ which is found on the website of the Board of Certification for the Athletic Trainer. Once registration is received and approved, the individual will receive a Notice to Schedule email with instructions to schedule the exam.
What is the cost of the exam?
A one-time application fee is required. The application fee for NATA members is $35. The fee for non-NATA members is $60. Once the application is approved, an exam fee for first-time candidates and retake candidates is $330.
Where do I take the exam?
All NATA-BOC exams are administered by Castle Worldwide testing centers. Testing centers are located at various cities throughout the United States. At the time of registration, the candidate will select the date, time, and location of their exam.
How many questions are on the exam and what format is used for the questions?
The computer-administered NATA-BOC exam consists of 175 questions in various formats. Some questions will instruct you to choose a single correct answer, other questions will ask you to select all correct options, and some questions may require you to drag and drop answers. Some questions will consist of a given scenario followed by 5 questions related to that scenario. Individuals should read each question carefully to understand the instructions for that particular question.
Check Out Mometrix's NATA-BOC Study Guide
Get practice questions, video tutorials, and detailed study lessons
Get Your Study Guide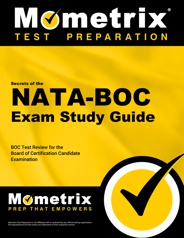 How much time will I have to complete the exam?
The exam must be completed within 4 hours.
What content is found on the NATA-BOC exam?
Questions on the exam fall into one of the 5 established content domains:
Injury and Illness Prevention and Wellness Promotion 19.8%
Examination, Assessment and Diagnosis 24.3%
Immediate and Emergency Care 15.5%
Therapeutic Intervention 27.4%
Healthcare Administration and Professional Responsibility 13%
How is the exam scored?
The exam is scored by Castle Worldwide. Each exam includes some experimental questions which are not scored; however, these questions are not distinguished from the actual test questions, so all questions should be answered. Partial credit is given for correct answers to questions with multiple correct answers. The minimum passing score is 500 on a scale from 200 to 800.
When will I receive my score?
Individuals will receive an email when test results are posted on the BOC website. You may log in to your BOC Central™ profile to receive your Pass/Fail score. Exam scores are not posted.
What if I do not achieve a passing score?
If a passing score is not achieved, the individual may schedule a retake on BOC Central™. Another application fee is not required to retake the exam, but the exam fee is required. Individuals who fail the exam should register for the next available exam window.
How can I best prepare to take the exam?
Adequate preparation will save you time and money. The world's #1 test preparation company, Mometrix, has the top quality study guide and flashcards that you need. The test experts at Mometrix have taken the critical concepts that you need to know for the NATA-BOC exam and put them in our Athletic Training Exam Secrets Study Guide and professional quality NATA-BOC Flashcards. Both products include practice test questions and many helpful test taking tips and strategies. You have nothing to lose by ordering our study guide or flashcards. Mometrix offers a 1-year money-back guarantee which means you have nothing to lose and everything to gain.
NATA-BOC Study Guide
Mometrix Academy is a completely free NATA certification resource provided by Mometrix Test Preparation. If you find benefit from our efforts here, check out our premium quality NATA-BOC study guide to take your studying to the next level. Just click the NATA-BOC study guide link below. Your purchase also helps us make even more great, free content for test-takers.
Check Out Mometrix's NATA-BOC Flashcards
Get complex subjects broken down into easily understandable concepts
Get Your Flashcards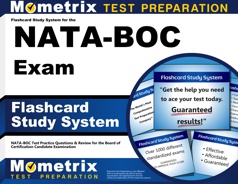 NATA-BOC Study Guide Customer Success Stories
Our customers love the tutorial videos from Mometrix Academy that we have incorporated into our NATA-BOC study guide. The NATA-BOC study guide reviews below are examples of customer experiences.
Great product. It is short, sweet, and contains all the main points you need! Highly recommended.
NATA-BOC Study Guide – Patrick
The review was to the point and really helped me cover all the areas of the test. The practice quiz at the end was helpful as well. It gives you the answers with an explanation to each question.
NATA-BOC Study Guide – Melissa
This book is everything I need to prepare for my upcoming certification exam. It's exactly what I was looking for in terms of test preparation. Easy to read and follow.
NATA-BOC Study Guide – Cheryl
Thanks to the Secrets of the NATA-BOC Exam I passed on my first try with very minimal time to study
NATA-BOC Study Guide – Sherpa
I use this book for the BOC Prep class I teach and have found it very useful in addressing some study skills and information which are needed for my students. I also encourage my students to purchase this book for their use outside of the classroom.
NATA-BOC Study Guide – Avery
I Passed my BOC ATC TEST!!! I failed this test at least five times before I tried this product. It helped me focus on my weaknesses and understand the test much better the exam prep books that I had before.
NATA-BOC Study Guide – Susan
It had refreshed my memory of things I have already learned and taught me things I never knew. This booklet breaks down the important information without having the excess details you don't really need. I even recommended this book for former classmates as I am sure it will help them as well.
NATA-BOC Study Guide – Carly
This is a great resource for anybody preparing for the BOC Exam. It has lots of study tips and also some reviews of content learned in classroom settings. Overall, I am thankful that I purchased this book.
NATA-BOC Study Guide – Heather