MTTC English Practice Test
To teach English in the state of Michigan, you will need to pass the MTTC English (002) exam. This test is a subject test in the MTTC series that is used to certify whether the applicant meets the minimum academic standards set by the state of Michigan.
If you are trying to prepare, check out our free MTTC English practice test! It will help guide your preparation while also showing you the types of questions you will see on the actual exam. However, all applicants should begin their preparation by learning some key information that is essential to success on the MTTC English exam.
So, let's look at this important information! This exam is available to be taken in both paper-based and computer-based formats. Both exams consist of 100 multiple-choice questions with the following breakdown of subject areas: Meaning and Communication (20%), Literature and Understanding (26%), Genre and Craft of Language (30%), and Skills and Processes (24%).
The computer-based exam is allotted a time limit of 2 1/2 hours while the paper-based test has a time limit of up to 4 1/2 hours. The minimum score you need to pass is a scaled score of 220. This important info should be used to help steer your study habits to ensure you are maximizing the usage of your time. If you want study material that can make sure you are ready on test day, check out our MTTC English practice test! If you need something to help start off your preparation, we have some sample practice questions that you can try below.

Check Out Mometrix's MTTC English Study Guide
Get practice questions, video tutorials, and detailed study lessons
Get Your Study Guide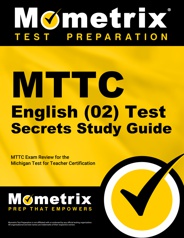 MTTC English Study Guide
Mometrix Academy is a completely free resource provided by Mometrix Test Preparation. If you find benefit from our efforts here, check out our premium quality MTTC English study guide to take your studying to the next level. Just click the MTTC English study guide link below. Your purchase also helps us make even more great, free content for test-takers.
MTTC Study Guide
MTTC Flashcards