Maternal Newborn Nursing Practice Test
The Maternal Newborn Nursing Exam is administered by the National Certification Corporation. After completing the requisite training and work experience, candidates are able to take the exam to become certified maternal newborn nurses with the designation Registered Nurse Certified in Maternal Newborn Nursing.

What Are the Eligibility Requirements?
To be eligible to take the exam, you will need a valid registered nurse license in either the United States or Canada and at least two years' experience comprising at least 2,000 hours of practice time in maternal and newborn care. Experience can be either in patient care, education, administration, or research. You will also need to show evidence of employment in the specialty sometime in the previous 24 months.
What is the Application Process?
Exam applications are only accepted through the National Certification Corporation website. You can apply anytime but allow four weeks for application processing and authorization. You will need to take the exam within 90 days of receiving your approval. Once you receive approval you can schedule the specific date and time of your exam.
What is the Exam Fee?
The fee to take the Maternal Newborn Nursing Exam is $325, including a non-refundable $50 application fee. This fee is paid when you apply to take the exam.
Check out Mometrix's Maternal Newborn Nursing Study Guide
Get practice questions, video tutorials, and detailed study lessons
Get Your Study Guide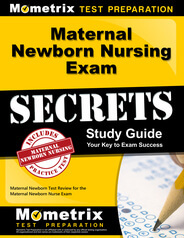 What Is the Exam Format?
The exam is delivered via computer and offered year-round by appointment Mondays through Saturdays at authorized testing centers. You will have three hours to complete the 175 multiple-choice questions that make up the exam. Your score will be based on 150 of the questions. The additional 25 questions are evaluated as pretest questions. They are distributed randomly throughout the exam, so you must answer every question. There is no penalty for an incorrect answer. It cannot hurt to guess if you're not sure which answer is correct.
What Do You Need on Exam Day?
You will need two valid forms of signature identification, one with a photo. You may bring a sweater or jacket to wear as needed during the exam. You may also bring a basic, noise-free, non-programmable, battery-operated calculator. You may not bring any other personal items into the test center. This includes cell phones, purses, bags, notebooks, food, and water. You should plan to arrive at the test center at least 15 minutes before your scheduled exam time. You will have time to become familiar with the computer system prior to the start of the exam.
How Is the Exam Scored?
You will receive a report at the test center immediately after completing the test to inform you of whether you passed or failed. You will receive official results by mail.
What is the Content of the Exam?
The questions on the exam pertain to the care of newborns and their families from birth to six weeks of age in both hospital and community settings.
Exam questions are distributed across the following domains:
1. Pregnancy, Birth Risk Factors and Complications (7%)
Questions in this domain will evaluate your knowledge and skills in:
Factors related to the mother's and newborn's health before (antenatal factors) and during (intrapartum factors) delivery, including age, health, risk factors, fetal assessment including heart rate, medications used in labor, complications of labor, and method of delivery
2. Maternal Postpartum Assessment, Management  and Education (26%)
Questions in this domain will evaluate your knowledge and abilities relating to:
Understanding and assessing the physiologic changes, including laboratory results across the reproductive, cardiopulmonary, genitourinary, gastrointestinal, hematological, and endocrine systems.
Nursing care concerning postpartum health assessment, knowledge of common medications, common problems and complications, and understanding of patient education
Lactation and newborn feeding, including nutrition for lactating mothers, proper positioning for breastfeeding, frequency and duration of breastfeeding, breast and nipple care, ways to supplement breastfeeding, and how to express and store breast milk, potential complications or concerns related to breastfeeding, separation of mothers from newborns, and potential newborn complications
Knowledge of psychosocial and ethical issues such as how parents and newborns interact and potential barriers to interactions, how new mothers take on their roles, how siblings handle family changes, domestic violence, factors that influence family integration, adoption, perinatal grief, and ethical principles
Newborn feeding and nutrition mainly focused on bottle feeding regarding newborns' nutritional needs, formulas, and techniques and equipment.
3. Newborn Assessment and Management (19%)
Questions in this domain will evaluate your understanding of and abilities relating to:
Care for newborns for the first four hours following birth
Comprehensive physical assessment including neurobehavioral and sensory systems as well as assessment of the newborn's respiratory, gastrointestinal, integumentary, musculoskeletal, endocrine, and genitourinary systems
Newborn care and family education including cord care, elimination, feeding, circumcision, comfort measures, screening, car seat safety, skin care, safety, proper sleep positioning, and commonly used medications
Resuscitation and stabilization from general assessment of status, management of resuscitation, drug therapy, evaluation of effectiveness of interventions, and Apgar scores
4. Maternal Postpartum Complications (24%)
Questions in this domain will evaluate your understanding of and knowledge of:
Hematologic complications such as hemorrhage, thrombophlebitis, pulmonary embolus, DIC/HELLP, and hematoma
Cardiovascular complications such as chronic hypertension and shock
Infection complications such as endometritis, wound infection, septic pelvic thrombophlebitis, and urinary tract infections
Diabetes
Mood and substance use disorders such as sleep disturbances, postpartum depression/psychosis, and substance abuse
5. Newborn Complications (24%)
Questions in this domain will evaluate your knowledge and abilities of:
Cardiovascular and respiratory complications such as cyanotic heart disease, acyanotic heart disease, apnea, transient tachypnea of the newborn, pneumothorax, and meconium aspiration
Neurological and gastrointestinal complications such as seizures, jitteriness, intracranial hemorrhage, neural tube defects, substance abused neonate, and intestinal obstructions and anomalies
Hematologic complications such as anemia, vitamin K deficiency, hyperbilirubinemia, ABO incompatibility, hemolytic disease, G6PD, polycythemia/hyperviscosity, and thrombocytopenia
Infectious disease complications such as neonatal sepsis, neonatal CBC and differential, lumbar puncture, viral infections, bacterial infections, sexually transmitted infections, and anti-infectives
Genetic, Metabolic, and Endocrine complications such as hypoglycemia, inborn errors of metabolism, patterns of inheritance, and infant of a diabetic mother

What's the Best Way to Prepare for the Maternal Newborn Nursing Exam?
Your experience in this specialized nursing field provides the foundation for your success on the exam. To build on that foundation and ensure a passing score on exam day, however, requires some planning and preparation. The exam questions cover a broad spectrum of content. You should prepare strategically so you'll be ready. The experts at Mometrix have created two valuable tools to help you meet the challenge. The Maternal Newborn Nursing Exam Study Secrets Guide with practice test questions and The Maternal Newborn Nursing Exam Flashcards Study System are carefully researched and designed to serve as your roadmap to success on exam day. These study aids not only reinforce the content you have learned in your practice but also teach you how to apply that knowledge while using proven test-taking strategies. The Exam Secrets Study Guide includes essential strategies to help you use your study time most effectively. A companion to the Guide, the Flash Cards Study System is an easily portable tool for on-the-go study of the most critical information for the exam. Together, these two study resources will help you prepare strategically and succeed with confidence on exam day.
Online Maternal Newborn Nursing Prep Course
If you want to be fully prepared, Mometrix offers an online Maternal Newborn Nursing Prep Course. The course is designed to provide you with any and every resource you might want while studying. The Maternal Newborn Nursing Course includes:
49 Review Lessons Covering All the Topics
500+ Maternal Newborn Nursing Practice Questions
More than 450 Electronic Flashcards
Money-back Guarantee
Free Mobile Access
and More!
The Maternal Newborn Nursing Prep Course is designed to help any learner get everything they need to prepare for their RN-MNN exam; click below to check it out.
Maternal Newborn Nursing Study Guide
Mometrix Academy is a completely free Maternal Newborn certification resource provided by Mometrix Test Preparation. If you find benefit from our efforts here, check out our premium quality Maternal Newborn Nursing study guide to take your studying to the next level. Just click the Maternal Newborn Nursing study guide link below. Your purchase also helps us make even more great, free content for test-takers.
Check out Mometrix's Maternal Newborn Nursing Flashcards
Get complex subjects broken down into easily understandable concepts
Get Your Flashcards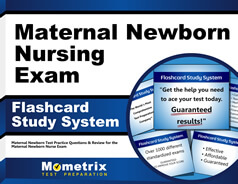 Upgrade your studying with our Maternal Newborn Nursing study guide and flashcards:
Maternal Newborn Nursing Study Guide
Maternal Newborn Nursing Flashcards
Maternal Newborn Nursing Online Course
Maternal Newborn Nursing Study Guide Customer Success Stories
Our customers love the tutorial videos from Mometrix Academy that we have incorporated into our Maternal Newborn Nursing test study guide. The Maternal Newborn Nursing study guide reviews below are examples of customer experiences.
It is everything that was advertised and more. I especially like that it mirrors exactly what the NCC stated would be on their exam. Thanks!
Maternal Newborn Nursing Study Guide – Debbie
This product has been very helpful, the question rationales and explanations are very beneficial and very informative, so far I have learned a lot!
Maternal Newborn Nursing Study Guide – Kimberly
I purchased the Maternal Newborn Nursing Exam Secrets Study Guide. I have read through the book one time as suggested in the test taking tips page. I am now able to go back and review areas I do not feel as strong in. I would give the book a 5 on a scale of 1-5 as it nicely encompasses all areas that may be addressed on the exam. It is just what I was looking for to assist in preparing for this exam.
Maternal Newborn Nursing Study Guide – Lisa
Upon receiving the book, I started off by taking the Practice Test. I was amazed at how easy the practice test seemed and how well I did on it. After reading the book, I felt like there were lots of good details and I learned many new things.
Maternal Newborn Nursing Study Guide – Timothy
Love it! It came really quick and was easy to read with helpful layout.This study guide us great! It has enough detail to relay the content but is not overwhelming. It has appropriate material for the field and I felt helped to maximize my time. I also learned and improved my understanding of topics I felt I already knew pretty well.
Maternal Newborn Nursing Study Guide – Crystal
I just would like to say thank you so much fun or creating this book. I was panicking before I got it but just a few days after navigating through I feel way more confident.
Maternal Newborn Nursing Study Guide – Regina
I've purchased other study material in the past and I just couldn't get into read them. I'm in the process of reading this study guide, and so far I really like it. The information is clear and straightforward. There are 50 practice questions and the rationale for the answers. It's a great tool.
Maternal Newborn Nursing Study Guide – Nancy
I highly recommended it to my colleagues at work as 5/5 rating. I gave all my coworkers the website and they will also order for their review course. Amazing material to pass and hoping I will pass my examination soon.
Maternal Newborn Nursing Study Guide – Annie-Dieron
I really like this study guide. I haven't taken my RNC exam yet, but I feel like it has really helped me prepare for it. It does a great job of covering all the areas in a concise, and thorough way. Would definitely recommend.
Maternal Newborn Nursing Study Guide – Customer
So far I am very happy with the study guide. I feel that it is an easy format to study from with a comprehensive selection of test questions and review information. The top 20 test taking tips are my favorite!
Maternal Newborn Nursing Study Guide – Heather