Loan Officer Exam
The successful completion of the Loan Officer Exam qualifies an individual to work for an institution in which he/she is charged with helping clients get approved for a mortgage loan.
This computer-delivered exam is 190 minutes in length, and consists of 125 questions. Of the 125, only 115 will be scored.
Examinees with documented disabilities that are covered under the ADA, can request special accommodations and/or modifications. This request must be made prior to scheduling the exam.
Some testing accommodations include small group setting, Braille test materials, large print test materials, ability to take prescription medications with water, hand-held magnifier, and seat cushion.
What are the categories and topics that will be assessed on this exam?
Federal Mortgage-Related Laws – 23%
General Mortgage Knowledge – 23%
Mortgage Loan Origination Activities – 25%
Ethics – 16%
Uniform State Content – 13%
The Federal Mortgage-Related Laws category will address topics such as RESPA, ECOA, TILA, TRID, other federal laws and guidelines, and regulatory authority.
The General Mortgage Knowledge category will address topics such as qualified and non-qualified mortgage programs, mortgage loan products, and mortgage industry terminology.
The Mortgage Loan Origination Activities category will address topics such as loan inquiry and application process requirements, processing and underwriting, closing, and financial calculations in mortgage lending.
The Ethics category will address topics such as ethical issues and ethical behavior with regard to loan origination activities.
The Uniform State Content category will address topics such as SAFE Act and CSBS/AARMR Model State Law.
How do I register for the exam?
The most convenient way is to register online. You can also do so over the phone.
What is the cost of taking the exam?
It costs $110 to take the Loan Officer Exam. This fee is non-refundable and non-transferable.
Check Out Mometrix's Loan Officer Study Guide
Get practice questions, video tutorials, and detailed study lessons
Get Your Study Guide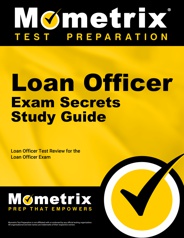 What are the testing dates and locations?
Once you have submitted the request and payment for taking the exam, a 180-day window is opened to you. If you do not take the exam within this period, the testing window will be closed. There are approximately 300 test sites to choose from.
What should I do the day of the exam?
Arrive 30 minutes before you are scheduled to take your exam. Being late can prevent you from being allowed to take the exam.
Bring a valid photo ID that includes your name, signature, and photo.
Examples of acceptable forms of identification include a government-issued driver's license, passport, military identification card, police identification card, firearm owner's registration identification card, and alien registration cars.
A basic calculator will be provided to you.
You are prohibited from bringing items such as a dictionary, reference material, cell phone, and wallet into the testing area.
What happens after I take the exam?
You will receive an exit survey to gauge your overall testing experience. You may opt out of participating in this survey.
Before leaving the testing center, you will receive an unofficial score report, indicating whether you have passed the exam.
Once the official score report is posted, you will receive an email letting you know it is accessible online.
What is the minimum passing score?
75%
What happens if I don't pass the exam?
Within your 180-day testing window, you are allowed to take the exam up to three times. There is a 30-day waiting period between each of these attempts. If you do not pass by the third time, you must wait 180 days before taking the test again.
Keep in mind, each time you take the test, you are required to pay a separate fee.
At Mometrix, we've narrowed down an efficient study strategy to these five secrets:
Time is your greatest enemy
Guessing is not guesswork
Practice smarter, not harder
Prepare, don't procrastinate
Test yourself
Our study guide and flash card set will teach you the magic behind these secrets, and so much more.
You will be equipped with the assurance, knowledge, and skills needed to not only pass the exam, but to pass with distinction.
We are so sure that our products will live up to this promise, that if you are not satisfied with your purchase, we offer a money-back guarantee.
Visit Mometrix today, to get you on your way!
Check Out Mometrix's Loan Officer Flashcards
Get complex subjects broken down into easily understandable concepts
Get Your Flashcards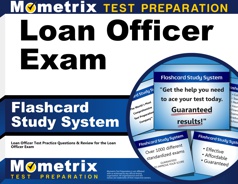 Loan Officer Study Guide
Mometrix Academy is a completely free Loan Officer test resource provided by Mometrix Test Preparation. If you find benefit from our efforts here, check out our premium quality Loan Officer Study Guide and Loan Officer Flash Cards to take your studying to the next level. Your purchase also helps us make even more great, free test content for test-takers.