LARE Practice Test
A landscape architect creates, plans, and builds the spaces in which we live, work, and play. They are usually part of a team that includes other experts such as urban planners, architects, and engineers. Landscape architects may work on specialized projects such as parks or gardens, as well as green building designs that produce useful, beautiful, and environmentally sustainable spaces.
You can obtain your certification as a landscape architect through the Council of Landscape Architectural Registration Board (CLARB). This page focuses on the Landscape Architecture Registration Examination (LARE), which CLARB administers to test potential licensees' abilities to preserve the public's health, safety, and welfare.
What is the LARE?
The Landscape Architect Registration Examination examines whether applicants for a landscape architectural license have the necessary competency and behavior to practice and regulate landscape architecture. Candidates in most jurisdictions begin the exam process shortly after graduation.
The LARE is not a design competition; it is intended to assess your ability to practice landscape architecture.
The exam is broken up into four sections, and each section is completely independent of the others. In fact, it is generally recommended that you take only one or two sections of the exam at a time (but you must eventually take every section).
The material included in the exam is determined by the findings of a scientific job analysis study that is carried out every five to seven years among more than 5,500 landscape architects working in practice in the United States and Canada.
After you pass the test, CLARB will list you as a certified landscape architect who is qualified to fill the position's responsibilities. By obtaining CLARB certification, you can demonstrate your professional standards and gain acknowledgment for your skills.
Eligibility
In each jurisdiction, there is a unique set of requirements that must be met before one can begin the process of becoming licensed. It is strongly encouraged that you confirm the requirements with the jurisdiction in which you intend to become licensed.
Before you can register for the examination, you will first need to create a Council Record if you do not already have one and then add your educational background to it.
Exam Outline Review
You will be examined on your knowledge, skills, and abilities that directly relate to the protection of public health, safety, and welfare as part of a professional license examination.
Question Types
There are four different types of questions on the exam:
Multiple-choice: You must select the one correct answer out of four answer choices
Multiple-response: You must select two or more correct answers out of four answer choices
Hot spot: You must select the most appropriate location of an image/diagram
Drag-and-place: You must choose the appropriate project element(s) and drag and place the element to the applicable location
What's on the Exam
As mentioned previously, the LARE exam is split into four independent sections:
Section 1: Project and Construction Management (100 questions)
The questions in this section will be a mix of multiple-choice and multiple-response, and you will be given 2.5 hours to complete all 100 questions.
Here's a look at what topics are covered:
Pre-project management (10%)
Project management (30%)
Bidding (20%)
Construction (30%)
Maintenance (10%)
Section 2: Inventory and Analysis (80 questions)
The questions in this section will also be a mix of multiple-choice and multiple-response, and you will be given another 2 hours to complete all 80 questions.
Here's a look at what topics are covered:
Site inventory (35%)
Physical analysis (40%)
Contextual analysis (25%)
Section 3: Design (100 questions)
The questions in this section will be a mix of all four question types, and you will be given 3.5 hours to complete all 100 questions.
Here's a look at what topics are covered:
Stakeholder process (9%)
Master planning (45%)
Site design (46%)
Section 4: Grading, Drainage, and Construction Documentation (120 questions)
The questions in this section will also be a mix of all four question types, and you will be given another 4 hours to complete all 120 questions.
Here's a look at what topics are covered:
Site preparation plans (20%)
General plans and details (40%)
Specialty plans (25%)
Specifications (15%)
Check Out Mometrix's LARE Study Guide
Get practice questions, video tutorials, and detailed study lessons
Get Your Study Guide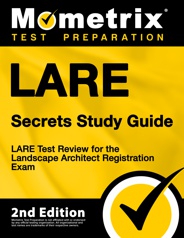 Registration
To schedule your appointment to take the test, visit the CLARB website. Be sure to schedule your appointment as soon as you can so that you have the best chance of being able to take the exam at the testing location of your choice.
After the appointment has been set up, a confirmation email will be sent to your inbox. It is possible that your appointment will not be scheduled if you do not receive an email confirmation from Public Services International (PSI).
The LARE is given three times a year over the course of a two-week period in the months of April, August, and December.
Online Proctoring
Online proctoring was introduced in April 2022 as an additional testing alternative for candidates who choose to access the exam without having to attend an in-person test location. This enables applicants to register and take/write all sections of the LARE exam from the convenience of their own home or office, using a computer. A live proctor will supervise the candidate via video feed while employing advanced security mechanisms that will be explained to them during the registration and check-in process.
CLARB has prioritized online proctoring to provide applicants with a more accessible solution. In all jurisdictions where the LARE is offered, online proctoring is available for all sections of the exam. If you select this option, you must test your computer settings prior to your test day to confirm that the exam and security precautions can be conducted.
While online proctoring can provide many special accommodations, there are a few exceptions that require candidates to test at a traditional testing facility. Candidates can speak with CLARB staff to find the best solution for their specific circumstances.
Fees
The following is a breakdown of the various exam fees:
Section 1: $385
Section 2: $385
Section 3: $610
Section 4: $610
Test Day
You should make plans to arrive 30 minutes in advance of your scheduled appointment to give yourself enough time to complete the necessary check-in requirements. If you arrive after the scheduled time, you will not be permitted to take the examination.
When you arrive at the testing center, you must show one piece of valid and current identification. Driver's licenses, valid passports, and State ID cards are all acceptable forms of government-issued ID with a photograph. The name on your ID must match the name you used to register for the exam. If your name has changed between exam registration and administration, you must notify CLARB prior to your test appointment, and you must bring proof of your name change with you to your exam.
Candidates will have access to an electronic whiteboard and a calculator within the exam program. No belongings, personal or otherwise, will be permitted into the PSI test center or proctoring room. Concerning cell phones: Cell phones, pagers, anything containing a computer memory chip, or any device with an alphanumeric keyboard are not permitted at the in-person testing site. However, a cell phone must be present in your online proctoring testing area but must be placed out of reach once you have been checked in and started testing. The online proctor will only use your cell phone to contact you when necessary.
Breaks are permitted during both in-person and online proctored exams. Breaks are initiated at the request of the candidate. When you take a break, all previously viewable items become inaccessible, including flagged or blank ones. During your break, the exam's timer will continue to run.
How the Exam is Scored
Following the final day of each administration, the results will be made available around six weeks later. When the results are ready to be viewed on the CLARB website, candidates will be contacted by CLARB by email and notified on the CLARB website and social media.
The following is a breakdown of the exam passing rates from the previous two years:
Section 1: The lowest 56% and the highest 64%
Section 2: The lowest 56% and the highest 67%
Section 3: The lowest 53% and the highest 64%
Section 4: The lowest 58% and the highest 70%
Check Out Mometrix's LARE Flashcards
Get complex subjects broken down into easily understandable concepts
Get Your Flashcards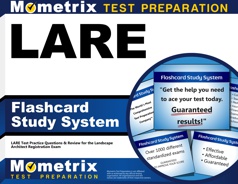 How to Study for the LARE Exam
How to Study Effectively
Your success on LARE test day depends not only on how many hours you put into preparing but also on whether you prepared the right way. It's good to check along the way to see whether your studying is paying off. One of the most effective ways to do this is by taking LARE practice tests to evaluate your progress. Practice tests are useful because they show exactly where you need to improve. Every time you take a free LARE exam practice test, pay special attention to these three groups of questions:
The questions you got wrong
The ones you had to guess on, even if you guessed right
The ones you found difficult or slow to work through
This will show you exactly what your weak areas are and where you need to devote more study time. Ask yourself why each of these questions gave you trouble. Was it because you didn't understand the material? Was it because you didn't remember the vocabulary? Do you need more repetitions on this type of question to build speed and confidence? Dig into those questions and figure out how you can strengthen your weak areas as you go back to review the material.
Answer Explanations
Additionally, many LARE practice tests have a section explaining the answer choices. It can be tempting to read the explanation and think that you now have a good understanding of the concept. However, an explanation likely only covers part of the question's broader context. Even if the explanation makes sense, go back and investigate every concept related to the question until you're positive you have a thorough understanding.
Comprehend Each Topic
As you go along, keep in mind that the LARE practice test is just that: practice. Memorizing these questions and answers will not be very helpful on the actual test because it is unlikely to have any of the same exact questions. If you only know the right answers to the sample questions, you won't be prepared for the real thing. Study the concepts until you understand them fully, and then you'll be able to answer any question that shows up on the test.
Strategy for LARE Practice
When you're ready to start taking practice tests, follow this strategy:
Remove Limitations. Take the first test with no time constraints and with your notes and LARE study guide handy. Take your time and focus on applying the strategies you've learned.
Time Yourself. Take the second practice test "open book" as well, but set a timer and practice pacing yourself to finish in time.
Simulate Test Day. Take any other practice tests as if it were test day. Set a timer and put away your study materials. Sit at a table or desk in a quiet room, imagine yourself at the testing center, and answer questions as quickly and accurately as possible.
Keep Practicing. Keep taking practice tests on a regular basis until you run out of practice tests or it's time for the actual test. Your mind will be ready for the schedule and stress of test day, and you'll be able to focus on recalling the material you've learned.
FAQs
How many questions are on the LARE exam?
The exam contains a total of 400 questions. Here are the number of questions in each section of the exam:
Section 1: 100
Section 2: 80
Section 3: 100
Section 4: 120
How long is the LARE exam?
Taking all four tests within the LARE exam will take a total of about 12 hours. Here are the time limits for each section of the exam:
Section 1: 2.5 hours
Section 2: 2 hours
Section 3: 3.5 hours
Section 4: 4 hours
What is a passing score for the LARE exam?
To pass, you must get a scaled score of at least 650 on each section of the exam.
How much does the LARE exam cost?
The cost of the entire LARE exam is $1,990.
Section 1: $385
Section 2: $385
Section 3: $610
Section 4: $610