ILTS Principal as Instructional Leader Practice Test
The state of Illinois requires individuals serving in this capacity to successfully complete the Illinois Licensure Testing System: Principal as Instructional Leader Exam, which consists of two subtests. Subtest I is 195 and Subtest II, 196.
Each subtest is computer-based. Both subtests consist of 56 multiple-choice questions and 2 constructed-response items. You will be given 3 hours and 45 minutes per subtest.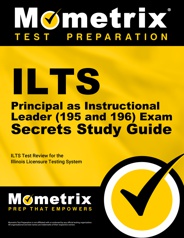 Special accommodations are available for examinees who have conditions that fall under and are covered by the Americans with Disabilities Act. Some of these accommodations include extra testing time, a separate testing room, Braille testing materials, and a seat cushion.
What are the topics and skills covered on Subtest 1 (195) of the exam?
Planning, Change, and Accountability
Knowing how to lead change and partake in collaborative planning and decision-making to better student learning outcomes.
Knowing how assessment and accountability systems help the academic progress of students, as well as promote excellence.
Instructional Improvement
Knowing how to create and maintain a culture and environment that is beneficial to student learning and the professional growth of staff members.
Knowing how instructional leadership should be focused on successful teaching and learning, and utilizing proper instructional practices that contribute to the success of all students.
Knowing how professional development benefits the learning of all students.
What are the topics and skills covered on Subtest 2 (196) of the exam?
Visionary Leadership, Collaboration, and Contexts of Education
Knowing how to collaboratively create and carry out a vision that will benefit students' achievement and continuous development.
Knowing how to speak and work with students, their families, school personnel, and the community in a way that effectively meets their needs, as well as strengthen the school and help it meet its goals.
Knowing all aspects of education (i.e. social, economic, cultural, political, and legal), and how to reply to and impact these aspects.
School Management and Legal/Ethical Guidelines
Knowing the organizational and operational management methods that are necessary to help better the school and assist it in reaching its goals.
Knowing what financial and human resources are necessary to help better the school and assist it in reaching its goals.
Knowing the ethical and legal guidelines that are applicable to school and education.
How do I register for the exam?
The most convenient way is to register online, using a credit card. You may also register via a paper application or over the phone. Submitting payments by check is also an option.
What is the cost of taking the exam?
$162 per subtest
What are the testing dates and locations?
These subtests are administered all year, Monday-Saturday. There are testing sites in Illinois and other states within the U.S.
What should I do the day of the exam?
Arrive at the testing center at least 15 minutes early, with a valid ID that includes your name, signature, and photo.
You are prohibited from bringing personal items such as a jacket, cell phone, food/drink into the testing area.
As you are answering the questions, keep in mind that you will not be penalized for guessing incorrect answers, so even if you are not certain about your educated guess, select an answer anyway.
What happens after I take the exam?
Your score report will be sent to the Illinois State Board of Education, as well as the academic institutions you designated. You will also receive a copy.
If you registered for the exam online, you had the opportunity to request that your score report be sent to you via email. With telephone and standard mail registrations, you will receive your score report via the mailing address you designated.
What is the minimum passing score?
240 per subtest
What happens if I don't pass the exam?
You are allowed to re-take the subtest(s) after a 60-day waiting period.
You're not the only one who wants you to pass this exam. Mometrix does too! Because of that, we've developed test resources that will adequately prepare you. Don't think twice, order your very own study guide and flash cards, and get studying today.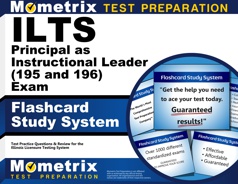 ILTS Principal as Instructional Leader Study Guide
Mometrix Academy is a completely free resource provided by Mometrix Test Preparation. If you benefit from our efforts here, check out our premium quality ILTS Principal study guide to take your studying to the next level. Just click the ILTS Principal study guide link below. Your purchase also helps us make even more great, free content for test-takers.
ILTS Study Guide
ILTS Flashcards