ILTS Learning Behavior Specialist I Practice Test
A learning behavior specialist helps meet the varied needs of students in special education classes. Some may have learning disabilities, or physical, mental or behavioral issues. If you decide to become a learning behavior specialist, you must be prepared for an ever-changing work environment. Prepare for your career in an Illinois classroom environment by passing the ILTS Learning Behavior Specialist I Exam.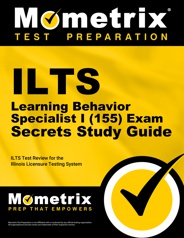 The ILTS Learning Behavior Specialist I Test is computer-based, consisting of 125 multiple-choice questions. You will have three hours and 45 minutes to complete the test and hopefully achieve a passing score of 240.
The test is made up of six subareas: foundations and characteristics, assessing students and developing individualized programs, planning and delivering instruction, managing the learning environment and promoting social interaction, working in a collaborative learning community, and professional conduct and growth.
The test covers topics such as human development, factors that affect learning, types of disabilities, characteristics of students with special needs, significance of disabilities in terms of learning, assessment instruments and methods, assessment of educational strengths, interpret and communicate assessment results, develop and implement individualized programs and plans, strategies for creating learning experiences, instructional design and planning, techniques to help develop communication, and individualizing instruction for students with learning disabilities.
The questions also cover concepts of the general education program, creating a positive learning environment, structuring and managing the learning environment, development and implementation of behavior interventions, the role of special education teacher, establishing partnerships in the community, promoting school-home relationships and school-community interactions, promoting community-based educational experiences, roles of teachers as professionals, practices of reflection and continuing education, and historical and legal issues related to special education.
Start studying now, with the ILTS Learning Behavior Specialist I Practice Test as your first step. This tool is a great way to self-assess and determine how well you would do on the real test. You'll determine your strengths and weaknesses, allowing you to study more efficiently.
The ILTS Learning Behavior Specialist I Study Guide is another excellent tool. It helps you study while giving you a thorough overview of the test. With these two study aids, you'll arrive to the testing site feeling like a pro.
ILTS Learning Behavior Specialist I Study Guide
Mometrix Academy is a completely free resource provided by Mometrix Test Preparation. If you benefit from our efforts here, check out our premium quality ILTS Learning Behavior Specialist I study guide to take your studying to the next level. Just click the ILTS Learning Behavior Specialist I study guide link below. Your purchase also helps us make even more great, free content for test-takers.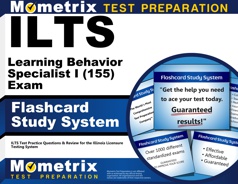 ILTS Study Guide
ILTS Flashcards