Funeral Service Practice Test
A candidate desiring to take the NBE must first be school-verified as having completed every other requirement for graduation from an ABSFE-accredited mortuary science program. Your program director is responsible for providing the Verification of Graduation. Note: The licensure process for some regulatory boards may require additional exams. Check with your funeral service regulatory authority to verify whether the NBE is the only exam required.
How do I register?
Registration requires approval of your program director, registering for the exam, and choosing a time and place to take the exam. Registration is available online or by mail. Examination fees, which are non-refundable, are required when you submit your application. Once your registration is approved, an authorization to test will be released to Pearson VUE. Your confirmation email will contain information regarding the scheduling the exam.
How much does it cost?
There are two sections of the NBE. Each section costs $285.
Where do I take the NBE exam?
Once you receive confirmation that you are authorized to test, you will schedule an appointment to take the NBE exam at a Pearson VUE professional testing facility. These testing facilities are located across the United States. The Pearson VUE website provides information on testing center locations and hours.
On the day of your test, plan to arrive 30 minutes early to check in. Proper identification as outlined on their website is required. Other requirements for check-in include having your photo taken, scanning the palm of your hand, and electronically signing the Candidate Rules Agreement.
Check Out Mometrix's Funeral Service Study Guide
Get practice questions, video tutorials, and detailed study lessons
Get Your Study Guide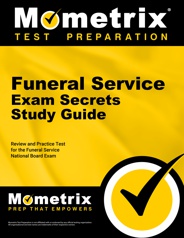 What is the format and length of the NBE exam?
A brief on-screen tutorial is provided before beginning the exam. The 3 hour-testing time does not begin until after the tutorial is complete. The computer-based NBE is administered in two sections: NBE-Arts and NBE-Sciences. Both sections contain 170 multiple choice questions of which only 150 questions are scored. The remaining 20 questions are pretest questions being considered for future exams. The pretest questions are not identifiable, so all 170 questions should be carefully answered.
What is allowed to be brought into the testing room?
Candidates are forbidden from bringing any materials into the testing room. An erasable board and marker to take notes with will be made available; headphones and earplugs are available upon request. Watches are not permitted in the testing room and large jewelry may be required to be removed. No eating, drinking, chewing gum, or smoking is allowed in the testing room.
What is the content of the NBE exam?
The NBE consists of two sections, Arts and Sciences. Each section is broken into subtest categories.
National Board Examination – Arts

Funeral Arranging & Directing (51 items)
Funeral Service Marketing/Merchandising (21 items)
Funeral Service Counseling (22 items)
Legal & Regulatory Compliance (36 items)
Cemetery and Crematory Operations (20 items)

National Board Examination – Sciences

Embalming (58 items)
Restorative Art (34 items)
Preparation for Disposition (31 items)
Funeral Service Sciences (27 items)
How is the exam scored?
Each section of the NBE is scored separately, although both sections must receive passing scores to be considered passing the NBE. A minimum scaled score of 75 is required to receive a "pass" although no numerical score is provided to the candidate. Candidates will receive a score of pass/fail upon completion of the exam. If a failing score is received, a performance feedback bar chart signifying the candidate's performance in each section is also provided. The 20 pretest questions are not used to calculate the final score; only the 150 core questions are used.
Funeral Service Study Guide
Check Out Mometrix's Funeral Service Flashcards
Get complex subjects broken down into easily understandable concepts
Get Your Flashcards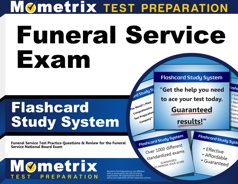 Mometrix Academy is a completely free resource provided by Mometrix Test Preparation. If you find benefit from our efforts here, check out our premium quality Funeral Service Exam Secrets Study Guide to take your studying to the next level. Just click the Funeral Service study guide link below. Your purchase also helps us make even more great, free content for test-takers.
Funeral Service Exam Study Guide Customer Success Stories
Our customers love the tutorial videos from Mometrix Academy that we have incorporated into our Funeral Service Exam study guide. The Funeral Service Exam study guide reviews below are examples of customer experiences.
I am a funeral arranger/director in training and I have found the book to be very helpful with terms that are used in the funeral home industry. The material is well organized and is easy to read for someone like myself who has a learning disability. I also like the practice test as well as the Secret Key information that is provided. It will definitely help me in the long run. Might I add that the customer service was really great!!
Funeral Service Exam Study Guide – Bones
I feel much more confident after reading and studying this book! It truly breaks everything down so you can understand and helpful tips on how to remember what you learned!! I am so grateful and will ace my board exams.
Funeral Service Exam Study Guide – Renee
I think this is a great book so far. It helps you study in a completely different way and keeps you focused on what you need to know. So far I highly recommend it to other students!
Funeral Service Exam Study Guide – Jon
The Study Guide helps me to practice studying the test as well as, prepared me. The great thing about your study guide, is that if you get the wrong answer when taking the practice test; The Funeral Service Exam Secret explain to you why the other choice cannot be good and why the correct answer is correct. I also purchase the flash cards because, I am more hands on and it helps me to highlight key words or should I say action word.
Funeral Service Exam Study Guide – Jessica
The study guide has been Great and it's not only filled with info. but, tips to understand the correct mindset to have with successful testing. This is an investment that is well worth the cost.
Funeral Service Exam Study Guide – Ivan
I am certain it will be very beneficial in helping me prepare for the funeral service national board exam. The mortuary college I attend has spoken highly of it and recommends it as a study tool. Numerous students from classes before me also spoke highly of the product.
Funeral Service Exam Study Guide – Customer
This study guide is comprehensive and provides a great overview of all the material that we covered in classes. It is user friendly and not overwhelming for the student.
Funeral Service Exam Study Guide – Meka
What I really love about the guide is all the wonderful test taking tips, secret keys are useful. And the mini test also how it has loads of information that will help you take the NBE and feel confident and ready.
Funeral Service Exam Study Guide – Customer