Funeral Service Practice Test
The International Conference of Funeral Service Examining Boards (ICFSEB) administers a National Board Examination (NBE) to evaluate the knowledge needed to become a licensed funeral director or embalmer.
Click "Start Test" below to take a free Funeral Service practice test!
Funeral Service Exam Eligibility
To be eligible to take the Funeral Service exam, you must have either graduated from a program that is ABSFE-accredited or met state eligibility requirements.
Funeral Service Exam Outline
The Funeral Service exam is split into two tests, NBE-Arts and NBE-Sciences, which are administered separately. Even though they are administered separately, you must pass BOTH tests to pass the Funeral Service exam and obtain certification. Each test contains 170 multiple-choice questions, 20 of which are unscored questions that are being evaluated for use on future exams. You will be given a time limit of 170 minutes (2 hours and 50 minutes) per test.
NBE-Arts (170 questions)
The NBE-Arts test is split into five sections:
Funeral Arranging and Directing (51 questions)
Funeral Service Marketing/Merchandising (21 questions)
Funeral Service Counseling (19 questions)
Legal and Regulatory Compliance (35 questions)
Cemetery and Crematory Dispositions (24 questions)
Unscored Questions (20 questions)
NBE-Sciences (170 questions)
The NBE-Sciences test is split into four sections:
Embalming (62 questions)
Restorative Art (34 questions)
Other Preparation of the Deceased (28 questions)
Funeral Service Sciences (26 questions)
Unscored Questions (20 questions)
Check Out Mometrix's Funeral Service Study Guide
Get practice questions, video tutorials, and detailed study lessons
Get Your Study Guide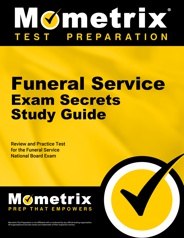 Funeral Service Exam Registration
You can apply for the Funeral Service exam online at the Conference Online website, or by mail. You will need to apply for the NBE-Arts and NBE-Sciences tests separately, and you will need to pay the $285 exam fee for each test.
Once your application is approved, you will be sent an email with an Authorization to Test (ATT), which will tell you how to schedule your exam at a Pearson VUE professional testing facility. These testing facilities are located across the United States. The Pearson VUE website provides information on testing center locations and hours.
If you need to reschedule your exam, you can do so free of charge if you reschedule more than 30 days before your scheduled exam date. Otherwise, you will be charged a rescheduling fee of $25.
Test Day
On the day of the exam, you should arrive 30 minutes early to allow time for the check-in process. Once you arrive, you will be asked to show two valid forms of identification and sign the Candidate Rules Agreement. Your photograph will be taken and a biometric scan of your palm will be performed for security purposes.
You will be provided with a small whiteboard and marker before you enter the testing room, but you will be asked to leave all other items in a secure locker outside the testing room. This includes your cell phone and any bags, hats, jackets, food, books, and pencils. You will also be provided with a basic on-screen calculator to use during the exam.
How the Funeral Service Exam is Scored
As soon as you finish the exam, you will see your pass/fail status on the computer screen. As of January 1, 2023, you will only see your numerical score if you fail the exam.
Since the questions on each administration of the exam are slightly different, the exam is scored using a scaling system. The scaled scores take into account that some questions are more difficult than others depending on which version of the exam y
ou take, meaning that your score will represent your level of knowledge fairly. The passing score for the Funeral Service exam is a scaled score of 75.
FAQs
How many questions are on the Funeral Service exam?
There are 170 multiple-choice questions on each test within the exam.
How long is the Funeral Service exam?
Each test within the exam is timed at 2 hours and 50 minutes.
What is the passing score for the Funeral Service exam?
The minimum passing score for this exam is a scaled score of 70.
How much does the Funeral Service exam cost?
The examination fee for each test within the exam is $285.
Funeral Service Exam Study Guide Customer Success Stories
Our customers love the tutorial videos from Mometrix Academy that we have incorporated into our Funeral Service Exam study guide. The Funeral Service Exam study guide reviews below are examples of customer experiences.
I am a funeral arranger/director in training and I have found the book to be very helpful with terms that are used in the funeral home industry. The material is well organized and is easy to read for someone like myself who has a learning disability. I also like the practice test as well as the Secret Key information that is provided. It will definitely help me in the long run. Might I add that the customer service was really great!!
Funeral Service Exam Study Guide – Bones
I feel much more confident after reading and studying this book! It truly breaks everything down so you can understand and helpful tips on how to remember what you learned!! I am so grateful and will ace my board exams.
Funeral Service Exam Study Guide – Renee
I think this is a great book so far. It helps you study in a completely different way and keeps you focused on what you need to know. So far I highly recommend it to other students!
Funeral Service Exam Study Guide – Jon
The Study Guide helps me to practice studying the test as well as, prepared me. The great thing about your study guide, is that if you get the wrong answer when taking the practice test; The Funeral Service Exam Secret explain to you why the other choice cannot be good and why the correct answer is correct. I also purchase the flash cards because, I am more hands on and it helps me to highlight key words or should I say action word.
Funeral Service Exam Study Guide – Jessica
The study guide has been Great and it's not only filled with info. but, tips to understand the correct mindset to have with successful testing. This is an investment that is well worth the cost.
Funeral Service Exam Study Guide – Ivan
I am certain it will be very beneficial in helping me prepare for the funeral service national board exam. The mortuary college I attend has spoken highly of it and recommends it as a study tool. Numerous students from classes before me also spoke highly of the product.
Funeral Service Exam Study Guide – Customer
This study guide is comprehensive and provides a great overview of all the material that we covered in classes. It is user friendly and not overwhelming for the student.
Funeral Service Exam Study Guide – Meka
What I really love about the guide is all the wonderful test taking tips, secret keys are useful. And the mini test also how it has loads of information that will help you take the NBE and feel confident and ready.
Funeral Service Exam Study Guide – Customer