Fundamental Payroll Certification Practice Test
The exam is intended for those who wish to become formally certified as a payroll professional. It is an important step toward a successful career in payroll, sales, analysts, and other roles in the payroll industry.
When Can I Register for the Fundamental Payroll Certification Exam?
There are two one-month "testing windows" available each year when you'll be able to take the exam. One window is in fall and the other is in spring. Register for a date within one of the testing windows online and choose the most conveniently located testing center.
Registration opens about 10 weeks prior to the beginning of the testing window. However, you should begin studying long before this and when registration opens, decide whether you feel you'll be fully prepared to do your best on the test with another 10 weeks of studying.
The exam fee ranges from $320-$395, so it's important to devote plenty of time to studying and hold off on registering for the exam unless you really are confident you'll be able to succeed.
What Kinds of Questions Are on the Fundamental Payroll Certification Exam?
There are 125 scored questions on this exam, divided across seven content areas. Here is a detailed outline of the content that will be covered on the certification exam:
Core Payroll Concepts – 29% of Questions

Worker Status
Fair Labor Standards Act
Employment Taxes
Employee Benefits
Employee/Employer Forms
Professional Responsibility
Methods and Timing of Pay
Compliance/Research and Resources – 17% of Questions

Escheatment
Legislative and Regulatory Requirements
Reporting
Record Retention
Penalties
Global
Calculation of the Paycheck – 24% of Questions

Compensation/Benefits
Fringe Benefits
Involuntary Deductions/Taxes
Voluntary Deductions
Employer Taxes and Contributions
Total Payroll
Payroll Process and Supporting Systems and Administration – 7% of Questions

Maintaining Master File Components
Concepts and Functionalities
Business Continuity Plan
Payroll Administration and Management – 7% of Questions

Policies and Procedures
Intradepartmental Agreements
Customer Service and Communication
Audits – 8% of Questions

Internal Controls
Payroll System Controls
Accounting System Controls
Audit Policies and Procedures
Accounting – 8% of Questions

Financial Reporting
Accounting Principles
Payroll Journal Entry
Account Reconciliation
Check Out Mometrix's FPC Study Guide
Get practice questions, video tutorials, and detailed study lessons
Get Your Study Guide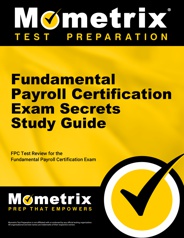 What Should I Expect on the Day of the Exam?
Be prepared to sit for the full three hours that the exam will take. This means coming to the testing center well-rested and having eaten a full, nourishing breakfast. You should also make sure that you arrive at least 30 minutes early in order to check in.
In addition to two valid, government-issued IDs, you should bring an approved calculator and, if needed, a direct translation only dictionary (as long as it does not provide definitions).
When Will I Find Out If I Passed?
You must score a minimum of 300 in order to pass. You'll be able to see your results and find out whether you passed immediately after completing the exam. If you didn't pass, you'll be able to see a section by section breakdown of how you performed on the test to find out which areas you'll need to work on in order to pass it on your next attempt.
How Long Does It Take to Prepare for This Exam?
The American Payroll Association recommends spending at least six months preparing for this exam. However, that recommendation includes any coursework or training you might have in the payroll industry. If you have no formal training, you should definitely take the six months to prepare for the exam on your own. It is rigorous and requires a very specific set of skills and expertise.
As part of your self-guided study in preparation for the Fundamental Payroll Certification Exam, you should invest in a well-designed study guide like the Mometrix Study Guide. You'll get a comprehensive review of all the material that will be covered along with practice questions, tips, and strategies to help you better absorb the material and practice the skills you'll need to succeed.
The payroll industry is very carefully structured and requires an in-depth knowledge of a wide range of procedures, methods, and principles. This guide will explain all of them in detail and give you the tools necessary to both memorize them and practice applying them.
Given the highly specific terminology and step-by-step processes you'll need to know by heart to succeed in a payroll career, you need a study system that can help you really drill those things into your brain. The flashcards from Mometrix will help you do just that by providing an easy-to-use tool that is proven to improve both memory and recall.
FPC Study Guide
Mometrix Academy is a completely free FPC certification resource provided by Mometrix Test Preparation. If you find benefit from our efforts here, check out our premium quality Fundamental Payroll Certification study guide to take your studying to the next level. Just click the Fundamental Payroll Certification study guide link below. Your purchase also helps us make even more great, free content for test-takers.
Check Out Mometrix's FPC Flashcards
Get complex subjects broken down into easily understandable concepts
Get Your Flashcards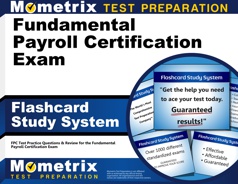 Fundamental Payroll Certification Study Guide Customer Success Stories
Our customers love the tutorial videos from Mometrix Academy that we have incorporated into our Fundamental Payroll Certification study guide. The Fundamental Payroll Certification study guide reviews below are examples of customer experiences.
I thought the product was a great read. It is very informative and condensed for someone that is relatively new to payroll, like myself. I feel more knowledgeable after reading this selection.
Fundamental Payroll Certification Study Guide – Aaron
I really found this book useful for getting my foot wet while preparing for the exam. I look forward to understanding and studying the materials in the book to ensure a successful results on the exam.
Fundamental Payroll Certification Study Guide – Nam
The material in this book was very helpful for people who are looking to jump start a payroll career or enhance their current abilities. Working in payroll, it helped me to connect the payroll dots and apply it to my daily work routine.
Fundamental Payroll Certification Study Guide – Alonna
This is a really great program you designed. Taking something that is so complex and simplifying allows me to stay on point, thanks for this program.
Fundamental Payroll Certification Study Guide – Julianna
I really like the book, everything is very detailed and explained in simple words. With the practice test I can actually practice about original test.
Fundamental Payroll Certification Study Guide – Customer
This book has given me the confidence to take my upcoming exam. I only have 2 months to study & feel good about it.
Fundamental Payroll Certification Study Guide – Customer
I'm extremely impressed and happy with the product I purchased and feel that the information and tips that are provided in the book have helped me learn and prepare for the exam in a much shorter amount of time them attempting to study a bunch of separate resources and books.
Fundamental Payroll Certification Study Guide – Acanneto
I am a very uneasy test taker, I have taken this test multiple times but every time I get to the testing center I have a nervous breakdown. Since I have been using your guide I feel more at ease, I am not as anxious or fidgety thinking about the test.
Fundamental Payroll Certification Study Guide – Chris
Even though I just read through page 30 of the book, I found the information provided in the book very helpful in preparing for my upcoming FPC exam and to my daily jobs. There are useful payroll resources mentioned in the book. It also offers different payroll concepts and regulations that I have never learned before. Highly recommended!
Fundamental Payroll Certification Study Guide – Lan
I have nothing but positive feedback for the material I purchased. Although I have some knowledge of the material, this guide opened up my thinking to so much more. There is information that I was not aware that I needed to know, I am so thankful for this book
Fundamental Payroll Certification Study Guide – Caprice
Your product has so far been of great help. It gives you basic information for all areas covered by the exam. I found the secret keys very helpful

Fundamental Payroll Certification Study Guide – Donna
The information is presented in a manner that is easily understandable and free from extra fluff. I have been able to comprehend information that I could not previously understand. The products have also allowed me to brush up on information that I had forgotten. I believe the test-taking tips will be extremely helpful when it is time for me to take the exam. I would recommend these products to anyone who is planning on taking the Fundamental Payroll Certification Exam.

Fundamental Payroll Certification Study Guide – Customer
I've found the complementary system of the study guide and flashcards efficient. The information is easy to understand and detailed in such a way that prompts thinking rather than just memorizing facts.
Fundamental Payroll Certification Study Guide – Customer
I have purchased Mometrix Test Preparation for Fundamental Payroll Certification. I have researched the product to find out it is rated as an A+ at the BBB. After reviewing the materials once I received it I would say it is a 5, seems to be well organized for easy learning. I love the book that I order giving you information on hot topics which coincide with the flashcards. I feel like if I study using just this material I should pass the test the first time around. Thank you for bringing this material all together so I did not have to.
Fundamental Payroll Certification Study Guide – Customer