FSOT Practice Test
The Foreign Service Officer Test (FSOT) is required of anyone who is interested in working as a Foreign Service Officer of any kind. Whether you want to work in the consulate, diplomacy, politics, or any other department, taking this test will be a necessary step on your career path.
When Can I Register for the FSOT?
The FSOT is offered three times a year and each testing window comes with its own registration window. These windows are as follows:
For tests given between June 2nd and June 9th, registration is open from May 2nd to May 30th.
For tests given between September 29th and October 6th, registration is open from August 29th to September 26th.
For tests given between February 2nd and February 9th, registration is open from January 2nd to January 30th.
The fee to register is just $5 and that fee will be returned to you a couple weeks after you take the test. If you don't show up to your test, however, you have to pay a $72 no-show fee. So don't register unless you are confident you will be ready to take the test.
What Should I Expect on Test Day?
On the day of the test, you need to bring your admissions letter and a valid government-issued photo ID with you. If you are taking the exam at a consulate or embassy, you must use your US passport as your ID. Otherwise, a driver's license, state ID, or military ID are also accepted.<
Plan to arrive at least 30 minutes early and account for any possible delays like traffic or detours by leaving earlier than you need to because there will be no allowances made for those who show up late.
The entire test will last about three hours and will be entirely computer based. You will be allowed to skip questions and return to them later so use this to your advantage while testing.
Check Out Mometrix's FSOT Study Guide
Get practice questions, video tutorials, and detailed study lessons
Get Your Study Guide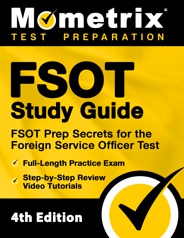 Which Subjects Will the FSOT Include?
There are a total of four sections on the test: job knowledge, situational judgement, English expression and a written essay. The first three sections will be entirely multiple choice with about 60 questions on the job knowledge section, 75 questions on the situational judgement section, and 65 questions on the English expression section.
The English expression is a fairly straight-forward measure of your command of grammar, sentence structure, punctuation and other dimensions of the English language. The job knowledge and situational judgement sections will both cover a wide array of subjects including:
US Government
Economics
US History, Society, Customs, and Culture
Management Principles, Psychology, and Human Behavior
Computers and the Internet
World History and Geography
Mathematics and Statistics
Communications
You will have 30 minutes to complete a well-crafted essay in response to a prompt provided for the written essay section.
When Will I Find Out if I Passed the Test?
You'll be able to view your scores within three weeks of taking the test. The score required to pass the test can shift slightly from year to year due to the way that scores are calculated. However, you usually need a minimum cumulative score for the three multiple-choice sections of 154.
Then, you need at least a 6 out of a possible 12 points on the written essay. If you do achieve a 154 minimum on the first three sections, your essay won't be graded. If you do not pass the exam, you have to wait a full 12 months before retaking it. Make sure you give yourself plenty of time (at least six months) to study and prepare for this test.
Check Out Mometrix's FSOT Flashcards
Get complex subjects broken down into easily understandable concepts
Get Your Flashcards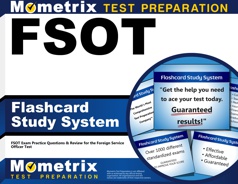 How Can I Improve My Chances of Passing the FSOT?
The FSOT is a very challenging exam with a low pass-rate (hovering between just 30% and 50% of test takers). So you should not underestimate the need to study for this test.
Because it covers such a wide span of information ranging from history to economics to math, you will need a carefully crafted study plan that includes a variety of different study methods. The Mometrix Study Guide includes exactly that. In addition to a great overview of all the subjects, it provides a straightforward and highly-effective plan for using your study time well.
But what about your ability to recall that information quickly during the test? To develop that skill, you need the Mometrix Flashcards. These will help really drill the core concepts and ideas into your brain. They will also include useful practice questions to help you get familiar with the kinds of questions and phrasing you are going to see on the test.
Online FSOT Prep Course
If you want to be fully prepared, Mometrix offers an online Foreign Service Officer Test Prep Course. The course is designed to provide you with any and every resource you might want while studying. The FSOT Course includes:
Review Lessons Covering All the Topics
750+ Foreign Service Officer Test Practice Questions
More than 900 Electronic Flashcards
Over 150 Instructional Videos
Money-back Guarantee
Free Mobile Access
and More!
The Foreign Service Officer Test Prep Course is designed to help any learner get everything they need to prepare for their FSOT exam; click below to check it out.

FSOT Study Guide
Mometrix Academy is a completely free Foreign Service exam resource provided by Mometrix Test Preparation. If you find benefit from our efforts here, check out our premium quality FSOT study guide to take your studying to the next level. Just click the Foreign Service Officer Test Study Guide link below. Your purchase also helps us make even more great, free Foreign Service test content for test-takers.
Upgrade your studying with our FSOT study guide and flashcards:
FSOT Study Guide
FSOT Flashcards
FSOT Online Course
FSOT Study Guide Customer Success Stories
Our customers love the tutorial videos from Mometrix Academy that we have incorporated into our FSOT study guide. The FSOT study guide reviews below are examples of customer experiences.
Informative! Don't have a lot of time to study for the test and this book hits all the big subjects in a quick and easy to read manner.
FSOT Study Guide – Tyrell
I love that i feel prepared for the test and that it is easy to follow and has a practice test with answers to guide me.
FSOT Study Guide – Kendall
This book is full of very useful information. I definitely like the writing and grammar sections being placed at the beginning. Glad I found this resource. Will not have as much anxiety on test day!
FSOT Study Guide – Customer
There are plenty of study guides on the market, but if you are studying for this exact test, you will want a guide that knows what will be on the test. This guide sure seems to do exactly that. It covers everything that's going to be on the test without wasting any time. IT just jumps right into the subject in a very well organized way. It has a few extras as well like test taking tips and study secrets that are also very helpful. Plus, the guide has some practice tests that can really help you figure out how well you're doing in the studying process. This study guide really has it all and everything it has is very important. IT doesn't add a bunch of fluff that you really don't need. You can basically count on needing to know absolutely everything this guide includes.
FSOT Study Guide – Herman
I finally feel like I have a legitimate chance of passing the FSOT. Thank you for cutting out the fluff!
FSOT Study Guide – Beau
The material and context in these booklets are very well explained.
FSOT Study Guide – Customer
The book is really good to study from. The grammar part of it has helped me tons!
FSOT Study Guide – Customer
Awesome study material... very inclusive.
FSOT Study Guide – Customer
Very thorough. Covers all aspects of the exam. This prep gives me a sense of confidence that I will do well on the exam.
FSOT Study Guide – Daisy
I am very satisfied with the book I purchased, it is an excellent study guide for my FSOT exam. I am very impressed with the Mometrix test preparation books. I highly recommend it!

FSOT Study Guide – Renata
It covers a breadth of exam areas, which is helpful in reviewing American history, government, math, economics, communications, etc. I would recommend it as a great resource to acquire more practice. Practice makes perfect!
FSOT Study Guide – Nicole
The book is really helpful as I feel more confident now to take the exam. Not being a native English speaker, I had some issues with punctuation, grammar, and vocabulary. Now with the rules I have in my possession, I will be able to tackle that part more easily during the test.
FSOT Study Guide – Customer
I am very happy with the purchase. The material in the book is explained very understandable and easy to digest.
FSOT Study Guide – Customer