FSOT Practice Test
The Foreign Service Officer Test (FSOT) is required of anyone who is interested in working as a Foreign Service Officer of any kind. Whether you want to work in the consulate, diplomacy, politics, or any other department, taking this test will be a necessary step on your career path.
Click "Start Test" below to take a free FSOT practice test!
Eligibility
To be eligible to take the FSOT, you must adhere to the following guidelines:
You must be no younger than 20 and no older than 59 on the day you register to take the exam
You must be no younger than 21 and no older than 60 on the day you are appointed as a Foreign Service Officer
You must be a US citizen on the day you submit your registration package
You must be available for worldwide assignments
Exam Outline Review
The FSOT contains 153 questions and one essay, and you will be given between 3 and 3.5 hours to complete the test.
The test is split into four sections.
Job Knowledge (60 questions)
The questions in this section will cover the following:
US Government

The US Constitution
The roles of congress in foreign affairs
The United States political system and how it affects government policy
US History, Society, Customs, and Culture

Major events
History
Politics
National customs and culture
Social issues and trends
The influence that society has on foreign policy
World History and Geography

Historical events
Issues
Developments
The impacts any or all of the above items may have on foreign policy
Economics

Understanding of the basic economic principles
Understanding the economic system of the United States
Mathematics and Statistics

Understanding of basic math
Understanding of statistical procedure
Management Principles, Psychology, and Human Behavior

General understanding of human behavior
Leadership
Motivational strategies
Equal employment practices
Communication

Principles of effective communication
Public speaking
Media
The goals and techniques of public diplomacy
Computers and Internet

Basic knowledge of word processing
Database basics
Spreadsheet basics
Email basics
Internet use basics
Situational Judgment (28 questions)
For each question in this section, there will be four or five possible responses for you to choose from. You will be asked to select the best and the worst possible responses.
These questions will evaluate your abilities regarding the following:
Adaptability
Decision-making
Operational effectiveness
Professional standards
Team-building
Workplace perceptiveness
English Expression (65 questions)
This section tests whether you can recognize a correctly written English sentence and will give you options to make corrections to the sentence if necessary. You will need to pay attention to details such as structure, grammar, punctuation, and spelling as you tackle this section.
Essay
For the FSOT essay, you will need to choose one of three topics to write 400-700 words about. Your essay should explain your position on the topic and explains your rationale for that position.
Check Out Mometrix's FSOT Study Guide
Get practice questions, video tutorials, and detailed study lessons
Get Your Study Guide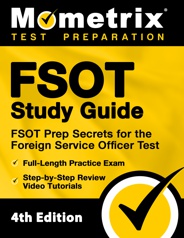 Application
The first step to taking the test is to apply. To fill out your application, you will first need to create a Pearson VUE account online. After your account is established, you can complete your eligibility requirements, fill out your application form, and complete your personal narratives.
Personal Narratives
As part of your application, you are required to write six short essays that highlight the knowledge, skills, and abilities that you have.
1. Leadership

Teamwork
Decision-making
Openness to dissent
Community service you have been involved in or institution building
2. Interpersonal Skills

Professional standards
Persuasion and negotiation skills
Workplace perceptiveness
Adaptability
Representational skills
3. Communication Skills

Written communication
Oral communication
Active listening
Public outreach
Foreign language skills
4. Management Skills

Operational effectiveness
Performance management and evaluation
Management resources
Customer service
5. Intellectual Skills

Information gathering and analysis skills
Critical thinking
Active learning
Leadership and management training
6. Substantive Knowledge

Understanding of US history
Understanding of the US government
Understanding of culture and application when dealing with other cultures
Knowledge and understanding of career track information that is relevant
Registration
The FSOT is offered three times a year and each testing window comes with its own registration window. These windows are as follows:
For tests given between June 2nd and June 9th, registration is open from May 2nd to May 30th.
For tests given between September 29th and October 6th, registration is open from August 29th to September 26th.
For tests given between February 2nd and February 9th, registration is open from January 2nd to January 30th.
You now have the option to take the FSOT at home using online proctoring. During registration, you will be given an option of where to take your exam. All you have to do is choose the online my-home or office option.
Fees
The fee to register is just $5, and that fee will be returned to you three weeks after you take the test. If you don't show up to your test, however, you have to pay a $72 no-show fee.
Test Day
In-person Testing
On the day of the test, you need to bring your admissions letter and a valid government-issued photo ID with you. If you are taking the exam at a consulate or embassy, you must use your US passport as your ID. Otherwise, a driver's license, state ID, or military ID will also be accepted.
Plan to arrive at least 30 minutes early and account for any possible delays like traffic or detours, as there will be no allowances made if you show up late.
Remote Testing
The remote version of the exam is offered through Pearson Vue's online testing system. You will need to ensure that your equipment meets the requirements before you test at home:
You must have a desktop computer or laptop.
You are only allowed to use one computer monitor.
You must have a webcam and microphone.
You must have a reliable wired or wireless internet connection.
If you utilize any VPNs, they must be disabled for the entirety of the exam.
There are also certain rules you have to follow during the exam itself:
Your eyes must be facing forward.
You cannot cover or block the webcam.
No other person may be in the room with you during the test.
Your mobile phone, PDA, pagers, smartwatches, or other electronic devices must be left in another room while you are testing.
You cannot have wallets, purses, backpacks, or bags near you.
You cannot wear headphones or headsets.
You cannot have paper, pens, notepads, books, or printed material on your desk or nearby.
You cannot have an eyeglass case on your desk.
Firearms and weapons of any kind cannot be visible.
You cannot leave the room during the test.
You cannot move your lips or appear to speak out loud while testing.
Do not hide your face or cover your mouth during the exam.
Eating and smoking, including vaping, will not be allowed.
Do not wear a coat or jacket.
How the Exam is Scored
You'll be able to view your scores within three weeks of taking the test. The score required to pass the test can shift slightly from year to year due to the way that scores are calculated. However, you usually need a minimum cumulative score for the three multiple-choice sections of 154.
Then, you need at least a 6 out of a possible 12 points on the written essay. If you do achieve a 154 minimum on the first three sections, your essay won't be graded. If you do not pass the exam, you have to wait a full 12 months before retaking it. Make sure you give yourself plenty of time (at least six months) to study and prepare for this test.
Online FSOT Prep Course
If you want to be fully prepared, Mometrix offers an online Foreign Service Officer Test Prep Course. The course is designed to provide you with any and every resource you might want while studying. The FSOT Course includes:
Review Lessons Covering Every Topic
750+ Foreign Service Officer Test Practice Questions
More than 950 Electronic Flashcards
Over 150 Instructional Videos
Money-back Guarantee
Free Mobile Access
and More!
The Foreign Service Officer Test Prep Course is designed to help any learner get everything they need to prepare for their FSOT exam. Click below to check it out!
FAQs
How many questions are on the FSOT?
There are 153 multiple-choice questions and one essay.
How long is the FSOT?
The time limit is 3.5 hours.
How much does the FSOT cost?
There is a temporary $5 fee that will be refunded after you take the test.
What is a passing score for the FSOT?
To pass the FSOT, you will need a combined score of at least 154.
FSOT Study Guide Customer Success Stories
Our customers love the tutorial videos from Mometrix Academy that we have incorporated into our FSOT study guide. The FSOT study guide reviews below are examples of customer experiences.
Informative! Don't have a lot of time to study for the test and this book hits all the big subjects in a quick and easy to read manner.
FSOT Study Guide – Tyrell
I love that i feel prepared for the test and that it is easy to follow and has a practice test with answers to guide me.
FSOT Study Guide – Kendall
This book is full of very useful information. I definitely like the writing and grammar sections being placed at the beginning. Glad I found this resource. Will not have as much anxiety on test day!
FSOT Study Guide – Customer
There are plenty of study guides on the market, but if you are studying for this exact test, you will want a guide that knows what will be on the test. This guide sure seems to do exactly that. It covers everything that's going to be on the test without wasting any time. IT just jumps right into the subject in a very well organized way. It has a few extras as well like test taking tips and study secrets that are also very helpful. Plus, the guide has some practice tests that can really help you figure out how well you're doing in the studying process. This study guide really has it all and everything it has is very important. IT doesn't add a bunch of fluff that you really don't need. You can basically count on needing to know absolutely everything this guide includes.
FSOT Study Guide – Herman
I finally feel like I have a legitimate chance of passing the FSOT. Thank you for cutting out the fluff!
FSOT Study Guide – Beau
The material and context in these booklets are very well explained.
FSOT Study Guide – Customer
The book is really good to study from. The grammar part of it has helped me tons!
FSOT Study Guide – Customer
Awesome study material... very inclusive.
FSOT Study Guide – Customer
Very thorough. Covers all aspects of the exam. This prep gives me a sense of confidence that I will do well on the exam.
FSOT Study Guide – Daisy
I am very satisfied with the book I purchased, it is an excellent study guide for my FSOT exam. I am very impressed with the Mometrix test preparation books. I highly recommend it!

FSOT Study Guide – Renata
It covers a breadth of exam areas, which is helpful in reviewing American history, government, math, economics, communications, etc. I would recommend it as a great resource to acquire more practice. Practice makes perfect!
FSOT Study Guide – Nicole
The book is really helpful as I feel more confident now to take the exam. Not being a native English speaker, I had some issues with punctuation, grammar, and vocabulary. Now with the rules I have in my possession, I will be able to tackle that part more easily during the test.
FSOT Study Guide – Customer
I am very happy with the purchase. The material in the book is explained very understandable and easy to digest.
FSOT Study Guide – Customer
Affiliate disclosure: As an Amazon Associate, we may earn commissions from qualifying purchases from Amazon.com.