FPGEE Exam
The National Association of Boards of Pharmacy (NABP) designed the Foreign Pharmacy Graduate Equivalency Exam (FPGEE) to meet the requirements of the Foreign Pharmacy Graduate Examination Committee Certification (FPGEC) process. The FPGEC is required by all 50 U.S. states, as well as the District of Columbia, Puerto Rico, and Guam, for pharmacy graduates who received their education outside the United States. However, each state has its own requirements, so make sure to check with your state board before submitting your application to the NABP and registering to sit for the FPGEE.
What are the eligibility requirements to take the FPGEE?
In order to sit for the FPGEE, you must submit a completed application to the NABP. The application requires candidates to demonstrate proof of licensure or registration to practice as a pharmacist in the region in which you completed your pharmacy education; a certified copy of your identification card, including a photograph; and FPGEC attestation, including two copies of a full-face, passport-sized photograph. You must also submit an Educational Credentials Evaluators (ECE) application, including official transcripts for any pre-pharmacy, bachelors-level, or post-baccalaureate education, along with official proof of degree completion.
What fees are associated with the FPGEE?
The FPGEC application fee is $500, non-refundable, including a $450 document evaluation fee and a $100 administrative fee. The FPGEE fee is $650 for your first exam attempt. If you need to retake the exam for any reason, you will be assessed a $750 fee, which includes the initial $650 exam fee and a non-refundable administrative fee of $100. If you need to cancel your scheduled exam, you will receive an exam fee refund less the non-refundable $100 administrative fee.
Once your application has been processed, you will receive an authorization to test (ATT). Your ATT will arrive via mail from Pearson VUE and will include instructions for scheduling the FPGEE. Please note that you must wait for your ATT in order to register for the exam, which can be done over the phone or online. Once you have registered for the exam, you will receive an examination confirmation email.

Check Out Mometrix's FPGEE Study Guide
Get practice questions, video tutorials, and detailed study lessons
Get Your Study Guide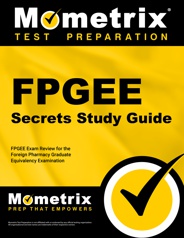 What does the FPGEE cover?
The FPGEE is administered by Pearson VUE at a number of Pearson Professional Centers across the continental United States. The FPGEE is a computer-based exam consisting of 250 questions. Question types include multiple-choice or multiple-response, in which you choose the correct answer or answers from several choices; constructed-response, in which you enter the correct response manually; ordered-response, in which you rank the options in the correct order; and hot spot responses, in which identify the correct response via manually clicking and manipulating a graphic. You will be given five and a half (5.5) hours to complete the exam.
In terms of content, the FPGEE consists of several content areas, each with a different weight. The exam's content areas, topics, and weights per area are as follows:
Basic biomedical sciences, 10%

Including: biochemistry, microbiology, immunology, and related concepts

Pharmaceutical sciences, 33%

Including: medicinal chemistry, pharmacology, toxicology, pharmacognosy, biopharmaceuticals, pharmacokinetics, pharmacogenomics, and related concepts

Administrative/behavioral/social sciences, 22%

Including: health care delivery systems, public health, population-based care, pharmacoepidemiology, economic and humanistic outcomes, pharmacy management, pharmacy law, biostatistics, research design, ethics, behavioral and social aspects of pharmacy practice, medication distribution, and related concepts

Clinical sciences, 35%

Including: evidence-based practice, clinical pathophysiology, pharmacokinetics, pharmacogenomics, disease prevention, population health, patient assessment, therapeutic decision-making, and related concepts
Test Preparation
Now that you have a good understanding of the eligibility requirements and content of the FPGEE, it's time to begin preparing for exam day. The most effective means of ensuring you pass the FPGEE on your first attempt is to prepare using the most comprehensive test preparation materials on the market. Mometrix Test Preparation's FPGEE Secrets study guide contains all the information you need. In the FPGEE Secrets study guide, you get authentic FPGEE content, along with expert tips for reducing test anxiety, recalling information, and boosting test performance. In addition to the FPGEE Secrets study guide, Mometrix offers a comprehensive FPGEE Practice Test, as well as a complete set of FPGEE Flashcards. Read the FPGEE Secrets study guide, evaluate your knowledge using the FPGEE Practice Test and FPGEE Flashcards, and earn the FPGEC certification you've worked so hard to earn.

Check Out Mometrix's FPGEE Flashcards
Get complex subjects broken down into easily understandable concepts
Get Your Flashcards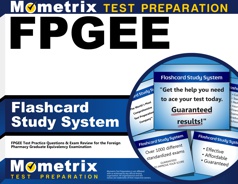 FPGEE Study Guide
Mometrix Academy is a completely free FPGEE test resource provided by Mometrix Test Preparation. If you find benefit from our efforts here, check out our premium quality FPGEE Study Guide and FPGEE Flash Cards to take your studying to the next level. Just click the FPGEE study guide link below. Your purchase also helps us make even more great, free test content for test-takers.
Upgrade your studying with our FPGEE Upper Level study guide and flashcards:
FPGEE Study Guide
FPGEE Flashcards