Esthetician Exam Practice Test
Specialists at the top of their field have taken the National Esthetics Theory Examination. It's a licensure test developed by the Interstate Council of State Boards of Cosmetology (NIC), certifying that these professionals understand complex subjects such as areas of the face that include muscles and bones, the neck and shoulders, and even understand skin microbiology.
This page will cover the Esthetician exam, what information the examination covers, the number and type of questions you can expect, the score you need to pass, and everything you need to register for the assessment.
Exam Outline Review
The Esthetician exam contains 70 questions and has a time limit of 2 hours.
The test is split into two sections: Scientific Concepts and Skin Care and Services.
I. Scientific Concepts (35%)
The 25 questions in this section assess the following:
Your knowledge of infection control procedures
Your knowledge of safety procedures and guidelines related to the handling of chemicals, blood exposure, and standard precautions
Your ability to understand and recognize skin disorders and diseases
Your ability to understand the function and composition of abnormal hair growth
Your knowledge of basic chemistry as it relates to basic functions as well as acidity and alkalinity
II. Skin Care and Services (65%)
The 45 questions in this section ask you to demonstrate several things, including:
Client consultation and documentation
Knowledge of client protection
Skin analysis
Knowledge of contraindications for skin services
Treatment protocol
Cleansing procedures
Steaming procedures
Exfoliation procedures
Basic massage movements
Methods of extraction
Mask functions and applications
Conclusion of facial services
Use of electrical equipment used in skin services
An understanding of makeup as it relates to product selection, application, and safety
Basic knowledge of facial services, body treatments, eyelash and eyebrow services, and hair removal methods and procedures
Check Out Mometrix's Esthetician Study Guide
Get practice questions, video tutorials, and detailed study lessons
Get Your Study Guide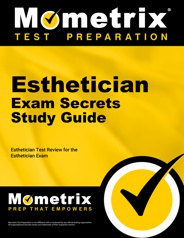 Test Day
On the day of the exam, you must bring three containers, each with a specific label. Those labels are "to be disinfected," "soiled items," and "trash." You also need to bring your candidate admission notice and present a government-issued ID that contains a photo and a signature.
Additionally, the Interstate Council of State Boards of Cosmetology recommends that you bring the supplies that you will need during the exam. Those supplies include hand sanitizer, paper towels, astringent or toner, gloves, and tweezers. Consult the Interstate Council of State Boards of Cosmetology website for a complete list of supplies.
As with most tests, there is a long list of items that you are not allowed to bring into the testing room. Items include mobile phones, tablets, computers, cameras, printed materials, and notes.
Check Out Mometrix's Esthetician Flashcards
Get complex subjects broken down into easily understandable concepts
Get Your Flashcards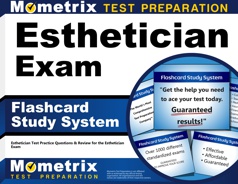 FAQs
How many questions are on the exam?
There are 70 questions on the Esthetician exam.
How long is the exam?
The Esthetician exam is timed at 2 hours.
How much does the exam cost?
The cost of the Esthetician exam varies depending on which state you take the test in.
What is a passing score?
You must answer at least 70% of the questions correctly to pass the Esthetician exam.
Esthetician Study Guide Customer Success Stories
Our customers love the tutorial videos from Mometrix Academy that we have incorporated into our Esthetician test study guide. The Esthetician study guide reviews below are examples of customer experiences.
I really enjoyed the information I've read. I do feel this book has helped me in the areas I am weak. This is one of the best study guides.
Esthetician Study Guide – Customer
This book is great it's easy to follow. I'm still in the process of reading it. But I'm not finding any glitches to my learning curves. I like the fact that I can review my questions see what I missed and re-study. I like the simple definitions in the beginning of the book explaining what each thing is very easy to understand. I have a memory problem but am finding this easy to follow and remember. Your instructions are excellent for the way to use the study Guide and 20 top tips are very helpful. I am recommending it to my fellow students at school. I am more confident now in taking my state board.

Esthetician Study Guide – Angel
These materials and simply everything you need to complete your learning, with this summary of all study content, you will be secure of your learning with confidence to run the state board test and achieve high score.
Esthetician Study Guide – Customer
The study material was great. It was informative and very detailed. It made understanding and recalling different terms much easier.
Esthetician Study Guide – Margo
I am truly impressed with the Mometrix Esthetician Test Preparation book "Esthetician Exam Secrets - Study Guide. The book is well formatted in a logical manner. I particularly liked the following sections: Test Taking Tips - Pathogens - Practice Test. I now feel that I am better prepared to take the NCEA test and pass with flying colors.
Esthetician Study Guide – Customer
I do love this book, it's smart and easy. This is the second study guide I've purchased (the first bombed, but this one rocks!!).
Esthetician Study Guide – Amy
I like how the study guide summarizes the most important points and definitions. Appreciate there being practuce questions also! The tips at the end gave me more confidence on what and what not to worry about.
Esthetician Study Guide – Customer
I bought the Esthetician Exam Secrets study guide and I give it 5 stars. It's straight to the point. All the meat and no potatoes. Very excited to have it assist me on this journey.
Esthetician Study Guide – Hannah
Great structure to the topics with in-depth information. As well as that, the readings are easy to follow and easy to remember. Would recommend to anyone in need.
Esthetician Study Guide – Customer