CWS Exam
The Certified Wound Specialist (CWS) exam is designed to assess an applicant's specialized knowledge for the care for persons with wounds. The American Board of Wound Management (ABWM) sponsors the certification, and successful completion of the exam entitles the individual the title of "Certified Wound Specialist."
Eligibility
An individual must have a Bachelor's degree and three years of clinical wound experience, or have completed a one-year fellowship certified by a credentialing organization. Also, there are specific criteria an individual must meet to include a résumé, detailed personal statement of three years of clinical wound care and direct patient care, and other requirements deemed necessary by the ABWM.
Test design
The Certified Wound Specialist exam is a three-hour, 150 multiple-choice questions exam delivered as a computer-based test at a certified testing facility. The examination questions are classified by topic and task. Topics are:
Wound Healing Environment – 20 questions
Assessment and Diagnosis – 33 questions
Patient Management – 30 items
Etiological Considerations – 32 items
Professional Issues – 10 items
Tasks are:
History and Physical Examination
Evaluation and Diagnosis
Treatment
Follow-up Care
Professional Practice
Questions will assess an applicant's ability to apply theory and practice in the field of wound care and are generally scenario-based.

Check Out Mometrix's CWS Study Guide
Get practice questions, video tutorials, and detailed study lessons
Get Your Study Guide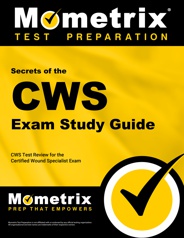 Registration, cost, and dates
To register for the exam, you will complete a paper application packet. Your packet will contain the required documentation including references, résumé, code of ethics, and the $575.00 application fee. All materials must arrive at the ABWM at one time, in the same envelope. The approval process of your application will take a minimum of ten business days from receipt. Use a delivery service that has tracking available to ensure prompt delivery to ABWM. You may pay the application fee with a credit or debit card, or by personal check.
After your application is accepted, you will receive notification via mail and email with instructions on how to schedule your exam. You are allowed up to three months from the date of notification to schedule your exam.
You can register for the exam online or by phone. Tests are scheduled Monday through Friday at 300 testing centers nationwide. Testing appointments vary by location and are on a first-come, first served basis.
Special accommodation is available for the testing session. To request an accommodation, you will complete the two-page request and give it to the testing center 45 days before the desired examination date.
You may reschedule your appointment at no charge once if you request it by 3:00 p.m. Central Time at least two days before your testing date.
Test Day
On the day of your exam, arrive no later than the listed start time. If you are more than 15 minutes late, you will not be allowed in, and you will have to reapply and pay the fee again. Bring two forms of identification; one government issued with your photo, signature, and name, and the second with your name and signature (such as a credit card or social security card).
No personal belongings are allowed in the testing center, and scratch paper and pencils are provided. You will have the opportunity to take a practice test on the computer to familiarize yourself with the procedure. The practice exam does not count toward your allotted testing time.
It is essential that you follow the test center rules of conduct. Should you be caught breaking any of them, you may be dismissed and your scores invalidated. You could also lose your registration fee.
Exam results and scoring
At the conclusion of your exam, you will receive notification of your status. You will report to the proctor to receive an examination report. Your score report will show your correct responses and the number required to pass. You may order additional official reports for $25.00 each. It is your responsibility to provide your testing results to your employer if needed.
Preparing for the Certified Wound Specialist exam
The Certified Wound Specialist credential identifies your specialized knowledge and experience in wound and patient care. The signifier of "CWS" indicates to others your advanced professionalism and attainment in advanced clinical care. It is an important, expensive test that can catapult your career forward. If you are going to invest in the credential, take out a little more insurance and invest in a proven study system.
Mometrix's system, CWS Exam Secrets and CWS Flashcards, focuses on the topics and tasks you will encounter on the exam. Written by test experts, Mometrix has the method proven to be most effective in guiding your study plan. Rated A+ by the Better Business Bureau, Mometrix provides you with a one-year, 100% money-back guarantee. Give it a try and find yourself on the path to a less stressful preparation program.

Check Out Mometrix's CWS Flashcards
Get complex subjects broken down into easily understandable concepts
Get Your Flashcards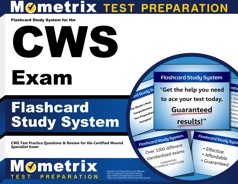 CWS Study Guide
Mometrix Academy is a completely free CWS test resource provided by Mometrix Test Preparation. If you find benefit from our efforts here, check out our premium quality CWS Study Guide and CWS Flash Cards to take your studying to the next level. Just click the CWS study guide link below. Your purchase also helps us make even more great, free test content for test-takers.
Upgrade your studying with our CWS study guide and flashcards:
CWS Study Guide
CWS Flashcards
CWS Study Guide Customer Success Stories
Our customers love the tutorial videos from Mometrix Academy that we have incorporated into our CWS study guide. The CWS study guide reviews below are examples of customer experiences.
I think according to a prep course I have just recently taken, it was spot on. I also think the material hit the essential topics hopefully to help me pass the exam and I appreciate the study, test taking tips. It was easy reading, easy to understand and explained well. I have enough information to remember and sort thru preparing for the exam, without complicating it more with difficulty reading and comprehension. It was a happy little book loaded with a great amount of information. Thanks
CWS Study Guide – Customer
The material is compact, straight to the point, and accurate. I especially like the convenience of being able to read through it with an "at a glance" style on my work breaks.
CWS Study Guide – Customer
I found the most helpful thing to be the questions at the end of the book, and liked that each answer provided rationale to further reinforce the concepts. Well organized and useful information. good review.
CWS Study Guide – Customer
So far this book has been a great refresher for information as well has provided me with lots of new information and will definitely change some of the practice I do.
CWS Study Guide – Carissa
I have learned new things from the Study guide. The information has helped me gather additional information not received during my certification course. The information is short and simple but has the needed information to prepare yourself for the test.
CWS Study Guide – Emerida
I have found this review book very helpful. It starts very basic and works in to the details of wound care and managent. It is all I will need to take my test and hopefully pass the first time!
CWS Study Guide – Brandy
Reading this book has helped me to study better and to take away the stress of the test. The way the book is set up helps to study each section and gives one the ability to study easier and comprehend better
CWS Study Guide – Customer
This is a must for nurses going forward in there career. Clear concise outline with everything you need to know with nothing you don't. Has video clips to further explane topics. A must have for a prep.
CWS Study Guide – Robert
I am still reading through it, but so far it has been easy to follow. I wish I had this when I first took the exam 10 years ago.
CWS Study Guide – Barbara