CSP Practice Test
The Certified Safety Professional (CSP) exam is used to measure a candidate's knowledge and skills necessary to work as a safety professional. This includes making risk assessments, evaluating safety procedures and protocols, investigating incidents, and more.
Click "Start Test" below to take a free CSP practice test!
Eligibility
To be eligible for the CSP exam, you must meet all of the following requirements:
You must have at least a bachelor's degree.
You must have at least 4 years of safety experience with a depth of professional safety duties.
You must have a BCSP-Qualified Credential.
List of acceptable credentials

Associate Safety Professional (ASP)
Graduate Safety Practitioner (GSP)
Transitional Safety Practitioner (TSP)
Certified Industrial Hygienist® (CIH®)
Chartered Member of the Institution of Occupational Safety and Health (CMIOSH)
Canadian Registered Safety Professional (CRSP)
CP-12 Professional Certificate in Safety and Occupational Health, US Army Combat Readiness Center (ACRC)
Certified Safety Engineer (CSE)
Master in Occupational Safety and Health, International Training Centre of the International Labour Organization (ITC-ILO)
NEBOSH National or International Diploma in Occupational Health and Safety
Professional Member of the Singapore Institution of Safety Officers (SISO)
Diploma/Certificate in Industrial Safety, as issued by the State Government Departments Boards of Technical Education, Government of India
Exam Outline Review
The CSP exam contains 200 multiple-choice questions, and you will be given a time limit of 5.5 hours.
The exam is split into nine content domains, and the questions in each domain are split into two categories: Skills and Knowledge.
1. Advanced Sciences and Math (9.95%)
The Knowledge questions in this domain evaluate the following:
Anatomy and physiology concepts
Chemistry and physics concepts
Basic mathematics
Statistics
Methodology for research
Microbiology
The Skills questions in this domain test your ability to calculate statistics from various sources of data and calculate requirements for hazardous material storage.
2. Management Systems (13.34%)
The Knowledge questions in this domain evaluate the following:
Business continuity and contingency plans
Concepts and techniques of project management
Performance standards
Incident investigation techniques
Document retention principles
Types of leading and lagging safety and security performance indicators
Measuring and improving organizational culture
Budgeting techniques
System safety analysis techniques
The Skills questions in this domain test your ability to do the following:
Perform gap analyses
Analyze and interpret data
Develop and sustain health management systems
Evaluate and analyze survey data
Use financial calculations to demonstrate business need
Conduct casual factors analyses
Apply management principles of responsibility, authority, and accountability
3. Risk Management (14.49%)
The Knowledge questions in this domain evaluate the following:
Risk management processes
Risk analysis
Principles of insurance/risk transfer
Hazard identification methods
Costs and benefits of the risk assessment process
The Skills questions in this domain test your ability to do the following:
Prioritize risk management options by applying risk-based decision-making tools
Conduct hazard analyses and risk assessments
Explain risk management concepts and options to stakeholders and the public
Calculate metrics for organizational risk
Select risk treatments or controls using the hierarchy of controls
4. Advanced Application of Key Safety Concepts (14.69%)
The Knowledge questions in this domain evaluate the following:
Redundancy systems
Human performance
Personal protective equipment
Fleet safety principles
Common workplace hazards
Materials handling
Foreign material exclusion
Principles of safety through design and inherently safer designs
Facility life safety features
Sources of information on hazards and risk management options
Transportation safety principles
Engineering controls
Administrative controls
Tools and equipment safety
Multi-employee worksite issues
Chemical process safety management
The Skills questions in this domain test your ability to do the following:
Identify relevant signs, labels, and warnings
Calibrate and maintain data logging, monitoring, and measurement equipment
Interpret specifications, process flow diagrams, plans, and technical drawings
5. Emergency Preparedness, Fire Prevention, and Security (10.59%)
The Knowledge questions in this domain evaluate the following:
Fire prevention, suppression, and protection systems
Workplace violence and prevention techniques
The transportation and security of hazardous materials
Emergency and disaster response planning
The Skills questions in this domain test your ability to manage active incidents.
6. Occupational Health and Ergonomics (12.05%)
The Knowledge questions in this domain evaluate the following:
How to evaluate occupational exposures
Epidemiology fundamentals
Principles of advanced toxicology
Employee substance abuse
Carcinogens
Occupational exposure limits
How to control occupational exposures
The Skills questions in this domain test your ability to do the following:
Use sampling equipment
Conduct exposure evaluations
Interpret data from exposure evaluations
7. Environmental Management Systems (7.38%)
The Knowledge questions in this domain evaluate the following:
Sustainability principles
Environmental pollution prevention methods
Registration, authorization, evaluation, and restriction of chemicals
Waster water treatment plants
Public water systems
How released hazardous materials migrate and interact through the air, soil, surface water, and water table
Onsite waste water treatment plants
The Skills questions in this domain test your ability to conduct hazardous waste operations by using appropriate waste management practices.
8. Training/Education (10.18%)
The Knowledge questions in this domain evaluate the following:
Determining training program effectiveness
Effective presentation techniques
Educatoin and training methods and techniques
Training, qualification, and competency requirements
The Skills questions in this domain test your ability to do the following:
Develop training programs and materials
Conduct training
Perform training needs assessments
Develop training assessment instruments
Assess training competency
9. Law and Ethics (7.33%)
The Knowledge questions in this domain evaluate the following:
BCSP Code of Ethics
Legal issues
Workers' compensation
Standards development processes
Protection of confidential information
Labor and management
Ethics related to conducting professional practice
The Skills questions in this domain test your ability to do the following:
Interpret laws, regulations, and consensus codes
Apply concepts found in the BCSP Code of Ethics
Check out Mometrix's CSP Study Guide
Get practice questions, video tutorials, and detailed study lessons
Get Your Study Guide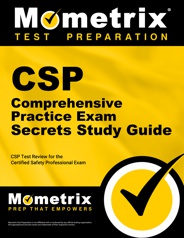 Registration
To register for the CSP exam, you must first create an online BCSP account. Through your account, you can then select "CSP" as your certification of choice and fill out the application. You will be asked to provide your contact information, proof of your BSCP-qualified credential, and your experience and education information. Once the application is filled out, you will need to submit it along with the $160 application fee.
Once your application is approved, you will have a full year from the date of approval to register and sit for the exam. During registration, you will need to pay the exam fee of $350. You can schedule your exam at any time with Pearson VUE.
Test Day
You should arrive at the testing location at least 30 minutes prior to the start of the test. Bring your examination permit and a valid government-issued photo ID. It is crucial that the name on your ID and the name on your exam permit match.
You must present your photo ID to the proctor when you arrive. After that, you will be photographed and asked to sign a roster and other rule forms.
Any personal items should be left at home or locked in your car because they are not allowed in the testing room. All electrical devices, including cell phones, are prohibited.
Just before the exam starts, you will receive a brief tutorial on the testing system, as well as the on-screen calculator.
How the Exam is Scored
BCSP uses the Modified Angoff method and the Bookmark Standard Setting method to establish the scores for the CSP exam. Using these methods ensures that your score is based entirely on your testing performance and does not rely on how well other test-takers performed.
You will get your results immediately after completing the exam. As long as you achieve the minimum cumulative score for the entire test, you will have passed, even if you did not pass all nine domains individually.
Even though you don't need to pass each individual domain, your score report will show you how you performed on each one. This is useful for understanding your strengths and weaknesses, especially if you did not pass and need to retake the exam. Currently, the minimum passing score is 140 out of 200.
Check out Mometrix's CSP Flashcards
Get complex subjects broken down into easily understandable concepts
Get Your Flashcards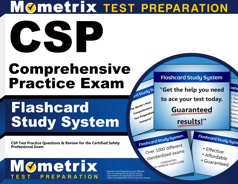 FAQs
How long is the CSP exam?
The time limit for this exam is 5.5 hours.
How many questions are on the CSP exam?
There are 200 multiple-choice questions on the exam.
What is the passing score for the CSP exam?
To pass the exam, you must answer 140 of the 200 questions correctly.
How much does the CSP exam cost?
The examination fee is $350, which does not include the additional $160 application fee.
CSP Study Guide Customer Success Stories
Our customers love the tutorial videos from Mometrix Academy that we have incorporated into our CSP test study guide. The CSP study guide reviews below are examples of customer experiences.
Over the past 30 years, I found that going back to 'school' has been intimidating. Work always seems to get in the way of studying. Using the guide as well as the flashcards has been a great comfort to help me prepare for the exams. I feel confident and know that when I am ready to sit for the exams, they will be successful because of this material.
CSP Study Guide – Customer
This book is a great tool for studying, I like the questions in the back along with the answer key which gives you a detail explanation of each problem. I would definitely buy this product again for another course. Highly recommend if you are studying for the CSP.
CSP Study Guide – Alicia
If you're taking ANY standardized test...you need to find out the SECRET on how to find the correct answer quickly....when you go into these exams you should KNOW the theory/classroom stuff anyway...MOMETRIX shows you how to find the correct answer and waylay fear/stress in preparing for the exam!!! I used the ASP SECRETS study guide and passed...that's why I purchased the CSP SECRETS and passed!!!
CSP Study Guide – Customer
My wife is studying for the CSP exam after 15 years as the Safety Manager for the Corps of Engineers, Huntington WV District. These materials are helping her in the areas that were not in her duties. She recently finished her Bachelor Degree at Marshall University here in Huntington, and when not if, she passes the CSP exam with your assistance she will have completed another of her life goals.
CSP Study Guide – Tom
I found this study prep book very beneficial. It covered many topics, but focused primarily on the topics which are on the exam. Having the formulas to some of the questions also helps to guide you through the process of achieving your answer.

CSP Study Guide – Customer
I bought this study guide in hopes that it would help me review. Boy was it worth it! It was so comprehensive and well organized I could hardly believe it. It had everything I needed to know and I was grateful that it didn't waste my time on any little things that I really didn't need. I kept the guide in my office at home in case I ever need to remember any of the things it included. I know I had it all for the test, but that doesn't mean I'll remember every detail a year down the road, but at least I know I can find it again in the study guide if I need to.
CSP Study Guide – Customer