CSP Comprehensive Practice Exam
The Certified Safety Professional Exam is used to measure a candidate's knowledge and skills necessary to work as a safety professional. That includes making risk assessments, evaluating safety procedures and protocols, investigating incidents and more.
What Do I Need to Register for the CSP Exam?
Before you can become certified you need to have a bachelor's degree from an accredited institution, 135 hours of safety training, and four years of experience in a position where professional safety is a function of the job.
The first step to registering is submitting an application to confirm that you meet these eligibility requirements. Once you have been approved, you will have a full year from the date of approval to sit for the exam so don't hesitate to give yourself plenty of time to prepare for the test.
You can also take the exam as many times as you need with just six weeks between attempts. While this is a nice option to have, the exam fee of $510 is not cheap, so you really don't want to take it more than once. It's better to give yourself more than enough time to prepare for success on your first try.
The test is offered continuously at approved testing centers across the country. So you can choose the date, time, and location that is most convenient for you.
Check out Mometrix's CSP Study Guide
Get practice questions, video tutorials, and detailed study lessons
Get Your Study Guide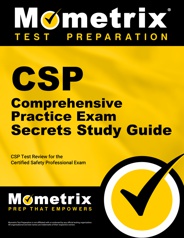 What Should I Bring on the Day of the Test?
The test is computer administered, so you won't need to bring pencils or paper. However, you probably do want to bring a calculator. You first need to make sure your calculator is an approved model otherwise you will not be allowed to bring it into the exam room. The following is a list of calculators which will be allowed:
Casio Models FX-115, FX-250, FX-260, or FX-300
Hewlett Packard Models HP 9, HP 10, HP 12, or HP 30
Texas Instruments Models TI-30, TI-34, TI-35, or TI-36
If your calculator is not one of these models, you will need to get a new one. If you aren't 100% sure your model is accepted, call and confirm with the testing center.
Beyond the calculator, you also need to make sure you bring two forms of ID. At least one of these must be a valid, government-issued ID such as a state ID, passport, driver's license, or military ID. The second form of ID is less restrictive. This could be any photo ID you have. If you have two forms of government-issued ID, however, just bring both of those.
Which Subjects Are Covered on the Exam?
There will be 175 questions on the exam divided across nine content domains as follows:
Domain 1 (9.95%) Advanced Science and Math
Domain 2 (19.5%) Management Systems
Domain 3 (14.49%) Risk Management
Domain 4 (14.69%) Advanced Application of Key Safety Concepts
Domain 5 (10.59%) Emergency Preparedness, Fire Prevention, and Security
Domain 6 (12.05%) Occupational Health and Ergonomics
Domain 7 (7.38%) Environmental Management Systems
Domain 8 (10.18%) Training and Education
Domain 9 (7.33%) Law and Ethics
The questions in each domain are oriented toward practical, on-the-job skills and common situations so your years of experience in the field will be very relevant for this test.
When Will I Find Out if I Passed?
You will get your results immediately after completing the exam. As long as you achieve the minimum cumulative score for the entire test, you will have passed, even if you did not pass all nine domains individually.
Even though you don't need to pass each individual domain, your score report will show you how you performed on each one. This is useful for understanding your strengths and weaknesses, especially if you did not pass and need to retake the exam. Currently, the minimum passing score is 99 out of 175.
How Should I Prepare for the Exam?
The CSP Exam is a very demanding test that will require an extensive amount of knowledge, ability to apply that knowledge, and ability to recall that knowledge quickly. So passing the test is going to require a variety of preparation methods and study aids.
Among the best study aids you could use is the Mometrix Study Guide. It offers a complete overview of all domains of knowledge and skills that you will need. Then, to help you apply that knowledge, it provides a wide range of practice questions designed after the actual questions you will see on the test. So you'll be able to review and apply the knowledge you need.
To round out your study session, use Mometrix flashcards. Not only does it provide an additional means of reviewing the material, it will also help you improve your speed and accuracy both at recalling information and applying that information.
Check out Mometrix's CSP Flashcards
Get complex subjects broken down into easily understandable concepts
Get Your Flashcards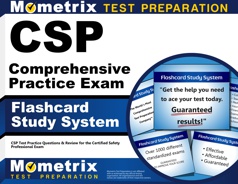 CSP Study Guide
Mometrix Academy is a completely free resource provided by Mometrix Test Preparation. If you find benefit from our efforts here, check out our premium quality CSP study guide to take your studying to the next level. Just click the CSP study guide link below. Your purchase also helps us make even more great, free content for test-takers.
CSP Study Guide Customer Success Stories
Our customers love the tutorial videos from Mometrix Academy that we have incorporated into our CSP test study guide. The CSP study guide reviews below are examples of customer experiences.
Over the past 30 years, I found that going back to 'school' has been intimidating. Work always seems to get in the way of studying. Using the guide as well as the flashcards has been a great comfort to help me prepare for the exams. I feel confident and know that when I am ready to sit for the exams, they will be successful because of this material.
CSP Study Guide – Customer
This book is a great tool for studying, I like the questions in the back along with the answer key which gives you a detail explanation of each problem. I would definitely buy this product again for another course. Highly recommend if you are studying for the CSP.
CSP Study Guide – Alicia
If you're taking ANY standardized test...you need to find out the SECRET on how to find the correct answer quickly....when you go into these exams you should KNOW the theory/classroom stuff anyway...MOMETRIX shows you how to find the correct answer and waylay fear/stress in preparing for the exam!!! I used the ASP SECRETS study guide and passed...that's why I purchased the CSP SECRETS and passed!!!
CSP Study Guide – Customer
My wife is studying for the CSP exam after 15 years as the Safety Manager for the Corps of Engineers, Huntington WV District. These materials are helping her in the areas that were not in her duties. She recently finished her Bachelor Degree at Marshall University here in Huntington, and when not if, she passes the CSP exam with your assistance she will have completed another of her life goals.
CSP Study Guide – Tom
I found this study prep book very beneficial. It covered many topics, but focused primarily on the topics which are on the exam. Having the formulas to some of the questions also helps to guide you through the process of achieving your answer.

CSP Study Guide – Customer
I bought this study guide in hopes that it would help me review. Boy was it worth it! It was so comprehensive and well organized I could hardly believe it. It had everything I needed to know and I was grateful that it didn't waste my time on any little things that I really didn't need. I kept the guide in my office at home in case I ever need to remember any of the things it included. I know I had it all for the test, but that doesn't mean I'll remember every detail a year down the road, but at least I know I can find it again in the study guide if I need to.
CSP Study Guide – Customer