CSET Science Subtest II: Life Sciences Practice Test
Becoming a teacher in California requires you to pass the California Subject Examinations for Teachers (CSET). The CSET is comprised of over 40 different subject-specific tests, ranging from mathematics to language, to science.
This page will explore the Life Sciences subtest of the CSET Science test, explaining what this subtest is about, the subject matter it will cover, and how you can prepare and pass the exam.
About the CSET
The California Subject Examinations for Teachers (CSET) is administered by Pearson VUE and authorized by the California Commission on Teacher Credentialing (CTC). It is made for potential teachers who decide to take examinations to meet specific requirements for certification. These include basic skills, subject matter competence, educational technology, and competence for bilingual authorization.
The CSET for Science is designed to measure a potential teacher's subject matter competence in general and integrated sciences, as well as a chosen area of competence.
What is Subtest II: Life Sciences?
There are four versions of Science Subtest II:
Life Sciences (217)
Chemistry (218)
Earth and Space Sciences (219)
Physics (220)
While Subtest I is exactly the same test for everyone, each version of Subtest II covers a specific area of science. Your chosen area of concentration will determine which version of Subtest II you take. For example, candidates seeking to teach Physics will take Subtest I and Subtest II for Physics, while a candidate seeking to teach Chemistry will take Subtest I and Subtest II for Chemistry.
It is recommended you take the Life Sciences version of Subtest II if you want to focus on teaching biology and any similar subject at a high-school level. This will give you the Biological Sciences credential to teach these subjects.

Check Out Mometrix's CSET Life Sciences Study Guide
Get practice questions, video tutorials, and detailed study lessons
Get Your Study Guide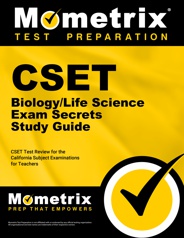 Exam Outline Review
Questions
The Life Sciences subtest is composed of 50 multiple-choice questions and three constructed-response questions, which require you to provide a short and focused response instead of choosing from a list of choices. The exam is a computer-based test (CBT), so there is no paper-and-pencil version available.
Instructions for multiple-choice questions are straightforward and will ask you to simply select one answer from a list of choices.
For constructed-response questions, you may choose to submit your answer by doing one of the following:
Type the response in the on-screen response box;
Write on a response sheet and scan it using the scanner provided at your workstation; OR
Provide an answer for both the on-screen response box for typed text and a scanned response paper for supporting calculations or drawings
Constructed-response questions will be evaluated based on their purpose, subject matter knowledge, and relevant supporting points to your answer.
Time Limit
You are given two hours to finish Subtest II, whether you decide to take it alongside Subtest I (which is given four hours to complete) or not. Fifteen additional minutes are allotted to complete a nondisclosure agreement and tutorial. Any time taken for breaks is considered part of your available testing time.
Subtest Sections
The subtest covers four content domains that will measure your subject matter understanding and skills in life sciences.
1. From Molecules to Organisms: Structures and Processes
This domain tests your understanding of the following topics:
Structure and function of cells
Hierarchical organization and functioning of systems in multicellular organisms
Growth and development of organisms
Matter and energy flow in organisms
2. Ecosystems: Interactions, Energy, and Dynamics
This domain tests your understanding of the following topics:
Interdependent relationships in ecosystems
Cycles of matter and energy transfer in ecosystems
Ecosystem dynamics, functioning, and resilience
3. Inheritance and Variation of Traits
This domain tests your understanding of the following topics:
Inheritance of traits
Variation of traits and genetic engineering
4. Biological Evolution: Unity and Diversity
This domain tests your understanding of the following topics:
Evidence of common ancestry and diversity
Natural selection
Adaptation
Registering for the Exam
This exam is available to take year-round, Monday through Sunday, excluding certain holidays. You must first register to take the CSET on the CTC examination website. You may set an appointment through the affiliated Pearson website by typing in "CS217" to take only Subtest II for Life Sciences in a single session. Afterward, you will be able to see the available testing locations and schedules.
Test Fee
The fee is $134 for the Life Sciences subtest. All registration fees must be paid with a credit, debit, or check card via the CTC examination website's online payment platform.
Test Day
What to Bring with You
The most important thing for you to bring on the day of the exam is a current, government-issued ID printed in English bearing the name on your registration, your photograph, and your signature. As part of the identity verification process for computer-based testing, your digital signature, a palm scan, and/or a digital photograph may also be taken.
If you fail to bring a valid ID to the testing center, you will not be admitted to take the test, and you will receive no refund or credit of any kind.
What NOT to Bring with You
Cell phone
Electronic devices capable of communication, recording, or listening
Eyeglasses with communication and recording functions
Calculator
Handwritten or printed materials
Bags
Hat
Food and drink
Unauthorized tools, such as a ruler, highlighter, or translation aid
Unauthorized medical devices
Check Out Mometrix's CSET Life Sciences Flashcards
Get complex subjects broken down into easily understandable concepts
Get Your Flashcards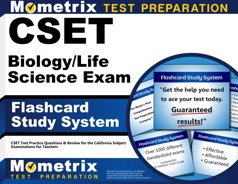 CSET Scores
The minimum passing score for each CSET subtest is 220.
Your test results are reported as scaled scores based on your total raw score points from both the multiple-choice section and the constructed-response section. Your raw scores are converted to a scale of 100 to 300, with the scaled score of 220 being the minimum passing score.
Receiving Your Score Report
There are assigned test results release dates for each examination period for the CSET. Generally, it takes around two to three weeks after the last day of the examination period before you receive your test results.
How to Study for the CSET Life Sciences Subtest
How to Study Effectively
Your success on CSET test day depends not only on how many hours you put into preparing but also on whether you prepared the right way. It's good to check along the way to see whether your studying is paying off. One of the most effective ways to do this is by taking CSET practice tests to evaluate your progress. Practice tests are useful because they show exactly where you need to improve. Every time you take a free CSET Life Sciences practice test, pay special attention to these three groups of questions:
The questions you got wrong
The ones you had to guess on, even if you guessed right
The ones you found difficult or slow to work through
This will show you exactly what your weak areas are and where you need to devote more study time. Ask yourself why each of these questions gave you trouble. Was it because you didn't understand the material? Was it because you didn't remember the vocabulary? Do you need more repetitions on this type of question to build speed and confidence? Dig into those questions and figure out how you can strengthen your weak areas as you go back to review the material.
Answer Explanations
Additionally, many CSET Life Sciences practice tests have a section explaining the answer choices. It can be tempting to read the explanation and think that you now have a good understanding of the concept. However, an explanation likely only covers part of the question's broader context. Even if the explanation makes sense, go back and investigate every concept related to the question until you're positive you have a thorough understanding.
Comprehend Each Topic
As you go along, keep in mind that the CSET practice test is just that: practice. Memorizing these questions and answers will not be very helpful on the actual test because it is unlikely to have any of the same exact questions. If you only know the right answers to the sample questions, you won't be prepared for the real thing. Study the concepts until you understand them fully, and then you'll be able to answer any question that shows up on the test.
Strategy for CSET Life Sciences Practice
When you're ready to start taking practice tests, follow this strategy:
Remove Limitations. Take the first test with no time constraints and with your notes and CSET Life Sciences study guide handy. Take your time and focus on applying the strategies you've learned.
Time Yourself. Take the second practice test "open book" as well, but set a timer and practice pacing yourself to finish in time.
Simulate Test Day. Take any other practice tests as if it were test day. Set a timer and put away your study materials. Sit at a table or desk in a quiet room, imagine yourself at the testing center, and answer questions as quickly and accurately as possible.
Keep Practicing. Keep taking practice tests on a regular basis until you run out of practice tests or it's time for the actual test. Your mind will be ready for the schedule and stress of test day, and you'll be able to focus on recalling the material you've learned.
FAQs
How long is the exam?
The CSET Life Sciences subtest has a time limit of 2 hours.
How many questions are on the exam?
There are 53 questions on the CSET Life Sciences subtest.
How much does the exam cost?
The CSET Life Sciences subtest costs $134.00 to take on its own.
What types of questions are on the exam?
There are 50 multiple-choice questions and 3 constructed-response questions on the CSET Life Sciences subtest
When will I receive my scores?
It will usually take around 2-3 weeks to receive your test scores.
How similar is CSET Life Sciences to AP Biology?
The CSET Life Sciences subtest covers many of the same topics that you would learn about in an college-level AP Biology setting.