The Certified Senior Advisor (CSA) exam evaluates the knowledge and skills necessary to become a certified professional who serves older adults.
This page will cover the CSA exam, what information the examination covers, the number and type of questions you can expect, the score you need to pass, and everything you need to register for the assessment.
CSA Exam Eligibility
There are no specific education or training requirements to be eligible for the exam.
However, there are some specific past conduct requirements that you should make note of. If you have been involved with certain acts of misconduct within the last 7 years, you may be intelligible to take the exam. If you are "presumed ineligible," your conduct will be reviewed on a case-by-case basis to determine eligibility.
| Conduct | Within 7 Years | Over 7 Years Ago |
| --- | --- | --- |
| Convicted of any felony against a senior citizen | Ineligible | Ineligible |
| Convicted of any misdemeanor against a senior citizen | Presumed Ineligible | Presumed Ineligible |
| Convicted of any felony involving murder, attempted murder, kidnapping, or rape | Ineligible | Ineligible |
| Convicted of any felony involving any violent crime not previously mentioned | Ineligible | Presumed Ineligible |
| Conviction of any felony involving theft, identity theft, embezzlement, fraud, or forgery | Ineligible | Presumed Ineligible |
| Conviction of any felony that involves any non-violent crime not previously mentioned | Presumed Ineligible | Presumed Ineligible |
| Conviction of any sex offense | Presumed Ineligible | Presumed Ineligible |
| Providing false information on the CSA Disclosure Questionnaire | Presumed Ineligible | Presumed Ineligible |

Most misdemeanors, like traffic violations (even DUI violations), will not stop you from being able to take the exam.
CSA Exam Outline
The Certified Senior Advisor exam contains 150 multiple-choice questions, 15 of which are unscored "pretest" questions. You will be given 3 hours to complete the exam.
The exam is split into 9 sections, each covering a different aspect of the profession.
Anthropology and Sociology (11.9%)
Identifying trends in the aging process
Dispelling misconceptions about aging
Identifying social and cultural issues associated with aging
Family and Aging (11.1%)
Identifying family dynamics
Communicating with senior citizens and their families
Developing resource and referral networks
Health and Wellness Aspects (13.3%)
Identifying lifestyles that are healthy for the aging population
Identifying physical and mental changes and challenges
Identifying signs and symptoms of potential abuse and exploration of a senior citizen
Lifestyle Aspects (17.8%)
Developing a resource network for lifestyle issues
Assessing the lifestyle of a senior citizen
Providing educational opportunities to senior citizens and their families
Identifying the social and technological aspects of aging
Presenting information regarding mobility
Identifying potential sexuality issues of the aging population
Financial Aspects (18.5%)
Developing a financial professional resource network
Identifying financial concerns that senior citizens and their families may have
Conveying the importance of thinking about financial resources
Identifying the financial aspects of estate planning
Educating about the health benefit options and financial assistance that is available to senior citizens
Identifying options for long-term-care financing
Identifying the potential for financial abuse and fraud
Eldercare Planning (8.9%)
Developing a professional and resource network
Identifying various care needs
Facilitating senior adults and their families to build a care continuum plan
Legal Aspects (5.9%)
Developing a legal network resource base
Addressing the importance of legal planning
End-of-life Planning (5.9%)
Educating senior citizens and their families about end-of-life care options
Ethical Issues (6.7%)
Adhering to professional codes of ethics, including the CSA code
Upholding the rights of senior citizens, within professional and ethical guidelines
Check Out Mometrix's CSA Study Guide
Get practice questions, video tutorials, and detailed study lessons
Get Your Study Guide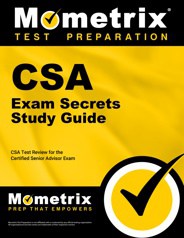 CSA Exam Registration
The first step in registering to take the CSA exam is creating an online Pearson VUE account. Then, you will be able to complete the registration process on the CSA website.
When you register, you will be asked to select the testing center, day, and time that works best for you. It is recommended that you pick a day that is at least 45 days away from the day you sit down to register.
Once the registration process is complete, you will receive an email from Pearson that confirms your scheduling information.
Fees
The cost of the exam is $395. This cost covers the $75 cost of the application as well as the $320 cost of the exam itself.
If you do not show up for the examination or you do not pass the examination, you will have to pay an additional charge of $115.
Test Day
You should plan to arrive at the testing center between 15 and 30 minutes prior to the scheduled exam time. When you arrive, you will be asked to provide a valid photo ID, and some centers require a palm vein scan before you can begin testing.
You may be asked to leave the testing center for any of the following reasons:
If it is discovered that the candidate is trying to take the test for someone else
If the candidate creates a disturbance or receives any help during the test
If a candidate attempts to remove examination materials or notes from the testing room
If a candidate has prohibited possessions in his or her possession
If a candidate exhibits behavior consistent with memorization of copying of examination items

Once the exam begins, you are allowed to take a break at any time, but note that the timer will not stop while you're away. If you have any questions or concerns about a particular question, you are asked to leave a comment on that question via the "comment" button on the computer screen.
How the CSA Exam is Scored
As soon as you have completed the exam, you will receive a score report, which will indicate whether you passed or failed the exam. If you fail to achieve the minimum scaled score of 70, you will be provided with a diagnostic analysis of your strengths and weakness by content area, along with your examination results.
Retaking the CSA Exam
To take the test a second time, you can schedule your next test date by phone or online. You will have to wait 30 days before you will be eligible for a retest, and you must take your retests within one year of your initial enrollment date.
After you contact the CSA Certification Department about taking a retest, they will send you an email with your retest instructions.
Check Out Mometrix's CSA Flashcards
Get complex subjects broken down into easily understandable concepts
Get Your Flashcards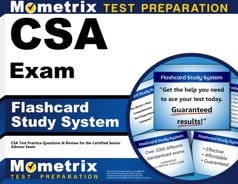 How to Study for the CSA Exam
How to Study Effectively
Your success on CSA test day depends not only on how many hours you put into preparing but also on whether you prepared the right way. It's good to check along the way to see whether your studying is paying off. One of the most effective ways to do this is by taking CSA practice tests to evaluate your progress. Practice tests are useful because they show exactly where you need to improve. Every time you take a free CSA exam practice test, pay special attention to these three groups of questions:
The questions you got wrong
The ones you had to guess on, even if you guessed right
The ones you found difficult or slow to work through
This will show you exactly what your weak areas are and where you need to devote more study time. Ask yourself why each of these questions gave you trouble. Was it because you didn't understand the material? Was it because you didn't remember the vocabulary? Do you need more repetitions on this type of question to build speed and confidence? Dig into those questions and figure out how you can strengthen your weak areas as you go back to review the material.
Answer Explanations
Additionally, many Certified Senior Advisor practice tests have a section explaining the answer choices. It can be tempting to read the explanation and think that you now have a good understanding of the concept. However, an explanation likely only covers part of the question's broader context. Even if the explanation makes sense, go back and investigate every concept related to the question until you're positive you have a thorough understanding.
Comprehend Each Topic
As you go along, keep in mind that the CSA practice test is just that: practice. Memorizing these questions and answers will not be very helpful on the actual test because it is unlikely to have any of the same exact questions. If you only know the right answers to the sample questions, you won't be prepared for the real thing. Study the concepts until you understand them fully, and then you'll be able to answer any question that shows up on the test.
Strategy for CSA Practice
When you're ready to start taking practice tests, follow this strategy:
Remove Limitations. Take the first test with no time constraints and with your notes and CSA study guide handy. Take your time and focus on applying the strategies you've learned.
Time Yourself. Take the second practice test "open book" as well, but set a timer and practice pacing yourself to finish in time.
Simulate Test Day. Take any other practice tests as if it were test day. Set a timer and put away your study materials. Sit at a table or desk in a quiet room, imagine yourself at the testing center, and answer questions as quickly and accurately as possible.
Keep Practicing. Keep taking practice tests on a regular basis until you run out of practice tests or it's time for the actual test. Your mind will be ready for the schedule and stress of test day, and you'll be able to focus on recalling the material you've learned.
FAQs
Q
How many questions are on the CSA exam?
A
There are 150 multiple-choice questions on the exam, 15 of which do not count toward your final score.
Q
How long is the CSA exam?
A
The CSA exam is timed at 3 hours.
Q
How much does the CSA exam cost?
Q
What is a passing score on the CSA exam?
A
To pass the exam, you will need a scaled score of 70.