CRRN Practice Test
You may know someone who has been treated by a Certified Rehabilitation Registered Nurse. These are the professionals who help people with chronic illnesses and disabilities attain the best level of function they can. The Association of Rehabilitation Nurses provides the certification, which you can get by taking and passing a test. There are a number of critical details you should know about taking the test. Moreover, you'll certainly need help studying for it so you can fulfill your dream of helping others. This guide helps you in both of those areas.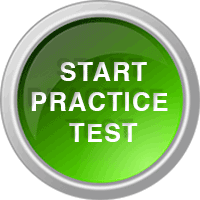 CRRN Exam Questions
What are the eligibility requirements for taking the Certified Rehabilitation Registered Nurse exam?
Candidates must have a current registered nurse's license. Candidates must also have:
At least two years in rehabilitation nursing as a registered professional nurse, OR,
One year in rehabilitation nursing as a registered professional nurse, and one year in advanced study in nursing above a college bachelor's degree. Both requirements must have been completed in the last five years.
How much does it cost to take the test?
It costs $285 if you are a member of The Association of Rehabilitation Nurses. Non-members pay $425.
When can I take the test?
You can take the exam during one of two month-long testing windows. One testing window is in June, while the other is in December. Testing applications may be submitted all year, but no later than 45-days prior to the testing window. Late applications, filed within 15-days after the application deadline, will be accepted. A $35 late application fee will apply.
Can I reschedule my test appointment?
You may reschedule, so long as you do so at least four business days prior to your test. There is a $50 fee for rescheduling.
What if I need to cancel my exam?
You may cancel the exam but will be assessed various fees.
How many questions are on the Certified Rehabilitation Registered Nurse exam?
There are a total of 175 multiple-choice questions on the exam. Of those, 150 are scored, and 25 pre-test questions are not.
How long does it take to complete the exam?
You have three hours to take your test.
What does the exam cover?
The exam covers four major subjects, or domain, areas. They're listed here, with the number in parenthesis denoting the percent of the exam's question the domain covers.
Rehabilitation Nursing Models and Theories (6%): Examines practice, models, and theories in patient care
Functional Health: Focuses on applying the nursing practice in a number of areas, including nutrition, sleep and rest patterns, and stress management (58%)
The Function of the Rehabilitation Team and Community Reintegration (13%). Focuses on team collaboration and community reintegration.
Legislative, Economic, Ethical, and Legal Issues (23%): Focuses on ethics, care based on legislation and regulations, costs-effective care, and quality and safety.
What if I arrive late?
Any candidate who arrives at the testing center after the exam has started will not be allowed to take the test and will forfeit all fees.
What items are banned from the Certified Rehabilitation Registered Nurse exam testing room?
As is the case in most exams like this one, no electronic devices of any kind are allowed. That includes cell phones, cameras, or any device that can record and playback. You will be able to store these materials in an area at the test center.
When will I get my test results?
You'll receive your test results at the testing center, after you complete the exam.
What if I fail the test? Can I retake it?
Yes. You can retake the test in the next testing window provided you pay all associated fees.
How long does the certification last?
The certification period is five years. You can renew certification you must have an RN license, two years of rehabilitation nursing experience and amass 60 continuing education credits, all within a period of dive years.

Becoming a Certified Rehabilitation Registered Nurse is certainly a rewarding career. To succeed, you will need help studying for the exam. Mometrix can help. Our professionally crafted study guides and flashcards are exactly what you need to prepare for this challenging test.

Our comprehensive study guide has been researched by a team of professionals with years of experience helping candidates prepare for exams just like this one. The guide provides specifics on how to tackle the questions you will be asked, and if you are stumped, you can ask one of our experts for help.

Our large, easy-to-read flashcards help you learn through repetition, and the questions cover every content area of the Certified Rehabilitation Registered Nurse exam. Not only that, the cards make it easy for a friend or relative to help quiz you on the questions you'll need to know to pass the test.

Both the study guide and flashcards contain important bonuses for your preparation. There are practice test questions that will help you test your knowledge on the topics you will face; a method to maximize flashcard learning; study secrets to get the highest score possible; and ways to overcome test anxiety.
CRRN Study Guide
Mometrix Academy is a completely free CRRN certification resource provided by Mometrix Test Preparation. If you find benefit from our efforts here, check out our premium quality CRRN study guide to take your studying to the next level. Just click the CRRN study guide link below. Your purchase also helps us make even more great, free content for test-takers.
CRRN Study Guide
CRRN Flashcards