CRRN Practice Test
The Certified Rehabilitation Registered Nurse (CRRN) exam is administered by the Rehabilitation Nursing Certification Board (RNCB) to assess the general knowledge and skills of prospective rehabilitation nurses.
Click "Start Test" below to take a free CRRN practice test!
CRRN Exam Eligibility
To be eligible for the exam, you must meet all of the following requirements:
You must hold a current and unencumbered RN license
You must have completed at least two years of professional RN practice in rehabilitation nursing, OR one year of practice and one year of advanced nursing studies
CRRN Exam Outline
The CRRN exam contains 175 multiple-choice questions, 25 of which are unscored, and you will be given a 3-hour time limit. The RNCB uses the usncored questions to identify which questions are suitable for future versions of the exam.
The exam is split into four content domains. Each domain contains some number of tasks, and each task contains a set of knowledge-based questions and a set of skills-based questions.
I. Nursing Models and Theories (8%)
There are two tasks in this domain:
Task 1:
Understand nursing models and theories as a framework for practice.
Knowledge

Nursing process
Nursing models and theories that pertain to rehabilitation
Rehabilitation standards and scope of practice
Skills

Application of the nursing process
Application of rehabilitation nursing models and theories
Application of rehabilitation standards and scope of practice
Task 2: Incorporate pertinent nursing models, research, and theories to individualized patient care.
Knowledge

Evidence-based research
Related theories and models
Nursing process
Nursing models and theories that pertain to rehabilitation
Rehabilitation standards and scope of practice
Patient-centered care
Skills

Application of the nursing process
Application of rehabilitation nursing models and theories
Application of rehabilitation standards and scope of practice
Incorporation of evidence-based research into practice
II. Functional Health Patterns (53%)
There are eight tasks in this domain:
Task 1:
Optimize the restoration and preservation of the patient's health and well-being.
Knowledge

Pharmacology
Technology
Physiology
Rehabilitation standards and scope of practice
Health, injury, acute and chronic illness, and adaptability management
Skills

Management of health and wellness by teaching interventions
Use of technology
Assessment of health practices and health status
Use of rehabilitation standards and scope of practice
Assessment of sexuality and reproduction goals
Task 2: Promote optimal psychosocial patterns, as well as coping and stress management skills.
Knowledge

Cultural diversity
Psychosocial disorders
Community resources
Traditional and alternative modalities
Safety concerns
Coping and stress management strategies
Stages of loss and grief
Theories
Types of stress and stressors
Physiology of the stress response
Skills

Use of therapeutic comminication
Assessment of potential for harm to others and self
Promotion of positive interactions
Assessment and promotio of self-efficacy, self-concept, and self-care
Facilitation of appropriate referrals
Incorporation of cultural awareness and spiritual values
Implementation and evaluation of strategies to reduce stress and improve coping
Accession of supportive team resources
Inclusion of the patient in the plan of care
Task 3: Optimize the patient's functional abilities.
Knowledge

Assistive devices and technology
Safety concerns
Anatomy, physiology, and interventions pertaining to cardiovascular, musculoskeletal, respiratory, and neurological function
Self-care activities
Activity tolerance
Energy conservation
Clinical signs of sensormotor deficits
Skills

Use of technology and assistive devices
Assessment and implementation of interventions pertaining to cardiovascular, musculoskeletal, respiratory, and neurological complications
Prevention of complicaations and immobility
Implementation of safety interventions
Assessment, implementation, and evaluation of self-care and mobility interventions
Task 4: Optimize the management of the patient's neurological and other medical conditions.
Knowledge

Pharmacology
Pain
Central lines
Measurement tools
Safety concerns
Catheters
Measurement tools
Neuroanatomy and physiology
Skills

Teaching of strategies for pain and comfort management
Assessment of cognition, perception, preservation, pain, sensation, and apraxia
Use of medical equipment and technology
Implementation and evaluation of strategies for safety
Teaching of strategies for neurological deficits
Teaching of central line, port, and catheter care and purposes
Task 5: Optimize the patient's ability to communicate effectively.
Knowledge

Linguistic deficits
Cultural diversity
Anatomy and physiology
Communication techniques
Developmental factors
Assistive technology and adaptive equipment
Skills

Use of communication techniques
Assessment of comprehension and communication
Involvement and education of support systems
Use of assistive technology and saptive equipment
Teaching of self-advocacy skills to caregivers and patients
Implementation and evaluation of communication interventions
Task 6: Promote optimal nutrition and hydration.
Knowledge

Anatomy and physiology pertaining to metabolic and nutritional patterns
Pharmacology
Diagnostic testing
Nutritional requirements
Adaptive equipment
Feeding techniques
Cultural and religious practices related to diet
Diet types
Skin integrity
Enteral and parenteral nutrition and hydration
Fluid and electrolyte balance
Safety concerns and interventions
Skills

Use of adaptive equipment
Assessment of nutritional and metabolic patterns
Implementation and evaluation of skin integrity interventions
Use and management of mechanical and manual devices to provide nutrition and hydration
Teaching of swallowing deficit interventions
Implementation and evaluation of nutrition interventions
Task 7: Optimize the patient's elimination patterns.
Knowledge

Bladder and bowel adaptive equipment and technology
Anatomy and physiology
Pharmacological and non-pharmacological interventions
Bladder and boiwel training
Skills

Use of adaptive equipment and technology
Assessment of elimination patterns
Teaching of interventions to prevent complications
Implementation and evaluation of bladder and bowel management interventions
Provision of patient and caregiver education
Task 8: Optimize the patient's sleep and rest patterns.
Knowledge

Technology
Pharmacological and non-pharmacological sleep aids
Factors affecting sleep and rest
Physiology of sleep and rest cycles
Skills

Evaluation of sleep and rest intervention effectiveness
Assessment of sleep and rest patterns
Use of technology
Promotion of sleep and rest interventions and strategies
III. The Function of the Rehabilitation Team and Transitions of Care (12%)
There are two tasks in this domain:
Task 1:
Collaborate with the interdisciplinary team to achieve patient-centered goals.
Knowledge

Rehabilitation definition and philosophy
Related theories
Goal-setting and expected outcomes
Role of the rehabilitation nurse and other team members
Models of healhtcare teams
Skills

Communication and collaboration with the interdisciplinary team
Development and documentation of care plans
Application of appropriate theories
Appropriate delegation of team-member responsibilities
Task 2: Promote the patient's community reintegration or transition to the next level of care.
Knowledge

Professional resources
Technology and adaptive equipment
Personal and community resources
Teaching and learning self-advocacy strategies
Different levels of care
Care continuum
Skills

Assessment of community reintegration barriers
Discharge planning
Assessment of discharge readiness
Accessing community resources
Teaching of health, wellness, and lige skills maintenance
Facilitation of appropriate referrals
Evaluation of outcomes
Adjustment of goals
Participation in team and patient caregiver conferences
IV. Legislative, Economic, Ethical, and Legal Issues (27%)
There are five tasks in this domain:
Task 1:
Integrate legislation and regulations in the management of care.
Knowledge

Specific legislation related to rehabilitation and disability
Agencies related to disability, regulations, and rehabilitation
Skills

Use of standardized assesment tools
Interpretation and application of legal, regulatory, adn accreditation information
Task 2: Deliver cost effective patient- centered care.
Knowledge

Community and public resources
Utilization review processes
Insurance and reimbursement
Clinical practice guidelines
Staffing patterns and policies
Regulatory agency audit processes
Patient-centered care
Skills

Management of current and projected resources in a cost-effective manner
Analysis of the quality and utilization of data
Incorporation of clinical practice guidelines
Documentation that supports regulatory requirements
Collaboration with private, public, and community resources
Task 3: Incorporate ethical considerations and legal obligations that affect nursing practice.
Knowledge

Legal implications of healthcare documents and policies
Ethical resources and theories
Skills

Documentation of provided services
Application of ethics in care deliverty
Patient advocation
Implementation of strategies to resolve ethical dilemmas
Identification of appropriate resources to assist with legal documents
Task 4: Promote a safe environment of care for patients and staff to minimize risk.
Knowledge

Safety measures
Infection control practices
Safe patient handling pracitces
Behavioral management techniques
Risk factors and mitigation strategies
Skills

Assessment of safety rishs
Application of behavior management techniques
Minization of safety risk factors
Assessment of safety risks
Implementation of safety prevention measures
Task 5: Integrate quality improvement processes into nursing practice.
Knowledge

Models and tools used in improving processes
Reporting requirements
Quality measurement and performance improvement processes
Federal quality measurement efforts
Skills

Application of quality measurement tools in practice
Use of standardized assessment tools
Use of quality improvement models to improve patient care
Incorporation of standards of professional performance
Check out Mometrix's CRRN Study Guide
Get practice questions, video tutorials, and detailed study lessons
Get Your Study Guide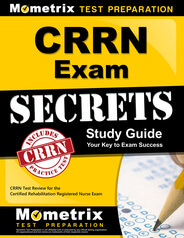 CRRN Exam Registration
To register for the exam, you must submit an online application via the ARN website. This application should include any necessary documents that prove your eligibilty and the examination fee. The fee will differ depending on your membership status.
CRRN Exam Fees

| Membership | Exam Fee |
| --- | --- |
| ARN member | $300 |
Once your application is approved, you will receive an email with scheduling instructions for your exam appointment.
Test Day
In-person Testing
On the day of your exam, you must arrive at the Meazure Learning testing center at least 15 minutes before the scheduled appointment time. Once you arrive, you will be asked to provide your confirmation notice and a valid form of government-issued photo ID. If you arrive late or fail to bring either your ID or confirmation notice, your appointment will be cancelled.
No books, reference materials, notes, cell phones, bags, wallets, keys, or other personal items are allowed in the testing room, so you must store these in a locker before the exam begins.
Once you are ready and approved, the proctor will lead you into the testing room, where you will be given some instructions about taking the exam. Once those instructions are complete, the exam will begin.
Live Remote Proctoring
About 30 minutes before your scheduled appointment time, log into your Meazure Learning account from your computer. The proctor will ask that you show your government-issued identification and complete a 360-degree room scan of your testing area using your webcam. One clean piece of paper and one pencil can remain on your desk.
Please note that no one is allowed in the testing area while taking the exam. Let others know you will take an exam and cannot have them present during your appointment.
How the CRRN Exam is Scored
Your CRRN exam score is determined using the modified Angoff method. This means that panelists are given information, such as test results and other panelists' rating results, to determine the raw score. The raw score is a number that is based on how the panelists established the difficulty ratings for each question.
Your raw score is then converted to a scaled score, and you will need to get a minimum scaled score of 500 to pass the exam.
Retaking the CRRN Exam
If you fail the exam and wish to retake it, you must reapply during the next available testing window and pay the full examination fee.
Check out Mometrix's CRRN Flashcards
Get complex subjects broken down into easily understandable concepts
Get Your Flashcards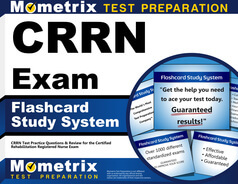 FAQs
How many questions are on the CRRN exam?
There are 175 multiple-choice questions on the exam.
How long is the CRRN exam?
The time limit for the exam is 3 hours.
What is the passing score for the CRRN exam?
To pass the exam, you must achieve a scaled score of at least 500.
How much does the CRRN exam cost?
The examination fee is $300 for ARN members and $460 for non-members.