CRNI Exam
The Certified Registered Nurse Infusion exam is the test required to obtain a CRNI certification. Being successful with this exam ensures that you have met and demonstrated the required standards, skills, knowledge, and experience to be a certified infusion nurse. This means you have the ability to increase your job satisfaction and confidence, as well as your income.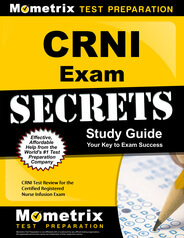 Check Out Mometrix's CRNI Printed Study Guide
Who is Eligible?
To be eligible for the CRNI exam you must have the following:
A current and valid unrestricted registered nurse (RN) license in the U.S.
At least 1600 hours of infusion therapy experience as an RN during the last two years. This is not required to be bedside care. This may be in the form of administration, research, nursing education, or clinical practice with a specialty in infusion.
Application Process
You will apply to take the exam through INCC. It is important to note that this exam has strict application deadlines. To proceed without having to pay a late fee, make sure that you are aware of these.
Registration exam fees are $360 for INS members and $500 for non-members. If you apply early enough, you will receive a $50 discount. International site fees are $140.
Once you have completed your application and it has been approved you will be sent a confirmation letter. In this letter will be your unique PSI/AMP code. This is needed for you to log in to PSI/AMP's website to schedule and register for the exam.
You will receive an email from PSI/AMP with an invitation to schedule your exam by the first week of February, for March test takers, or by the first week of August, for September examinees. The earlier you schedule, the more likely you are to get your preferred testing time, date, and place.
CRNI Exam Practice Questions
When and Where?
Exams are only offered during two months each year, in March and September. These can be scheduled Monday through Saturday at 9 AM or 1:30 PM.
CRNI exams are offered in more than 300 locations worldwide through AMP, a PSI Business (PSI/AMP). You will be provided with a complete list during registration.
In the case that there are no testing sites located near you, INCC can usually arrange for the approval of a local testing center.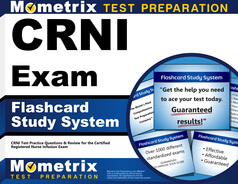 Check Out Mometrix's CRNI Flashcards
Testing Day Essentials
It is important that you arrive early or on time for your scheduled test. Those who show up late will not be allowed to take the exam and will forfeit their registration fees.
At the testing site, two valid current forms are ID are required. One of these must contain a recent photo. Both must have your current name and signature. Permitted forms of ID are:
Driver's license with photo
State ID with photo
Passport
Military ID card with photo
You will also need to bring your confirmation letter with your PSI/AMP code with you to log in to the testing computers.
No personal items are allowed into the testing site, other than your wallet and keys. These will be stored in a designated locker during the test. However, you are allowed to have a silent, nonprogrammable calculator in the testing room with you.
What is Covered?
The CRNI contains 150 multiple choice questions the following eight core areas of infusion therapy:
Technology and Clinical Applications – 33 questions
Fluid and Electrolyte Balance – 21 questions
Pharmacology – 19 questions
Infection Prevention and Control – 21 questions
Special Populations – 14 questions
Transfusion Therapy – 14 questions
Antineoplastic and Biologic Therapy – 14 questions
Paternal Nutrition – 14 questions
These questions are designed to test you at three different cognitive levels: recall, application, and analysis.
There are an additional 20 multiple choice items included throughout the test. These are not scored and are used for future tests.
You will be given three hours to finish the exam.
Exam Scoring
Upon your completion of the exam, you will receive your official score report at the testing site. This will include whether you have passed or failed, as well as scaled and raw scores separated into major content categories.
International testers will have their official report mailed to them within two days of taking the exam.
How to Prepare?
We understand this is an important test for you. Your future depends on the outcome. Therefore, we want to supply you with the best test preparation tools possible. We have designed a study guide and set of flash cards with all the pertinent information included on the CRNI exam.
These also include sample questions that are formatted and worded just like the actual test will be. These will show you exactly what will be expected of you on testing day and enable you to be prepared for such. Using these tools, you can know with confidence that you will pass this exam.
CRNI Study Guide
Mometrix Academy is a completely free CRNI test resource provided by Mometrix Test Preparation. If you find benefit from our efforts here, check out our premium quality CRNI Study Guide and CRNI Flash Cards to take your studying to the next level. Just click the CRNI study guide link below. Your purchase also helps us make even more great, free test content for test-takers.