CRC Practice Test
If you are looking to gain the CRC (Certified Rehabilitation Counselor) certification, you've heard of the magnitude of change it can make for someone in this industry. This certification carries high esteem among the industry from employers to the patients you serve on a daily basis. If this is something you are interested in, make sure you are as prepared as possible because the CRC exam is known to be very difficult. The difficulty of the exam is really why the CRC credential holds such an elite standard in the industry. Therefore, be sure to start your study with plenty of time before the exam with the proper study materials.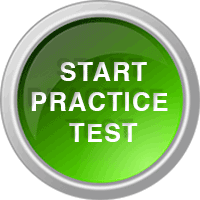 As far as great materials that can be used to prepare test takers for this exam, our free CRC practice test displays a comprehensive view of the scope of the exam. It will accustom you to the wording and formatting of the exam questions you'll see on test day. To maximize your preparation, certain exam standards are important to know. The CRC test contains 175 multiple-choice questions that must be completed in 3 1/2 hours.
The minimum passing standard for each test is set by the number of correctly answered questions a panel of experts deemed a minimally competent test taker would answer correctly. For this reason, each test can have a different passing score. With that said, the test is broken into two sections: knowledge of counseling and knowledge of rehabilitation and disability issues. Both sections of this test must achieve the predetermined passing score to pass the exam. With this in mind, make sure to change your preparation to account for this. If you are unsure of how prepare, try our CRC practice test sample questions below! The questions will show you what to expect on test day. If you like what you see, be sure to check out our complete CRC practice test.
CRC Exam Practice Test
CRC Exam 2018 Practice Test
CRC Study Guide
Mometrix Academy is a completely free CRC certification resource provided by Mometrix Test Preparation. If you find benefit from our efforts here, check out our premium quality CRC study guide to take your studying to the next level. Just click the CRC study guide link below. Your purchase also helps us make even more great, free CRC assessment test content for test-takers.
Learn more about the Mometrix CRC Secrets Study Guide