CRC Practice Test
The Certified Rehabilitation Counselor (CRC) certification exam is administered by the Commission on Rehabilitation Counselor Certification (CRCC) for those pursuing a credential in rehab counseling.
Click "Start Test" below to take a free CRC practice test!
CRC Exam Eligibility
To be eligible for the CRC exam, you must fall under ONE of the following eligibility categories:
Category 1: You must be enrolled in or have graduated from a CACREP-accredited program.
Category 2: You must be enrolled in or have graduated from a master's-level rehabilitation counseling course from any non-CACREP-accredited college or university.
Category 3: You must be at least a master's-level graduate of a program in a related field.
CRC Exam Outline
The CRC exam contains 175 multiple-choice questions, 25 of which are unscored, and you will be given a time limit of 3.5 hours. The unscored "field test" questions are used by the administrators to evaluate the quality and validity of those questions for future versions of the exam, and you will not be able to distinguish between them and the scored questions when you take the exam.
There are two types of questions on the exam: Rehabilitation and Disabilities (R) and Counseling (C). These questions are split further into 12 knowledge domains, with each domain containing a mix of R and C questions.
Professional Orientation and Ethical Practice (10.7%)
Counseling Theories, Techniques, and Evidence-Based Practices (11.3%)
Group and Family Counseling (4.7%)
Crisis and Trauma Counseling and Interventions (6%)
Medical and Psychosocial Aspects of Chronic Illness and Disability (9.3%)
Assessment/Evaluation, Occupational Analysis, and Service Implementation (10.7%)
Career Development and Job Placement (9.3%)
Business Engagement (7.6%)
Community Resources and Partnerships (8%)
Case Management (10%)
Health Care and Disability Management (5%)
Research, Methodology, and Performance Management (5.3%)
Check Out Mometrix's CRC Study Guide
Get practice questions, video tutorials, and detailed study lessons
Get Your Study Guide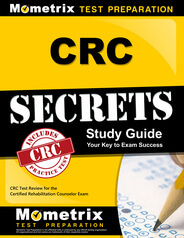 CRC Exam Registration
To register for the CRC exam, you must first create an online account with CRCC. You can fill out an application, upload any necessary documentation, and submit your application and exam fee through your account. The exam fee is $410.
Once your application is approved, you will be given instructions on how to schedule your exam date and time.
Test Day
In-person Testing
You should arrive at the testing center 15-30 minutes earlier than the scheduled time to allow time for the check-in process. Once you arrive, you will need to show a valid form of photo ID, and a picture of you will be taken.
Before you enter the testing room, you must place all personal items in a secure locker, including your cell phone, food, bags, and any books or notes. If you wear eyeglasses and/or hair accessories, you must temporarily remove them for inspection.
Once the proctor has determined you are ready, you will enter the testing room and go through a short tutorial on the testing system. After the tutorial, your exam will begin.
You may take breaks during the exam if needed, but the timer will not stop while you are away. If you request one, a laminated notebook will be provided for you to take notes.
Remote Testing
You should log into your CRCC account between 15 and 30 minutes before your exam is scheduled to begin, and the proctor will guide you through the check-in process. You will not be allowed to wear headphones, and you must ensure that your testing area is free from electronics, food, your cell phone, notes, and reference materials.
Before the exam begins, you will be given a practice exam to help you familiarize yourself with the computer system.
How the CRC Exam is Scored
The CRC exam is scored using the modified-Angoff method, whereby CRCC panelists are given information such as test results and other panelists' rating results to determine the raw score. The raw score is a number that is based on how the CRCC panelists established the difficulty ratings for each question.
The exam is scored in two parts (The Rehabilitation and Disabilities questions are scored separately from the Counseling questions), and you must achieve a passing score for both parts to pass the CRC exam.
Check out Mometrix's Flashcards
Get complex subjects broken down into easily understandable concepts
Get Your Flashcards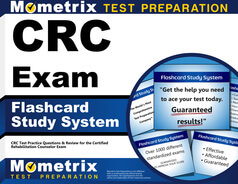 How to Study for the CRC Exam
How to Study Effectively
Your success on CRC test day depends not only on how many hours you put into preparing but also on whether you prepared the right way. It's good to check along the way to see whether your studying is paying off. One of the most effective ways to do this is by taking CRC practice tests to evaluate your progress. Practice tests are useful because they show exactly where you need to improve. Every time you take a free CRC exam practice test, pay special attention to these three groups of questions:
The questions you got wrong
The ones you had to guess on, even if you guessed right
The ones you found difficult or slow to work through
This will show you exactly what your weak areas are and where you need to devote more study time. Ask yourself why each of these questions gave you trouble. Was it because you didn't understand the material? Was it because you didn't remember the vocabulary? Do you need more repetitions on this type of question to build speed and confidence? Dig into those questions and figure out how you can strengthen your weak areas as you go back to review the material.
Answer Explanations
Additionally, many CRC practice tests have a section explaining the answer choices. It can be tempting to read the explanation and think that you now have a good understanding of the concept. However, an explanation likely only covers part of the question's broader context. Even if the explanation makes sense, go back and investigate every concept related to the question until you're positive you have a thorough understanding.
Comprehend Each Topic
As you go along, keep in mind that the CRC practice test is just that: practice. Memorizing these questions and answers will not be very helpful on the actual test because it is unlikely to have any of the same exact questions. If you only know the right answers to the sample questions, you won't be prepared for the real thing. Study the concepts until you understand them fully, and then you'll be able to answer any question that shows up on the test.
Strategy for CRC Practice
When you're ready to start taking practice tests, follow this strategy:
Remove Limitations. Take the first test with no time constraints and with your notes and CRC study guide handy. Take your time and focus on applying the strategies you've learned.
Time Yourself. Take the second practice test "open book" as well, but set a timer and practice pacing yourself to finish in time.
Simulate Test Day. Take any other practice tests as if it were test day. Set a timer and put away your study materials. Sit at a table or desk in a quiet room, imagine yourself at the testing center, and answer questions as quickly and accurately as possible.
Keep Practicing. Keep taking practice tests on a regular basis until you run out of practice tests or it's time for the actual test. Your mind will be ready for the schedule and stress of test day, and you'll be able to focus on recalling the material you've learned.
FAQs
What is the CRC exam pass rate?
The pass rate for the CRC exam is 65%.
How many questions are on the CRC exam?
There are 175 multiple-choice questions on the exam.
How long is the CRC exam?
The time limit for the exam is 3.5 hours.
How much does the CRC exam cost?
The examination fee is $410.
CRC Study Guide Customer Success Stories
Our customers love the tutorial videos from Mometrix Academy that we have incorporated into our CRC study guide. The CRC study guide reviews below are examples of customer experiences.
Great basis for building a structured preparation and review for the exam. Gives solid outlines of the major areas to be assessed, and helped me "knock the dust off" some areas I was weak on. Went on to pass with flying colors!
CRC Study Guide – Dan
I enjoy the format of the study guide and how it separates the subjects clearly. One of my issues were that all of the information is jumbled in my head. This helps in organizing it for me. It is clearly written and helps in grasping a better understanding of the knowledge I've already studied in other formats. I would refer this material to other students.
CRC Study Guide – Shannon
It's perfect! It was very instrumental in preparing for the CRC exam! I would definitely recommend this book for anyone studying for the CRC.
CRC Study Guide – Customer
This book helped me pass the CRC exam. I am glad I bought it!
CRC Study Guide – Karen
I have found it to be both thorough and comprehensive. I have increased my effectiveness in taking the CRC (through many practice exams at different points with scores going up) each time. I feel confident that I will be able to pass the CRC exam easily when I take it officially due to the information and guidance found in the CRC Exam Study Guide.
CRC Study Guide – Randall
I have been busy studying the CRC Study Guide and Flash Card to prepare me for the CRC examination. The information is superb, it narrows down the broad unnecessary material that is useless.
CRC Study Guide – Customer
The secrets found in this guide will motivate you to do your very best. This is a sure-fire motivator. It helps you to overcome testing fears and guides you into self-talk when it comes to focusing on getting the right answers through the process of elimination.
CRC Study Guide – Caleb
It is easy to read and follow and gives a lot of examples on counseling theories, etc. I feel that this study guide will help me pass the CRC Exam.
CRC Study Guide – Customer