CPHRM Exam
The Certified Professional in Healthcare Risk Management (CPHRM) Exam is an important step in becoming certified as a healthcare professional skilled in the minimization, prevention, and control of loss for patients, visitors, physicians, and others inside a healthcare facility. In order to pass the test, you will need to demonstrate knowledge of safety standards and appropriate risk management strategies.
Who Is Eligible to Take the CPHRM Exam?
Candidates are eligible to take the exam if they fulfill at least one of the following educational criteria:
Possess a BA or higher from an accredited college and have five years of experience working in a healthcare setting (but not necessarily in a risk management capacity).
Possess an AA degree or its equivalent from an accredited college and have seven years of experience in a healthcare setting.
Possess a high school diploma or GED and have nine years of experience working in a healthcare experience.
In addition to fulfilling at least one of the above criteria, at least 3,000 hours of your work experience within the last three years need to be verifiably related to healthcare risk management and took place in a healthcare setting.
How Long Is the Test?
You will have two hours to complete 110 multiple choice questions. Of those questions, only 100 will be scored. The remaining ten are trial questions being tested for inclusion on future versions of the exam. These unscored trial questions will be dispersed throughout the exam, so there is no way of knowing which questions are unscored. Just treat all 110 questions on the exam as if they were scored questions.
Check out Mometrix's CPHRM Study Guide
Get practice questions, video tutorials, and detailed study lessons
Get Your Study Guide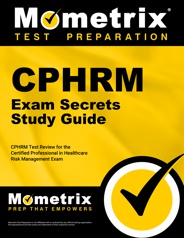 What Will I Be Tested On?
The CPHRM covers five core content areas. Each content area will include a blend of knowledge based questions and skill based questions. Below is a brief outline of what you'll be tested on:
Clinical and Patient Safety – 35 Questions

Patient safety assessment and staff awareness
Preventative Patient Safety Initiatives
Risk Management Educational Programs Design, Implementation, and Maintenance
Policy Development and Standardization of Safety Processes
Providing education about the role of patients and their families in maintaining patient safety and minimizing risk
Disclosure methods and processes and coaching physicians, leaders, and managers about these processes
Critical incident debriefings
Corrective action plans and supervising recommended improvements
Providing guidance to staff about disruptive patients and family members
Management data collection and analysis system design and oversight
Patient complaints, satisfaction surveys, and clinical indicators
Risk Financing – 10 Questions

Self-insured retention program administration
Implementing modifications that address contractual risks
Accident or adverse event investigation and assessment
New service or acquisition potential liability assessment
Risk financing strategy development
Respond to insurance related risk management concerns from personnel and staff
Legal and Regulatory Standards – 24 Questions

State specific legislation compliance
Federal laws and regulations
Education and guidance for personnel and staff regarding both federal and state law compliance
Regular quality and risk assessments to ensure continued compliance
Healthcare Operations – 26 Questions

Emergency preparedness
Providing risk and adverse event guidance to staff
Data collection and analysis system design and management
Develop standardized procedures
Maintaining communications and relationships across a continuum of care
Risk management training and supervision
Statistical and qualitative risk management reports
Claims and Litigation – 5 Questions

Data collection, analysis, and reporting
Open and closed claims
Notification of potential or actual claims
Claims management
Medical, billing, and other record evaluations
Legal case file maintenance
When Will I Find Out if I Passed?
If you take the computer version of the test, you'll get your score report before you leave the testing center. If you take the pencil and paper version, the score report will be mailed to you within three to five weeks.
What's the Best Way to Prepare for the CPHRM Exam?
Succeeding on the CPHRM will require a blend of three core skills: recall, application, and analysis. The best way to prepare for the test is to develop these three skills within the context of the content that you will be tested on.
To do that, use a combination of study aids including the Mometrix Study Guide and Mometrix Flashcards. The guide will provide a comprehensive review of all the procedures, guidelines, and processes that you are going to encounter on the test. It also provides sample questions designed to help you develop your application and analysis skills across all content areas.
Meanwhile, the expert-crafted flashcards are the absolute perfect way to improve your recall skills. The convenient and portable cards can be used to quiz yourself and work on both memory and speed of recall.
Check out Mometrix's CPHRM Flashcards
Get complex subjects broken down into easily understandable concepts
Get Your Flashcards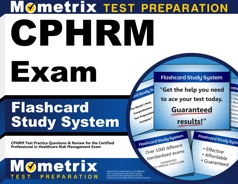 CPHRM Study Guide
Mometrix Academy is a completely free CPHRM test resource provided by Mometrix Test Preparation. If you find benefit from our efforts here, check out our premium quality CPHRM Study Guide and CPHRM Flash Cards to take your studying to the next level. Just click the CPHRM study guide link below. Your purchase also helps us make even more great, free test content for test-takers.
Upgrade your studying with our CPHRM study guide and flashcards:
CPHRM Study Guide
CPHRM Flashcards
CPHRM Study Guide Customer Success Stories
Our customers love the tutorial videos from Mometrix Academy that we have incorporated into our CPHRM test study guide. The CPHRM study guide reviews below are examples of customer experiences.
This product is very amazing, it is short and to the point. I was so overwhelmed with all the other products out there and was very gracious for receiving this product. Lots of amazing terms and Risk management material. Thanks for such a great product!
CPHRM Study Guide – Jinnail
Many areas I knew, many I didn't and the way that it is formatted made it easy for me to track what area I was not too familiar with.Thank you for this guide, I believe it will definitely assist me in passing my exam.
CPHRM Study Guide – Customer
The CPHRM exam study guide has been extremely helpful in my efforts to learn more about my new role as Risk Manager of a healthcare facility and in my efforts to prepare for the certification exam. The book is easy to read explains many aspects of risk management.
CPHRM Study Guide – Customer
The guide is great. I like the simplicity of the way it is laid out and the flash cards make it easy to study on the go!
CPHRM Study Guide – Celina
I purchased the CPHRM Exam Secrets Study Guide and also the Flashcards. I would rate this product a 5. My impressions so far are that the materials are extremely well organized. I like the way the information is provided in blocks so that I can review the things that I need to study with more time and attention. While the areas that I already understand I can separate out and invest less time in. I like the readability of the materials as well.
CPHRM Study Guide – Jace
The guide is very easy and simple to use and understand. The information is presented in a simple language and shows a general idea of the topics necessary for the preparation. Excellent investment.
CPHRM Study Guide – Ivette
The Certified Professional in Healthcare Risk Management exam study guide is just what you need to complete your study prep for the exam. It provides great tips on how to study and get the best from your session, gives great detailed reviews on the material and then tests you on it. The answer key allows you to give yourself a raw score to see just how well you're doing.
CPHRM Study Guide – Susan
The CPHRM Exam Secrets Study Guide was extremely helpful in illustrating various test taking tips. As an attorney, I've taken the Bar Exam and I am also aware that each type of standardized test has its own idiosyncrasies, with this exam being no different. Great CPHRM Testing tips!
CPHRM Study Guide – Lisa