The Certified Professional in Healthcare Risk Management (CPHRM) certification exam is an important step in becoming certified as a healthcare professional skilled in the minimization, prevention, and control of loss for patients, visitors, physicians, and others inside a healthcare facility.
Click "Start Test" above to take a free CPHRM practice test, and check out our premium-quality CPHRM test prep resources by clicking the links below!
CPHRM Exam Eligibility
To be eligible for the exam, you must have at least 3,000 hours of full-time experience in healthcare risk management. You must also meet one of the following education/healthcare experience requirements:
You must hold a high school diploma or equivalent, and you must have at least nine years of healthcare experience
You must hold an associate degree or equivalent, and you must have at least seven years of healthcare experience
You must hold a baccalaureate degree or higher, and you must have at least five years of healthcare experience
CPHRM Exam Outline
The CPHRM exam contains 110 multiple-choice questions, 10 of which are unscored, and you will be given a time limit of 2 hours. The unscored questions are used by the exam administrators to evaluate the quality of questions for future versions of the exam.
There are three cognitive levels used to organize the exam questions:
Recall: The ability to recall or recognize specific information
Application: The ability to comprehend, relate, or apply knowledge to new or changing situations
Analysis: The ability to analyze information and evaluate a solution's usefulness
The exam itself is split into five content areas:
Clinical/Patient Safety (25 scored questions)
Risk Financing (15 scored questions)
Legal and Regulatory (20 scored questions)
Healthcare Operations (20 scored questions)
Claims and Litigation (20 scored questions)
Check out Mometrix's CPHRM Study Guide
Get practice questions, video tutorials, and detailed study lessons
Get Your Study Guide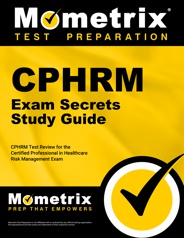 CPHRM Exam Registration
Once eligibility is confirmed, AHA will send you an email with details on how to schedule a testing session. When arranging a CPHRM exam at a PSI test center, be prepared to offer your issued identification number, confirm a testing location, and confirm a chosen date and time for testing.
You must schedule testing and take the CPHRM examination within 90 days of receiving eligibility confirmation from AHA.
Fees
The application fee will differ depending on your status as a PMG member:
AHRMM or other AHA Personal Membership Group (PMG) member: $275
Non-member: $425
Test Day
On the day of the exam, be sure to bring the Authorization to Test supplied by the AHA with you. It carries the unique identification number needed to take the exam and is necessary for testing room admission.
You should report to the assigned PSI test center 15-30 minutes before the scheduled testing time for computer administration. If you are participating in a special administration, you are required to check in at the assigned testing room at the time specified on the confirmation notification.
Once you are checked in, you will be asked to leave your cell phone and all other personal items in your car or in a secure locker outside the testing area.
How the CPHRM Exam is Scored
Your final score is based on the Angoff method, which means that your score is based entirely on your performance and is not based on how well other test-takers did. Your score report will indicate whether you passed or failed the exam, and it includes your raw score for each content area.
You should receive a score report via email if you take the computerized version of the exam. If you take the paper-and-pencil version, you should receive your score report in the mail within five weeks after testing.
Check out Mometrix's CPHRM Flashcards
Get complex subjects broken down into easily understandable concepts
Get Your Flashcards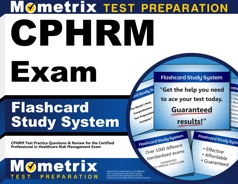 FAQs
How many questions are on the CPHRM Certification exam?
There are 110 multiple-choice questions on the exam.
How long is the CPHRM Certification exam?
The time limit for the exam is 2 hours.
How much does the CPHRM Certification exam cost?
The examination fee is $275 for PMG members and $425 for non-members.
What is the pass rate for the CPHRM Certification exam?
The pass rate for this exam is 64%.