The National Association for Healthcare Quality (NAHQ) administers the Certified Professional in Healthcare Quality (CPHQ) exam to assess test-takers' knowledge of healthcare quality practices and competencies.
Our free CPHQ practice test contains a comprehensive view of what you can expect to see on test day. Click "Start Test" above to get started!
CPHQ Exam Eligibility
There are no set-in-stone eligibility requirements for the CPHQ exam, but you should keep in mind that the exam is not designed to test candidates at the entry level. Generally, you will need about 2 years of experience with the knowledge and skills that a healthcare quality professional needs to have. If you do not have 2 years of experience under your belt, review the exam outline to see if you're prepared to take the exam.
CPHQ Exam Outline
The CPHQ exam consists of 125 scored multiple-choice questions and 15 non-scored multiple-choice questions. The non-scored questions are trial questions that help determine the questions that appear in a future exam. You will have 3 hours to complete the computer-based test.
There are three types of questions you will encounter on the exam:
Recall (23%)
Application (57%)
Analysis (20%)
The recall questions cover specific facts and concepts that you need to know, the application questions test your ability to interpret and apply information to certain situations, and the analysis questions ask you to evaluate, integrate, and solve various pieces of information.
The exam itself is split into four sections:
Quality Leadership and Integration (19 scored questions)
Performance and Process Improvement (27 scored questions)
Population Health and Care Transitions (11 scored questions)
Health Data Analytics (26 scored questions)
Patient Safety (18 scored questions)
Quality Review and accountability (16 scored questions)
Regulatory and Accreditation (8 scored questions)
Check out Mometrix's CPHQ Study Guide
Get practice questions, video tutorials, and detailed study lessons
Get Your Study Guide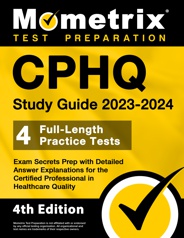 CPHQ Exam Registration
Application and Payment
There are two methods available for registration. If you are using a credit card, you must complete the application process on the NAHQ website, where you will be asked to create an account and continue with the enrollment process.
CPHQ EXAM FEES

| Membership Status | Online | By Mail |
| --- | --- | --- |
| NAHQ Members | $479 | $504 |
| Non-members | $579 | $604 |

If you are using a check, you will need to fill out an application form and mail it along with your check and the $25 processing fee to the following address:
NAHQ
8600 W Bryn Mawr Ave Suite 710 N
Chicago, IL 60631
Scheduling
Once your application has been received, you can schedule a time and place to take the exam. You can make an appointment online, or you can schedule over the phone with PSI at 877-714-5686.
Be aware that you must take the exam within 90 days after your application is received.
Test Day
There are two options available regarding how you take the exam: in-person or online.
In-person Testing
You will need to arrive at the testing center no later than your scheduled exam time. If you arrive later than 15 minutes after that time, you will not be permitted to take the exam and must reschedule.
When you arrive, you will be asked to provide two means of identification, one of which must be a photo ID. After the check-in process is complete, you will be asked to leave your coat/jacket outside the testing room if you are wearing one, and a locker will be provided inside the testing room for any other personal items (watch, hat, cell phone, etc.). You will also not be allowed to bring any documents with you into the testing room.
Before you begin the exam, you will be given a practice test on the equipment that will be used for the actual exam. This will help you become familiar with the computer and overall format of the exam. Once you are ready, you may close the practice exam and begin the actual exam, at which point the 3-hour time limit will begin to take effect.
Online Testing
To be eligible to take the exam remotely, you must have a computer that has both webcam and microphone capabilities, which you should test before your exam date.
On the day of the exam, it is recommended that you "launch" your exam at least 30 minutes before the scheduled time. If you attempt to launch the exam any later than 15 minutes after the scheduled time, you will not be permitted to take the exam and must reschedule. Upon launching the exam, you will be asked to provide two means of identification, one of which must be a photo ID.
Before your exam begins, ensure that the space around you is free of all personal items, including your cell phone, food, headphones, sticky notes, plants, books, and drink coasters. You are allowed to have one clear glass of water, which you will need to show to the exam proctor before you begin.
Before you begin the exam, you will be given a practice test that emulates the real exam. This will help you become familiar with the format of the exam. Once you are ready, you may close the practice exam and begin the actual exam, at which point the 3-hour time limit will begin to take effect.
How the CPHQ Exam is Scored
Once you complete the exam, you will immediately be given an unofficial score report on your screen. This report will contain your pass/fail status, as well as a raw score that says how many questions you answered correctly.
The CPHQ exam is scored using the Angoff method, which means that the passing score needed will vary slightly for each test-taker.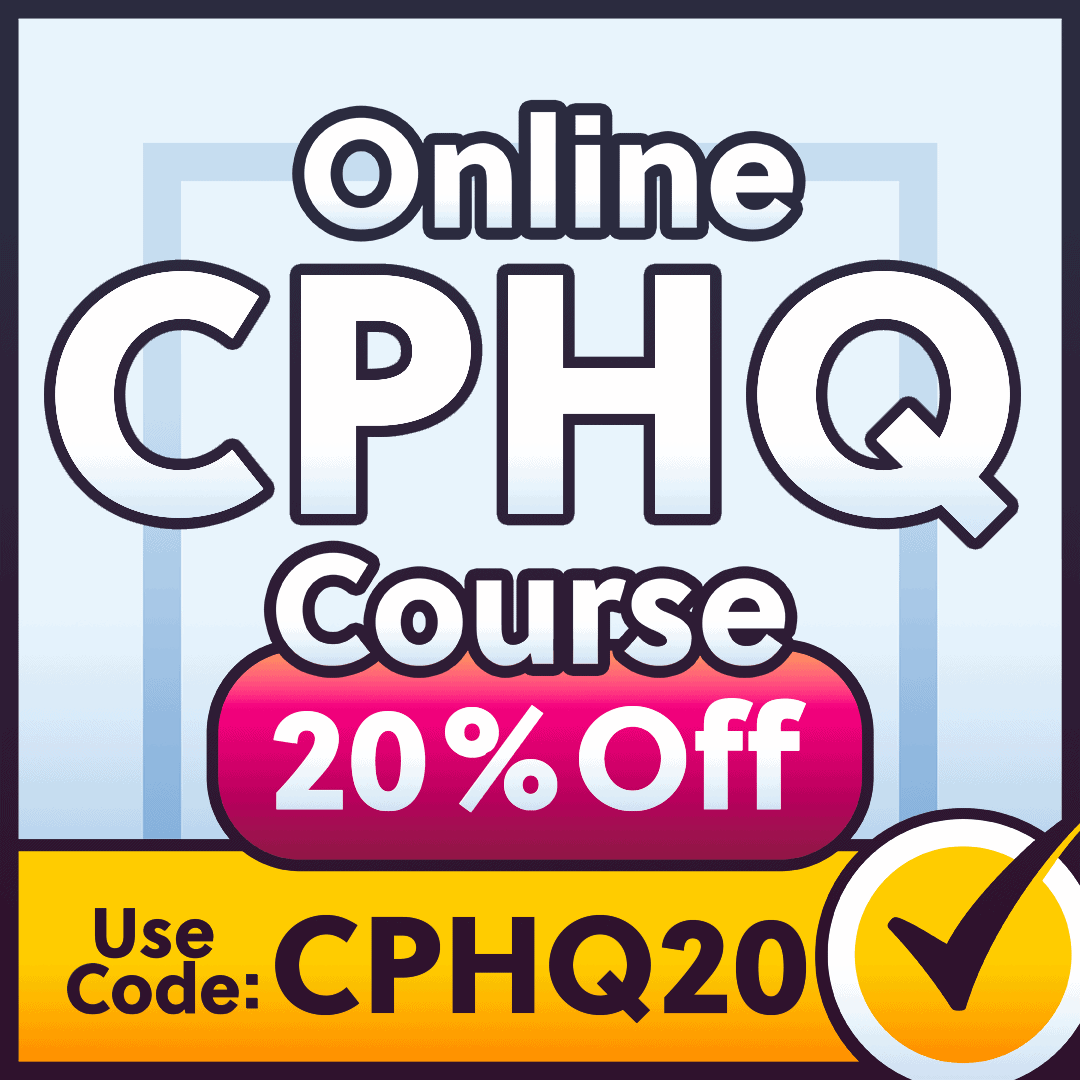 CPHQ Exam Online Prep Course
If you want to be fully prepared, Mometrix offers an online CPHQ Prep Course. The course is designed to provide you with any and every resource you might want while studying. The CPHQ Course includes:
54 Lessons Covering all the Topics
950+ CPHQ Practice Questions
Over 500 Electronic Flashcards
Money-back Guarantee
Free Mobile Access
and More!
The CPHQ Prep Course is designed to help any learner get everything they need to prepare for their CPHQ exam. Click below to check it out!
Check out Mometrix's CPHQ Flashcards
Get complex subjects broken down into easily understandable concepts
Get Your Flashcards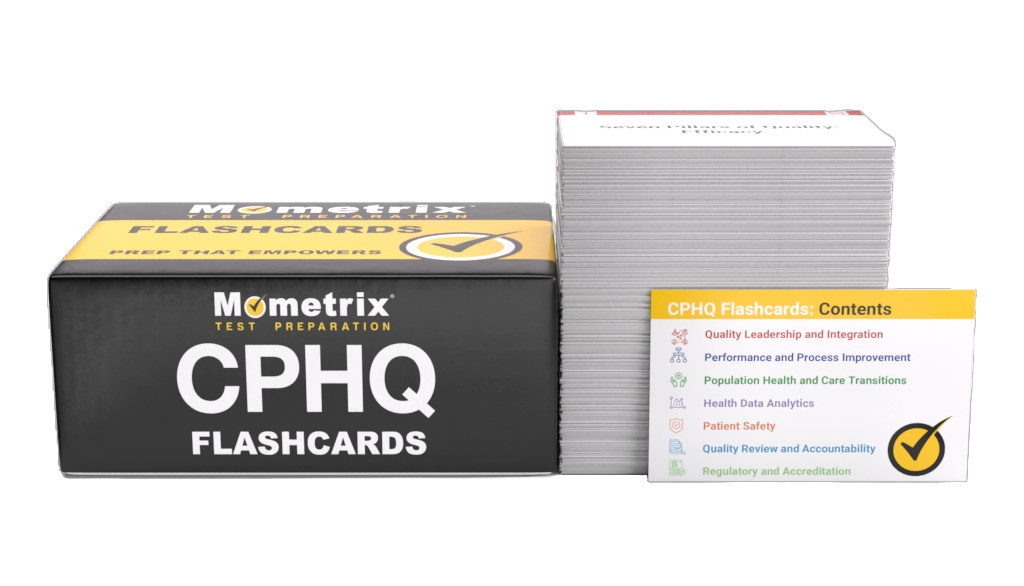 How to Study for the CPHQ Exam
How to Study Effectively
Your success on CPHQ test day depends not only on how many hours you put into preparing but also on whether you prepared the right way. It's good to check along the way to see whether your studying is paying off. One of the most effective ways to do this is by taking CPHQ practice tests to evaluate your progress. Practice tests are useful because they show exactly where you need to improve. Every time you take a free CPHQ exam practice test, pay special attention to these three groups of questions:
The questions you got wrong
The ones you had to guess on, even if you guessed right
The ones you found difficult or slow to work through
This will show you exactly what your weak areas are and where you need to devote more study time. Ask yourself why each of these questions gave you trouble. Was it because you didn't understand the material? Was it because you didn't remember the vocabulary? Do you need more repetitions on this type of question to build speed and confidence? Dig into those questions and figure out how you can strengthen your weak areas as you go back to review the material.
Answer Explanations
Additionally, many CPHQ practice tests have a section explaining the answer choices. It can be tempting to read the explanation and think that you now have a good understanding of the concept. However, an explanation likely only covers part of the question's broader context. Even if the explanation makes sense, go back and investigate every concept related to the question until you're positive you have a thorough understanding.
Comprehend Each Topic
As you go along, keep in mind that the CPHQ practice test is just that: practice. Memorizing these questions and answers will not be very helpful on the actual test because it is unlikely to have any of the same exact questions. If you only know the right answers to the sample questions, you won't be prepared for the real thing. Study the concepts until you understand them fully, and then you'll be able to answer any question that shows up on the test.
Strategy for CPHQ Practice
When you're ready to start taking practice tests, follow this strategy:
Remove Limitations. Take the first test with no time constraints and with your notes and CPHQ study guide handy. Take your time and focus on applying the strategies you've learned.
Time Yourself. Take the second practice test "open book" as well, but set a timer and practice pacing yourself to finish in time.
Simulate Test Day. Take any other practice tests as if it were test day. Set a timer and put away your study materials. Sit at a table or desk in a quiet room, imagine yourself at the testing center, and answer questions as quickly and accurately as possible.
Keep Practicing. Keep taking practice tests on a regular basis until you run out of practice tests or it's time for the actual test. Your mind will be ready for the schedule and stress of test day, and you'll be able to focus on recalling the material you've learned.
FAQs
Q
How much does the exam cost?
A
For those who are NAHQ members, the cost to take the CPHQ is $479 if applying online. For those who are non-members, the cost is $579. An additional fee of $25 is required if applying through the mail.
Q
Is the exam all multiple-choice?
A
Yes, all 140 questions on the CPHQ exam are multiple-choice.
Q
How long do you have to take the exam?
A
You are allotted three hours to take the CPHQ exam.
Q
What is the pass rate for the CPHQ exam?
A
The average passing rate for those who take the CPHQ exam is roughly 62%. Many candidates choose to take the exam more than once.
Q
What is a passing score?
A
The score needed to pass the CPHQ exam varies each year based on the difficulty of the exam. On average, you need to answer approximately 73% correct to pass the exam.