CPHIMS Exam
The Certified Professional in Healthcare Information and Management Systems exam is designed to test an individual's understanding of a well-defined body of knowledge in professional practice in healthcare information and management systems. Those who succeed have established themselves as CPHIMS for a period of five years.
Who is Eligible?
Each candidate wishing to take the CPHIMS exam is required to have one of the following:
A Baccalaureate degree from an accredited institution and 5 years of hands on information and management systems work experience. Three of those 5 years must have been in a healthcare setting.
A Graduate degree or higher from an accredited institution and 3 years of information and management systems experience. Two of those 3 years must have been in a healthcare setting.
At the time of application, candidates will also be required to pay an examination fee of $280 for HIMSS individual organization affiliate members. Corporate or student members are charged $310 and non-member exam fees are $390.
When and Where is it Taken?
Once your application has been approved and your payment processed you will be sent an Authorization to Test or ATT email. This will include instructions on how to schedule your exam appointment. All certification exams are taken through Prometric, Inc.
It is important to note that once your application has been approved you will have a 90-day testing window in which to schedule and take your exam.
Most Prometric testing centers are open six days a week from 8am-8pm. Locations can be found all over the world. You will be given a complete list of available dates, times, and locations when you are scheduling.
You will be sent a confirmation letter including the date, time and place of your scheduled exam after you have completed the process. This letter should be kept in your possession as you will need it on testing day.
Check out Mometrix's CPHIMS Study Guide
Get practice questions, video tutorials, and detailed study lessons
Get Your Study Guide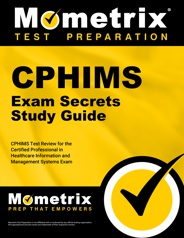 What Do I Need?
On the day of your scheduled exam you will need to bring your confirmation letter with you to the testing site. Make sure that you arrive at least 30 minutes early so that you have enough time to get signed in. Those who show up late will not be allowed to take the exam and will have to pay a rescheduling fee.
You must also bring two forms of valid identification with you. The first or primary form must contain your full name that matches your application information, signature, and a photo. The following are acceptable forms:
Driver's license
State ID
Passport
Military ID
Your secondary form of ID must include your name that matches your application information and your signature. Acceptable forms are:
Credit cards
Social Security card
Employment/student ID
Because the exam is taken on a computer, you will not need to bring any personal items with you. This includes electronic devices, scratch paper, pencils, and calculators. Only wallets and keys are allowed in the testing center, all other items are prohibited.
What is Expected?
The CPHIMS exam consists of 115 multiple choice questions. 100 of these are scored while the other 15 are not and are used as pretest questions. You will be given two hours to complete the exam.
The test is broken into three major content areas. A brief outline explaining these and giving the amount of questions in each section can be found below.
General (28 questions)

Healthcare Environment 14
Technology Environment 14
Systems (52 questions)

Analysis 16
Design 6
Selection, Implementation, Support, and Maintenance 7
Testing and Evaluation 5
Privacy and Security 6
Administration (32 questions)

Leadership 22
Management 10
How is it Scored?
Following your exam, you will be given a score report at the testing site. Your report will include a pass/fail status. Scores are based on a scale of 200 to 800. A score of at least 600 is needed to pass the CPHIMS exam. Your report will also give a diagnostic scale for each major content area.
After you have passed the exam, you will be awarded the CPHIMS credential. About 8 weeks following your exam your will receive your official certificate of recognition.
If you fail the exam, you can schedule to retake the exam by filing a new application and exam fee. You will be a new 90-day testing window.
Check out Mometrix's CPHIMS Flashcards
Get complex subjects broken down into easily understandable concepts
Get Your Flashcards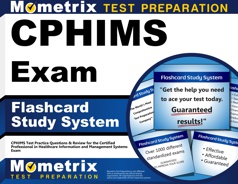 Preparation Tips
To help you prepare for the CPHIMS exam, Mometrix wants to provide you with a great study guide and set of flash cards. These tools will give you all the information need to pass as well as some sample questions. These sample questions will be styled and worded in a way that is similar to how they will actually look on the exam.
This will allow you to know exactly what will be expected of you on testing day. Let us help you out and ace this test for a better future.
CPHIMS Study Guide
Mometrix Academy is a completely free CPHIMS test resource provided by Mometrix Test Preparation. If you find benefit from our efforts here, check out our premium quality CPHIMS Study Guide and CPHIMS Flash Cards to take your studying to the next level. Just click the CPHIMS study guide link below. Your purchase also helps us make even more great, free test content for test-takers.
Upgrade your studying with our CPHIMS study guide and flashcards:
CPHIMS Study Guide
CPHIMS Flashcards