CPFT Exam
The National Board for Respiratory Care (NBRC) administers the Certified Pulmonary Function Technology (CPFT) exam, and it is accredited by the National Commission for Certifying Agencies (NCCA). This exam assesses the specialized knowledge of future pulmonary function technologists.
On this page, we will be focusing on what the CPFT is about, what the contents of the exam are, how to register for the exam, and what you can expect before, during, and after the exam.
Click "Start Test" below to take a free CPFT practice test, and check out our premium-quality CPFT test prep resources by clicking the links below!
Eligibility
As with most credentialing examinations, eligibility requirements must be met before registering for the PFT exam. Candidates must be 18 years of age or older and meet ONE of the following requirements:
Have an associates degree from a respiratory care education program.
Be a Certified Respiratory Therapist (CRT) or Registered Respiratory Therapist (RRT) credentialed by the NBRC.
Complete 62 semester hours from an accredited institution that includes college-level biology, chemistry, and mathematics courses. You must also have a minimum of six months of clinical experience in the field of pulmonary function technology under the supervision of a Medical Director of a pulmonary function laboratory or a special care area approved by the NBRC.
Exam Outline Review
The CPFT exam contains 115 multiple-choice questions, 15 of which are unscored "pretest" questions. These unscored questions are used by the test administrators to evaluate whether the questions should be used in future versions of the exam. You will have 2 hours to complete the exam.
Questions in the PFT exam evaluate your thinking process on three cognitive levels:
Recall: The ability to recall or recognize specific information
Application: The ability to comprehend, relate, or apply knowledge to new or changing situations
Analysis: The ability to analyze data to arrive at solutions and evaluate usefulness
The exam is split into three content domains:
I. Instrumentation and Equipment (33 questions)
Questions in this domain evaluate your knowledge and understanding of setting up, maintaining, calibrating, and troubleshooting testing equipment. Additional topics include performing quality control on equipment.
II. Procedures (44 questions)
The procedures domain assesses your understanding of the entire procedure from start to finish. Procedures examination questions cover selecting the appropriate test protocols and equipment, performing the procedure, and evaluating the validity of the test result.
III. Data Management (23 questions)
Data management includes calculating results, selecting the reference ranges and data, evaluating the result reliability, and evaluating the clinical implications of the procedures and their results.
Check Out Mometrix's CPFT Study Guide
Get practice questions, video tutorials, and detailed study lessons
Get Your Study Guide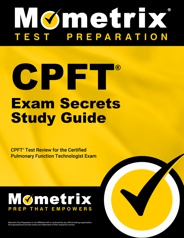 Registration
Application
Applications are accepted online at NBRC's website, or you can mail or fax your application. The application fee is $200. The fee is payable by Visa, MasterCard, American Express, or Discover if you apply online or by fax. If you apply by mail, the fee is payable by credit card, personal check, cashier's check, or money order. Applications received by mail take five to seven business days to process.
Scheduling
When your application and fee are accepted, you will receive an email with instructions on scheduling your exam. The exam is offered at 300 PSI testing locations across the United States and internationally, and it is available by live remote proctoring (LRP) from your home. Exam appointments are available Monday through Saturday for both delivery methods, with major holidays excepted.
You have 90 calendar days to schedule and take your exam. If you do not schedule your exam within the allotted period, your application is canceled and all fees paid are forfeited.
Testing Center
Before you schedule your exam at a testing center, find the most convenient center. You can find a complete listing of available testing centers on the PSI website.
International Testing Centers
If you need to take the exam outside of the United States, there is an additional $150 fee, which you will need to submit with your application. The international fee is waived for the active-duty military who are deployed overseas.
Live Remote Proctoring
Before registering for the live remote proctor exam, check to ensure your technology and testing space meet the minimum requirements.
Webcam
Speakers
Microphone
Reliable internet connection
Updated internet browser
It is recommended that you perform a compatibility check before registering for the remote option (the technology check is found on the PSI website). Your testing space must be private or, at the least, free from distractions and others.
Test Day
Regardless of where you take the exam, you must present two current and valid forms of identification, one with a photograph. Both forms of identification must have your signature for verification.
In-person Testing
On the day of your exam, you should arrive no later than your scheduled appointment time. If you are more than 15 minutes late, you will not be admitted, and your test will be canceled. Refunds are not provided for individuals who do not make their scheduled exam appointment.
Before the exam begins, you must secure any personal items (phone, notebook, water bottle, etc.) in a provided locker. A pencil and a sheet of paper are provided, so there is no need to bring those items with you to the testing center.
During the exam, you can take a break whenever you need to, but the timer will keep going during your break.
Live Remote Proctoring
You should log in to your account ten minutes before your examination appointment. The proctor will direct you to scan your testing space to ensure your testing area is clear of books, notes, and electronic devices. If you have additional monitors, you must disconnect them. You are allowed a pencil and a blank sheet of paper on your desk; all other items need to be removed from the area.
The launch button for the exam is enabled when the exam and proctor are ready.
During your exam, your hands must be visible at all times, and you must remain in front of the camera. When you are finished with your exam, you must shred your scratch paper in front of the proctor before your score is released.
How the Exam is Scored
For each question you answer correctly, you will receive one point toward your score. The sum of correct responses is called your "raw score." Your total score determines your pass or fail status after comparison to the cut score. The low cut score for the CPFT is 75. If you meet the high cut score, which can fluctuate, you will receive the RPFT credential.
Successful candidates will receive their certificate and wallet card within three to four weeks of the examination date.
Retaking the Exam
If you did not pass the exam, you can attempt the exam two more times without waiting between attempts. The reexamination fee is $170.
If you remain unsuccessful after two retakes, you must wait 180 days before applying for the exam again.
Check Out Mometrix's CPFT Flashcards
Get complex subjects broken down into easily understandable concepts
Get Your Flashcards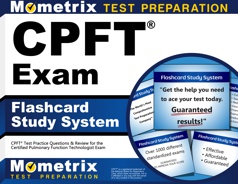 How to Study for the CPFT Exam
How to Study Effectively
Your success on CPFT test day depends not only on how many hours you put into preparing but also on whether you prepared the right way. It's good to check along the way to see whether your studying is paying off. One of the most effective ways to do this is by taking CPFT practice tests to evaluate your progress. Practice tests are useful because they show exactly where you need to improve. Every time you take a free CPFT exam practice test, pay special attention to these three groups of questions:
The questions you got wrong
The ones you had to guess on, even if you guessed right
The ones you found difficult or slow to work through
This will show you exactly what your weak areas are and where you need to devote more study time. Ask yourself why each of these questions gave you trouble. Was it because you didn't understand the material? Was it because you didn't remember the vocabulary? Do you need more repetitions on this type of question to build speed and confidence? Dig into those questions and figure out how you can strengthen your weak areas as you go back to review the material.
Answer Explanations
Additionally, many CPFT practice tests have a section explaining the answer choices. It can be tempting to read the explanation and think that you now have a good understanding of the concept. However, an explanation likely only covers part of the question's broader context. Even if the explanation makes sense, go back and investigate every concept related to the question until you're positive you have a thorough understanding.
Comprehend Each Topic
As you go along, keep in mind that the CPFT practice test is just that: practice. Memorizing these questions and answers will not be very helpful on the actual test because it is unlikely to have any of the same exact questions. If you only know the right answers to the sample questions, you won't be prepared for the real thing. Study the concepts until you understand them fully, and then you'll be able to answer any question that shows up on the test.
Strategy for CPFT Practice
When you're ready to start taking practice tests, follow this strategy:
Remove Limitations. Take the first test with no time constraints and with your notes and CPFT study guide handy. Take your time and focus on applying the strategies you've learned.
Time Yourself. Take the second practice test "open book" as well, but set a timer and practice pacing yourself to finish in time.
Simulate Test Day. Take any other practice tests as if it were test day. Set a timer and put away your study materials. Sit at a table or desk in a quiet room, imagine yourself at the testing center, and answer questions as quickly and accurately as possible.
Keep Practicing. Keep taking practice tests on a regular basis until you run out of practice tests or it's time for the actual test. Your mind will be ready for the schedule and stress of test day, and you'll be able to focus on recalling the material you've learned.
FAQs
How many questions are on the CPFT exam?
There are 115 multiple-choice questions on the exam.
How long is the CPFT exam?
The time limit for the exam is 2 hours.
How much does the CPFT exam cost?
The cost for this exam is $200. American Association for Respiratory Care members receive a one-time discount of $40.
What is the passing score for the CPFT exam?
To pass the CPFT exam and obtain the CPFT credential, the passing score is 75.